CJ Alum Fights In Battle Against Zika Virus
After enlisting in the U.S. Army following his graduation from Sam Houston State University in 2013, Christopher Springer's first assignment in the military was to help develop a vaccine against Zika, a mosquito-borne virus linked to microcephaly and other brain malformation in fetuses and Guillain-Barré syndrome in adults.
Springer was among 10 civilian and military personnel who were part of a team at the Walter Reed Army Institute of Research to develop the new vaccine in just 200 days. Springer and his colleagues routinely handled the lab work, including conducting tests, generating reports, and keeping the facility stocked with the necessary supplies and equipment. Human trials of the vaccine began last fall and, if successful, the vaccine may be available on the commercial market within two years.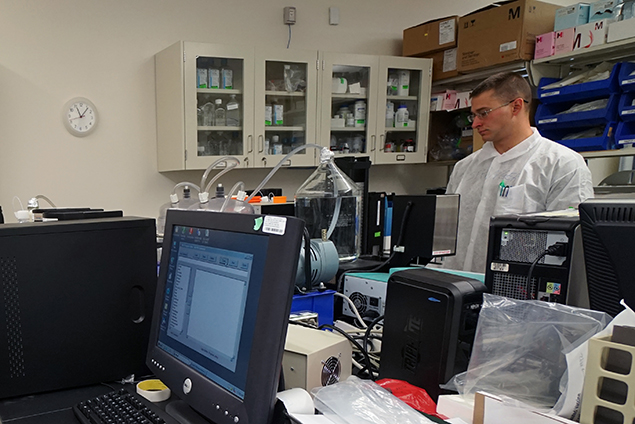 "I am proud to be a part of the team," Springer said, "I never imagined that I could go on and be a part of something so great and unique."
According to the Centers for Disease Control (CDC) and Prevention, Zika is a flavivirus similar to yellow fever, dengue and Japanese encephalitis. Spread mainly through infected mosquitoes, symptoms are generally mild with fever, skin rashes, muscle and joint pain. However, infection during pregnancy can lead to serious birth defects, such as babies born with abnormally small heads and brain disorders. The military got involved in research after soldiers were threatened by outbreaks in North and South America and Southeast Asia. As of November, there were 154 cases confirmed in the military system, including four pregnant service members and a family member. Zika can also be transmitted through sex with an infected partner.
Springer had planned to join a law enforcement agency and start a career as a homicide detective once he got his criminal justice degree. However, during his time at SHSU, Springer enrolled in a year of the ROTC program and did some prerequisites for the nursing program.
"Enlisting in the Army proved to be the best option available," said Springer.
In the Army, he trained as a medical laboratory technician, earning an associate's degree in Health Science Laboratory Technician from George Washington University and a medical laboratory technician certificate from the American Society of Clinical Pathology.
With his research and medical background, Springer was assigned to WRAIR, the largest and most diverse biomedical research laboratory operated by the Department of Defense. With its headquarters located in Silver Spring, Maryland, and other laboratory and clinical facilities in Southeast Asia, sub-Saharan Africa and Washington state in the U.S., the mission of the facility is to protect soldiers in the military through research and advanced technology.
I am proud to be a part of the team - I never imagined that I could go on and be a part of something so great and unique.
As part of the Center of Infectious Disease Research, Springer was responsible for several tests, including micro neutralization tests, enzyme-linked immunosorbent assay (known also as ELISA), and plaque assay, as well as observations for cythopathogenicity and avidity. He also ordered supplies, maintained the labs, and conducted viral purifications and viral filtrations.
Springer continues to do some testing with the Zika virus, but most of the focus of the lab has returned to working on dengue. One-third of the world's population lives in areas threatened by the virus, and it is a leading cause of illness and death in tropical and subtropical regions. There are currently epidemics of the disease in Puerto Rico and tourist destinations in Latin America, Southeast Asia and the Pacific Islands, according to the CDC.
Springer will soon transition to the Veterinary Service Program at WRAIR, which focuses on the care and enrichment of animals used in research by the military. He also is working on his packet for Officer Candidate School.
"I really just lucked out by being the right rank and military occupation specialty at the right time," Springer said.