National Science Foundation
Robert Noyce Scholarship Program
---
The highly prestigious, nationally recognized Robert Noyce Teacher Scholarship supports exceptional students who plan to teach STEM fields in a high-needs school district with $10,000 per academic year. The scholarship, funded by the National Science Foundation, is renewable for up to two years.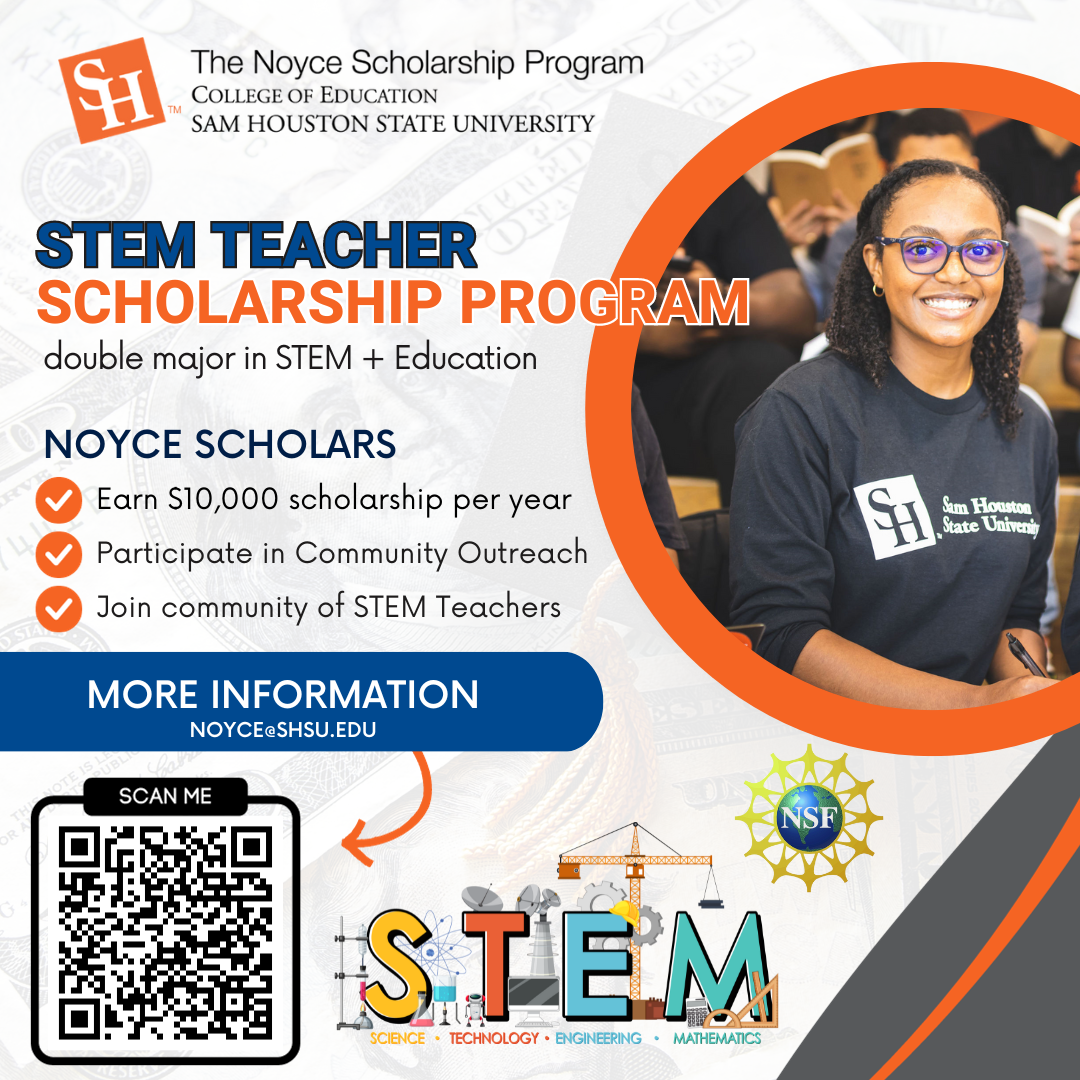 Sophomores and Juniors who are interested in teaching STEM can earn a starting salary of $60,000. Certain districts in the State of Texas also offer additional stipends for teaching in STEM fields and in high-needs districts. As a Teacher, you also become eligible to apply for the Teach Grant (Federal Loan Forgiveness.)

For eligible scholars, the Noyce Scholarship Program can provide up to two years of SHSU tuition at $10,000 per year.
*Ideally applicants should be of Sophomore or Junior standing at SHSU or Lone Star Community College and be willing to double major in STEM + earn a teaching certification. However, classification exceptions may apply. We are happy to answer any specific questions you may have about eligibility.
Dates to Remember
October 21st: Spring 2024 Application opens!
November 1st: Applications due by 5 PM
Qualifications

To qualify, students must:

Sophomore or Junior (exceptions may apply)
Be willing to earn a secondary single subject teaching certification in a STEM subject and teach in a secondary (grades 7-12) high-needs school district
Have a minimum cumulative GPA of 3.0
Be a US citizen or lawful permanent resident
Provide unofficial transcripts from all previously attended institutions, an updated resume and letter of support from a STEM Faculty Member



Commitment Requirement

The scholarship requires that recipients commit to completing two years of full-time teaching in a high-needs school district for each year of scholarship support. One way a high-needs school is defined is by having at least 50% of students eligible for free and reduced lunch. A 2-year scholarship would require a 4-year teaching commitment. The teaching commitment must be fulfilled within eight years after completing the program. If the teaching commitment is not fulfilled, repayment of the scholarship is required.

Scholarship Timeline

Junior Year - $10,000 award
Noyce scholars will participate in community outreach programming in two schools (academic year and summer tutoring for testing of 5th and 9th-grade state standards) and a STEM Camp at the Boys and Girls Club of Walker County. Community engagement and service is highly valued by students and faculty at SHSU; the Noyce program will both utilize and enhance these values.

Senior Year - $10,000 award
Noyce scholars will complete their field-based experiences and clinical teaching semesters at their assigned school districts. Monthly dinners and a community network of other STEM scholars and SHSU faculty, staff and community mentors. Scholars will also participate in professional development and mentoring opportunities from Noyce scholar alumni to ensure they are prepared for service in the classroom. Mentoring to all new teachers upon employment, implement a peer mentoring network among Noyce scholars, and develop diversity, equity, and inclusion programming for new teachers.
---
Questions?
Noyce Program staff is happy to answer any questions you may have regarding eligibility, application submission and/or requirement of selected Scholars.
Tiffany J. Driver, M.Ed.
Director | Noyce Scholarship Program
School of Teaching & Learning | College of Education
--------------------------------
Teacher Education Center – 107G
tjdriver@shsu.edu | 936-294-3528