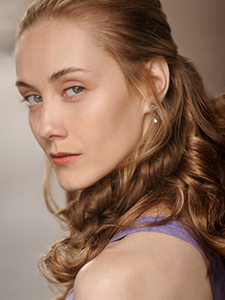 Sofia graduated from Yale with a Master of Fine Arts in acting in 2006. Since then, she has played Athena in Mary Zimmerman's Argonautika at Berkeley Rep, the McCarter Theatre Center and The Shakespeare Theatre. Other performances include the Mirror of the Invisible World at Goodman's Theatre in Chicago and in Long Wharf Theatre's workshop of Barbarian Woman.
Some of Gomez's other credits include Abigail in the Mark Wing-Davey production of Safe in Hell, Anna in Stages Repertory Theatre's Syncopation, and Kitty Duval in The Time of Your Life at The Shakespeare Theatre of New Jersey. She has also performed in The Intelligent Design of Jenny Chow at Yale Repertory Theatre and Regrets Only at Manhattan Theatre Club.
She worked with Manhattan Classic Company Theater's Freshplay Festival and the New York Fringe Festival. Sofia also starred in Mary Zimmerman's The Arabian Nights as Schererazade which played at the Berkeley Rep, Kansas City Repertory Theater, and Chicago's Lookingglass Theater. She appeared in Angels in America Part 1 & 2 (Angel) at Signature Theatre Company. Most recently she has performed in Oregon Shakespeare Festival as Cordelia in King Lear.
Theatre & Musical Theatre Alumni Spotlight SHSU Department of
Theatre & Musical Theatre