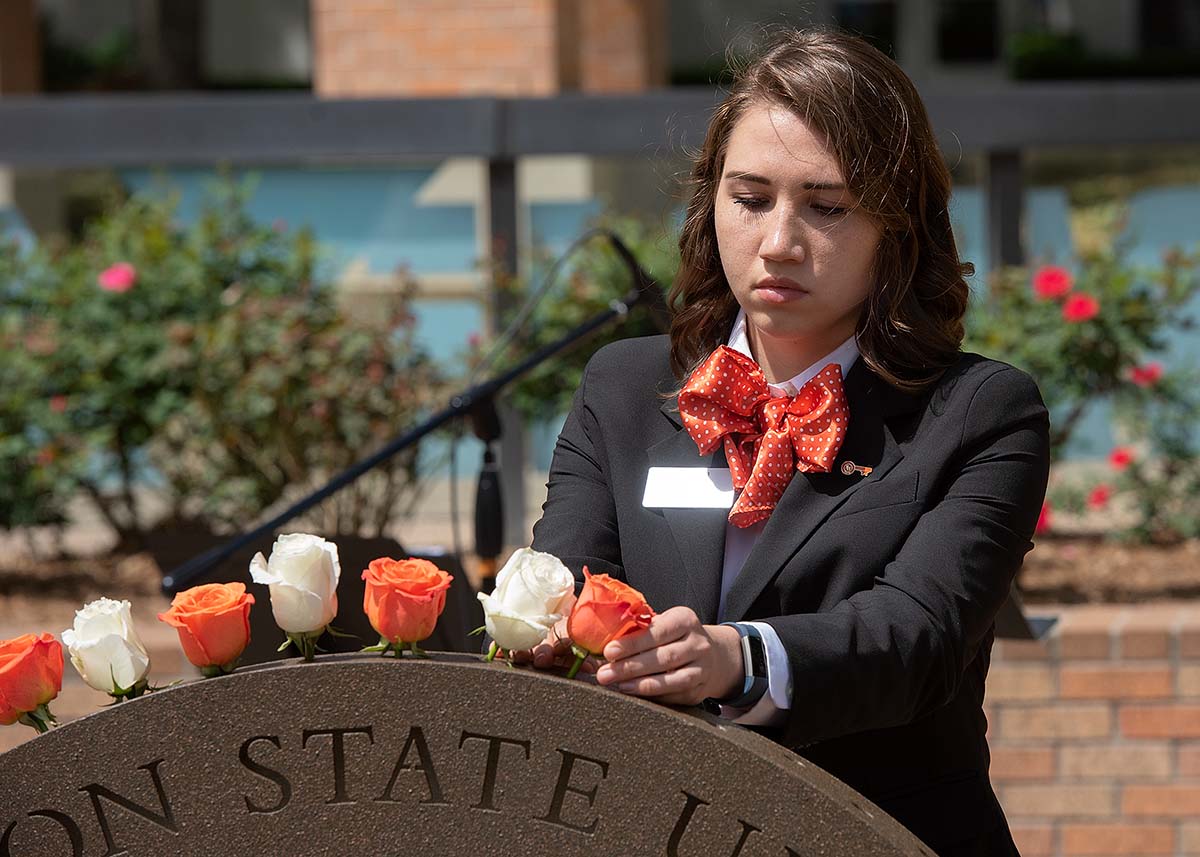 Remembering Eleanor Garrett
(1954, 1955)
Eleanor Garrett earned a bachelor's and master's degree in education at (what was then) Sam Houston State Teachers College. In 1964, she and her husband Charles started the Garrett Metal Detector Company. After 15 years, they expanded into the security industry becoming one of the world's largest producers of hobby, security and countermine detectors.
While her career took her beyond her years as an educator, Garrett's teaching roots inspired a generous gift to her alma mater. SHSU's Teacher Education Center is named in honor of her and her husband, in recognition of her lifelong support of elementary, secondary and higher education.
Their gift funded two areas within the College of Education—the Eleanor and Charles Garrett Endowed Chair for Special Education and the Eleanor and Charles Garrett Graduate Fellowships in Special Education. Her generosity also resulted in several endowments directly providing support to SHSU students. The Lynn Ray Smith Memorial History Endowed Scholarship was created in memory of her brother and the Mervin Smith Memorial Education Scholarship Endowment in memory of her father.
A Farewell to
Ola Mae (Hinson) St. Germain '39
Martha (Lowman) Lyon '46
James Harold Batson '47
Billy Beth (Bacon) Brown '49
Madie Inez Hartt '49 '56
Newell C. Kinard '50
Ella Jean (Knight) Lee '50 '57
Donna Kathleen (Boyd) Tullis '50
Marshall Jeremiah Strother '51
Eldon Wade "Rack" Tindel '51
John William O'Banion '52 '54
Alvie Cecil Vaden, Sr. '52 '56
David Benjamin "Ben" Pitts, Sr. '53
Sudie Mary (Lightsey) Winkler '53
Kemper Baker Crabb '54 '57
Thomas Wendell "Doc" Dorrell, Sr. '54
James "Jim" Neil McDougald '55
Herbert Hampton Duke, Jr. '56
Anna Mae (Shellhammer) Dickey '57 '83
Kenneth Dee Hestand '57
George Wright Pilgreen '57
Henry Webb "Bleu" Beathard '58
LTC Donald D. Starnes, US Army (retired) '58
Eugene Winston Tegeler '58 '60
Bettye Sue Pilgrim Henderson '59
James Howard Blasingame '60
Roland Jack Follis '60
Terry Roderick Keeling '60 '60
Howell Ross Mitchell '60
Ruben Fernando Solis '60
William Michael "Bill" Wagisbach '60
Grace Ann Cartwright '61 '63
Walter Herbert Richards '61 '61
Leon Wilson Childers, Jr. '62
Jerry Allison Christian '62
Frederick Lee Reagan '62
Jerry Arthur Cherry '63
Johnnie E. Hauerland '63 '68
Paula (McCullough) Luedke '63
Linda Raye (Wheelan) Mauldin '63
Doris Florinda Cook Pletka '63 '69
Larry Coy Crawford '64
Pamela Elwell Funk '64
Loydell William Onken '64 '71
Bobby Dal St. Clair '64
Lt. Col. Virgil Drew Tidwell, Jr., USAF (Ret.) '64
Nelda Sue (McGee) Work '64
Brandon Charles "Don" Coleman, Sr. '65
Lynn Earl Eggleston '65
William Phelps Fleming, Jr. '65 '66 '72
Jack Kyle Hardy, Jr. '65
Kathleen B. Heaton '65
Joseph Gordon Lecompte '65
Christof Walter Dinklage, Jr. '66 '71
Johnny Mack Endsley '66
Eurma Mae (Cox) Masters '66
Herman Stanley "Pops" Staehle '66
Victor Ray Havran '67
David Franklin Parker '67
Lemuel Nathan "Lem" Jordan '68 '76
Susie Y. (Rodela) Perez '68
Bertie (Austin) Simmons '68
Dale Lee Holly '69
Daniel Alford "Dan" Phillips '69
Linda Jean (Tanton) Whiteley '69
Freddie Mae (Wilkinson) Woodliff '69
Ralph Briggs Harp, Jr. '70
Helen Huai-Yu Loh '70
Courtenay (Tyler) Tanner '70
Michael Lynn Welch '70
Kathryn "Kathy" E. (Zoch) Wright '70
Jon Timothy Lamkin '71
Nannette Mae (Campbell) Clardy '72
Gordon A. Darnell '72
Reynaldo Alonso
Maldonado '72
Thomas Carlton Matthews '72
James "Jim" Brownlee Neal '72
Hazel Jean (Rees) Powell '72 '72
Sharon Elaine (Morrison) Schwartz '72
Barbara Ann (Gregory) Storm '72
Lee Roy Carlton, Jr. '73
Charlotte Claire (Holland) Jamieson '73
Margaret A. (Kucera) Cooper '74
George Glenn Goolsby '74
Angela Darlene (Harris) Joachim '74
Virginia Kathleen McAnulty '74
Sid T. Womack '74
Debra Jean (Dickey) Hardy '75
Glenna Sue Holloman '75
Jimmy Ray Payne '76
Joe Pat Propes '76
Billie Mae (Gibbs) Sheppard '76
Curtis Gorden Clopton '78 '78
Alvin Krause, Jr. '78
Nghi Thi (Pham) Kroll '78
Larry Loyd Waller '78
Thomas James Powell '80
Ann Marie (Frohlich) Vernon '82
Rosemary Judith (Johnson) Cain '83
Pat Maureen Schwettmann '83
Martha Jane Bradshaw
Wimberley Coleman Anderson '85
Marilyn Ann (George) Wylie '86
Kirk R. Ervin '87
James Bernard Becknell, Jr. '88
Sharon Anita (Batchellor) Ducote '93
Jeffrey Bryan Hall '95
Daniel Anthony "Danny" Viera '95
Mark Jude Rummell '96
Melisa Ann Carter '99
Emma ("Deedle") D'Albini Knapp Garnett '10
Nancy Solis '11
Russil Harley Alden '12
Cavanna Shacoria Smith '18
Brett William Benson '00
Brandon Drew Warren '01
Amy Lynne (Beightol)
Mashburn '02 '03
Tina Marie (Barron)
Ainsworth '03 '07 '11
Chad Aubrey Cryer '04
William Henry "Bill" Salter '05
Pamela Ellen (Peters) Monk '06
Garrett Brad Harrison '08
9/11/20 to 1/31/21
---