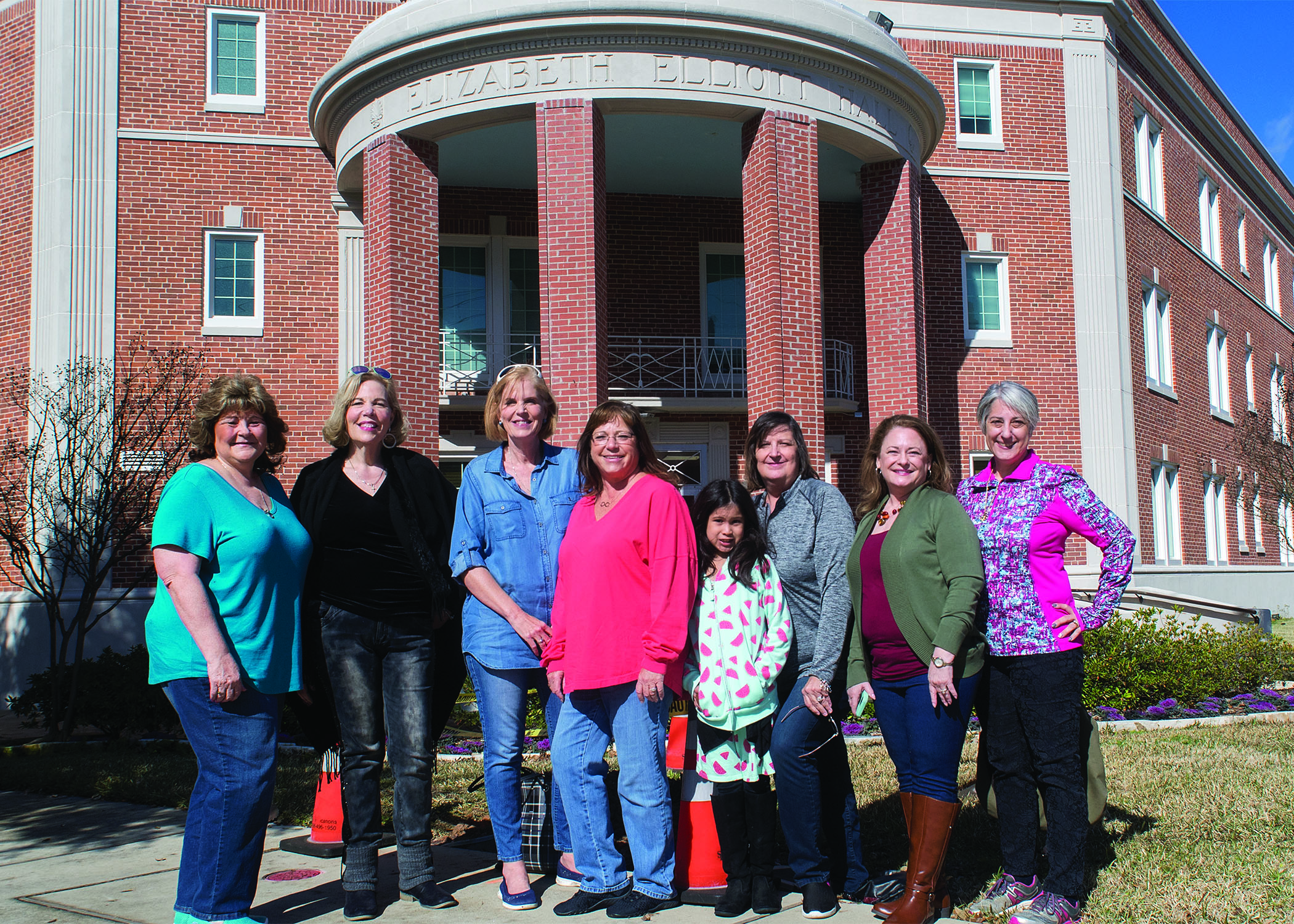 The years were 1978-1983 when the self-proclaimed "Girls of Elliott Hall" created lasting memories on the first and third floors of the all-girl dormitory. While miles and years have separated the group, they have always managed to stay in touch. This past January, as students returned for move-in day, the women reunited on campus to see just how much their alma mater has grown. Of course, they also stopped by their old home, where they had the chance to share a few stories with the new-generation of "Girls of Elliott Hall."
Raymond Spitzenberger '57 published a book, "It Must Be the Noodles: & Other Wendish Stories from Mama's Texas Kitchen." He serves as professor emeritus, Wharton County Junior College and pastor emeritus, Texas District, Lutheran Church Missouri Synod.
Kitty Guice Vangunten '66 received the 2018 Ethel Bender Award from Guide Dog Users, Inc. The award honors a sighted person who has made a significant contribution to the guide dog community. She has raised 18 German Shepherds for the Fidelco Guide Dog Foundation and most have graduated and been paired with blind handlers. One went on to serve with The Texas Department of Public Safety. She is a life member of the SHSU Alumni Association.
Steve Cherry '71 is a criminal justice instructor at Denison High School. His new book, "The Cows Don't Know It's Christmas" reminds readers of all ages that ranch work has to be done, even on Christmas.
Preston Johnson Jr. '77 of Sugar Land was appointed by Governor Greg Abbott to the Correctional Managed Health Care Committee, which coordinates the development of statewide policies for the delivery of correctional health care and services within the criminal justice system. Johnson is a former executive of Blue Cross and Blue Shield of Texas. He is a life member of the SHSU Alumni Association.
Charles W. "Chuck" Jones, III '81 was installed as Chairman of the American Financial Services Association's Vehicle Finance Board. Prior to his appointment, he served a one-year term as the board's Vice Chair. He was also recognized by the Dahlonega-Lumpkin County Chamber as Volunteer of the Year and Government Affairs Committee Volunteer of the Year. Jones serves as chairman for the Dahlonega United Methodist Church Board of Trustees. He is head of National Indirect Lending at Sun Trust Banks, Inc. in Atlanta. He is a life endowed member of the SHSU Alumni Association.
Thomas Johnson '84, '89 was named president of Lamar State College - Orange. Previously, he served as assistant vice president of Tyler Junior College and retired from the Houston Police Department after 20 years of service. He is a life member of the SHSU Alumni Association.
Donna Kadlubar Carnahan '86 was appointed to the Board of Directors for Sailing Angels Foundation. As a volunteer for the nonprofit organization, she takes disabled children and veterans on sailing trips in the Kemah Channel. Following her daughter's graduation from SHSU in 2017, Carnahan established an endowment fund for scholarships. She is a life member of the SHSU Alumni Association and Bay Area Alumni.
Shelby (Gibs) Carr '98 was recently promoted to sales director of North and South America at Gutor, a division of Schneider Electric.
Ted Irving '92 was selected by Houston Mayor, Sylvester Turner, to lead HTV - a programming service that includes live telecasts of City Council meetings and other municipal government events. Irving takes over as manager of HTV after working simultaneously as magnet coordinator at Jack Yates High School for the School of Communications, professor of mass communications at the University of St. Thomas and television/film professor at the Art Institute of Houston. He is a life member of the SHSU Alumni Association.
Steve Parkhurst '92 was recently sworn in as the 260th District Court Judge in Orange County. For the past 22 years, he has practiced law in Orange, TX. Additionally, Parkhurst has served as president, secretary and treasurer of the Orange County Bar Association.
Rotasha Smith '00 was named principal of Conroe High School. She has served 17 years in the Conroe community. She began at Washington Junior High as a teacher and academic support specialist. She then became associate principal and later assistant principal at Conroe High, and served as principal of Peet Jr. High for the past four years.
Tiffany Thomas '03 was accepted as an assistant professor, tenure-track role at Prairie View A&M University in the Graduate Program of Community Development.
Katie Rose Clarke '05 returned to the role of Glinda in the Broadway production of "Wicked" at the Gershwin Theatre. In 2018, she starred as Ellen in the new production of the legendary musical "Miss Saigon" at New York's Broadway Theatre.
Morgan Chesky '08 an award-winning journalist, has joined NBC News as a full-time network correspondent. Previously, Chesky worked in Seattle with ABC affiliate KOMO 4, where he anchored the weekday evening newscast. He also led a crew on the first west coast flight to Cuba in more than 50 years, which resulted in a week-long series that was honored with a regional Edward R. Murrow award.
Dominic Pecikonis '17 has been cast as Daveed Diggs in the North American tour of the acclaimed musical comedy, "Spamilton: An American Parody." The tour launched at Playhouse Square in Cleveland, OH and will go on to play ten multi-week engagements.
Teddi Cliett '17 started with Dallas-based Three Box Strategic Communications as an intern in 2018 and was quickly promoted to associate. She supports several of the agency's clients including Topgolf, The Shops at Willow Bend and Dallas Summer Musicals.
Adrian Lopez '18 has been cast as Lin Manuel Miranda in the North American tour of the acclaimed musical comedy, "Spamilton: An American Parody."
Ready to reconnect with fellow Bearkats? In May, SHSU will launch its 2020 Alumni Directory and we want to include you! Watch for postcards with details to update your information.