Breaking Ground in Medicine
Meet the DO Team​
The medical professionals and administrators who comprise SHSU's proposed College of Osteopathic Medicine (candidate status, seeking accreditation) share a strong commitment to developing qualified doctors to meet the state's growing need for rural primary care physicians.
Chosen for their exceptional professional credentials and ability to enrich the lives of medical students, the college's diverse and talented team bring a wide variety of specializations to SHSU including biochemistry, physiology, pathology and anatomy and physicians with a variety of specialty training and
clinical experience. Their professionalism and first-hand healthcare experience make them ideal mentors for fostering and teaching compassionate patient care to future generations.
From left to right: Dr. Stany Lobo, Dr. Sharon Gustowski, Dr. Stephen L. McKernan, Dr. Charles E. Henley, Dr. Sanjeev Choudhary, Dr. Courtney West, Dr. Kevin Kalinowski
SHSU Receives Candidate Status
Sam Houston State University's proposed College of Osteopathic Medicine has received Candidate status from the American Osteopathic Association's Commission on Osteopathic College Accreditation, which is the recognized accrediting agency for the approval of colleges and programs leading to the Doctor of Osteopathic Medicine (DO) degree.
In a multi-step accreditation process, candidate status indicates the proposed COM has demonstrated the planning and resources necessary to proceed to the application stage for pre-accreditation.
With approval from the Texas Higher Education Coordinating Board in August 2018, and the subsequent confirmation of candidacy status from the COCA, Sam Houston State moves closer to its stated goal of helping meet the healthcare needs of those living in rural and underserved areas of Texas.
"Sam Houston is one of the best-suited universities to address our state's rural healthcare crisis," said SHSU President Dana Hoyt. "We have a century-old history of responding to critical workforce demands, where education is vital to elevating the quality of life for millions of Texans.
SHSU Breaks Ground in Conroe
The university reached another milestone with a groundbreaking ceremony for its eighth and newest college, the College of Osteopathic Medicine in November. Those in attendance included members of the Board of Regents, U.S. Rep. Kevin Brady, and many other state and local representatives who contributed to making the important benchmark possible.
Construction is now underway on the 108,000 square foot building that will sit on 7.3-acres on I-45 (just south of Loop 336) in the Johnson Development Corporation master-planned community of Grand Central Park.
Your Great Name Can Make Great Things Happen
Improving healthcare outcomes for rural Texas and beyond starts now, one medical student at a time, through philanthropic support.
As the proposed College of Osteopathic Medicine (candidate status, seeking accreditation) is funded without state tax dollars, a need exists to provide support to programs and annual operating expenses. Several significant gifts have been received to help meet the start-up costs, including generous support from Russell ('72) and Glenda Gordy ('73, '77). Understanding the importance of bringing rural doctors to the region, the couple has made a significant commitment to the College of Osteopathic Medicine.
---
"There's a real need in rural Texas for doctors and we need to fix that. Having a medical program at Sam Houston State is a real game changer—not only for what it brings to SHSU as an institution but also a game changer for rural Texas healthcare."
— Russell Gordy
---
With construction now underway on the new medical school, a broad range of giving opportunities are currently available to recognize donors, including naming the college, the building, laboratories, classrooms and scholarship endowments.
Every gift, no matter the amount, will positively impact SHSU's footprint on improving rural healthcare for generations of Texans to come. Learn more by contacting the Office of University Advancement at 936-294-3625.
The DO Difference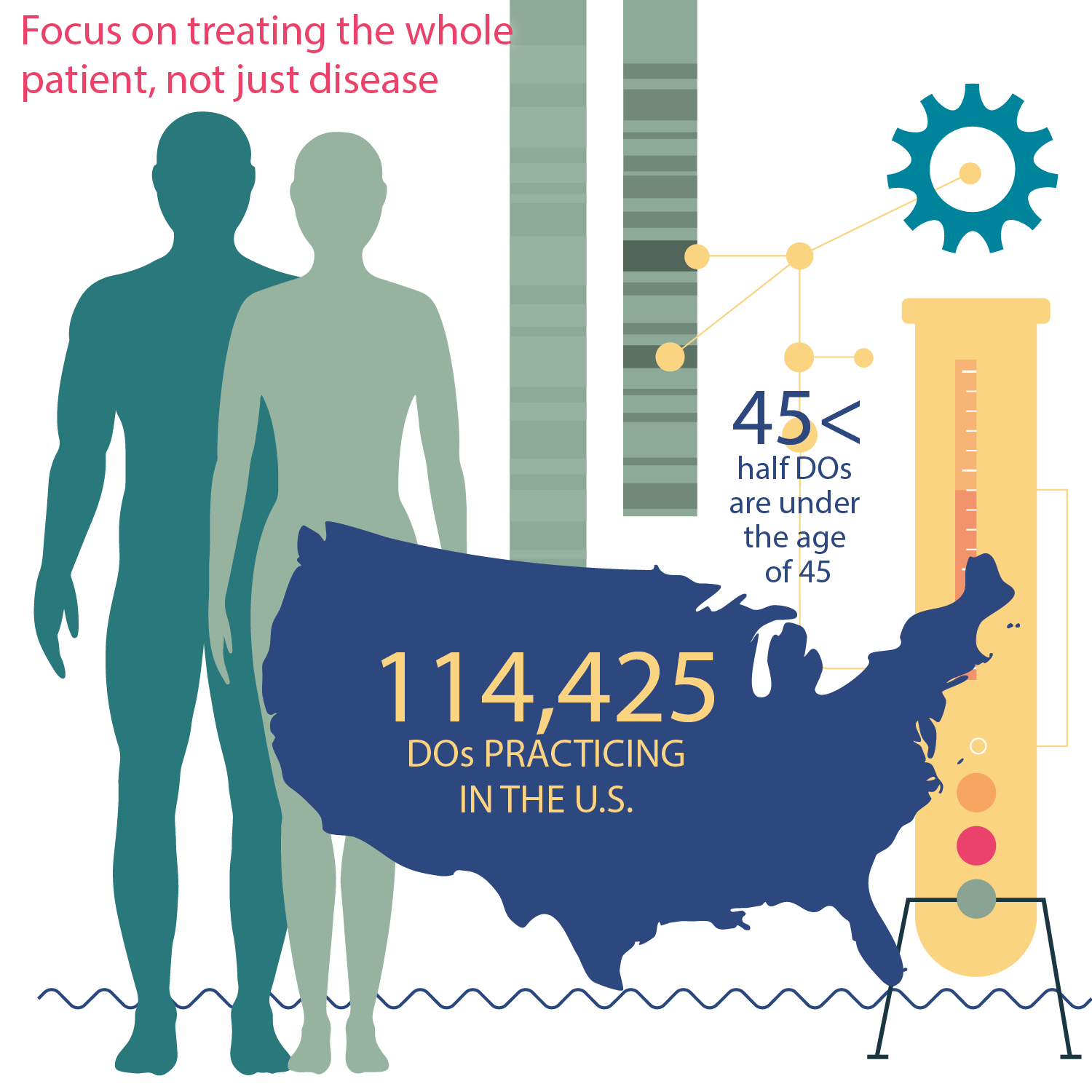 Doctors of Osteopathic Medicine (DOs) believe there's more to good health than the absence of pain or disease. Making a difference in healthcare, DOs focus on prevention by gaining a deeper understanding of your lifestyle and environment, rather than just treating your symptoms.
Facts:
Promotes preventive medicine with a focus on treating the whole patient, not just the disease
Today, 114,425 DOs are practicing in the U.S.
Like all physicians in the U.S., DOs are licensed in all 50 states to practice medicine
About 57 percent of DOs are trained in primary care
More than half of all DOs in active practice are under the age of 45
Currently, women comprise 41 percent of all DOs
20 percent of DOs choose to work in medically underserved areas