Aiming to Improve Texas' Rural Healthcare "Report Card"
As a university, focusing on good grades is vital to academic excellence. Making the grade is also the focus in the latest "report card" comparing rural healthcare between states, where Texas barely passed. Details

Growing the Future Nurse Force
In 2008, SHSU leadership recognized the void created by a critical shortage of nurses in Texas coupled with no professional nursing educational programs within a 40-mile radius of Huntsville. Details

Runyan Named Dean of College of Health Sciences
Dr. Runyan brings many years of experience in both academia and business to assist us as we strengthen existing programs and develop new programs in the College of Health Sciences. Details
Aiming to Improve Texas' Rural Healthcare "Report Card"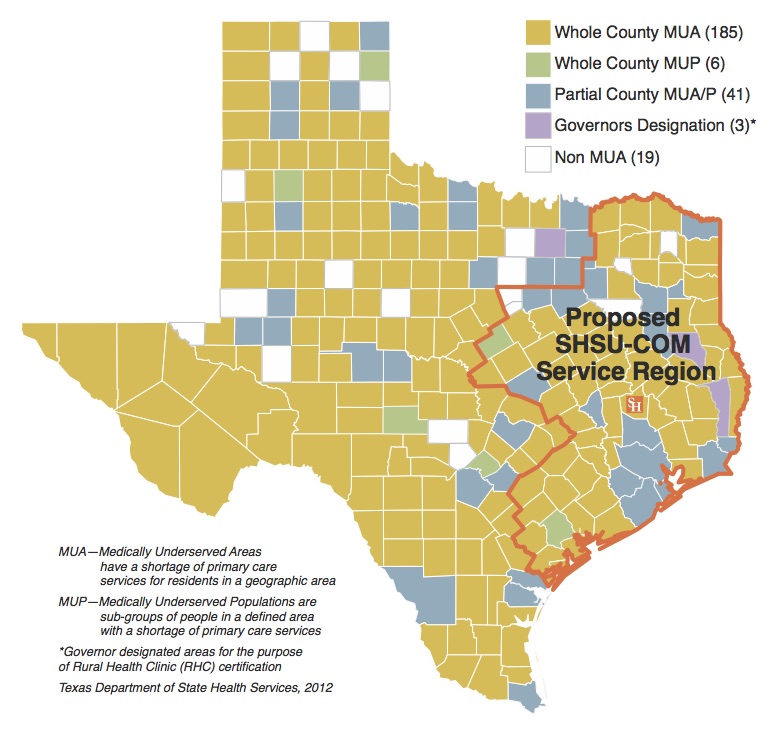 As a university, focusing on good grades is vital to academic excellence. Making the grade is also the focus in the latest "report card" comparing rural healthcare between states, where the state of Texas barely passed. With limited access to medical care, high rates of fatal heart disease and stroke and sky-high uninsured rates, Texas received a "D-."
Published in March 2018 by researchers at Texas Tech University, the U.S. Rural Health Report Card 2017 examines each state's rural healthcare in terms of mortality, quality of life and access to care. In comparison to 46 other states with rural counties, Texas ranked near the bottom at No. 36.
Specifically in the "access to care" category of the report, including access to rural physicians, Texas earned an alarming "F." The most recent figures show that 80 counties have merely five or fewer doctors and 35 counties have no doctor at all.
Texas Tech's new findings correlate with Sam Houston State University's previous "homework." In 2013, SHSU conducted a thorough regional needs assessment for the development of a comprehensive health sciences strategy and found nurses and primary care physicians were ranked at the top. A subsequent feasibility study completed by an independent consultant led to the university's plan to double the nursing program enrollment and establish a college of osteopathic medicine focusing on the primary care needs of rural and underserved Texas regions.
In 2017, the Texas State University System Board of Regents gave the university approval to offer a doctor of osteopathic medicine degree.
Emphasizing wellness through health promotion and disease prevention, osteopathic medicine integrates the patient into the healthcare process as a partner. While osteopathic doctors can be found in all types of environments and specialties, the majority follow the osteopathic tradition of primary care.
Charles E. Henley, D.O., dean of SHSU's proposed College of Osteopathic Medicine (applicant status - seeking accreditation), cites the ongoing wave of hospital and health center closures in small Texas towns as one of the contributing factors to the state's poor ranking in the new report. He points to more training in osteopathic medicine and the training of more students from rural regions as logical solutions.
---
"Those graduating from an osteopathic college are more likely to practice in rural areas. SHSU aims to build a pipeline of qualified medical students who are more likely to return to their communities and serve those regions of Texas where the care is most desperately needed." - Charles E. Henley, D.O.
---
According to an article published in HealthAffairs, 21 percent of students entering osteopathic schools are from a small town or rural area and 13 percent are the first in their family to attend college. Data also show that medical school location has a major impact on ultimate practice location.
The proposed college, which will be self-funded and require no new taxpayer funding, is aimed at collaborating with hospitals in rural East Texas counties to establish residency-training programs that will benefit the people living in those areas. The proposed college has a number of affiliation agreements with hospitals in predominantly rural and underserved areas.
SHSU's history of academic enrichment that contributes to the well-being of the state started over 139 years ago when Sam Houston Normal Institute was established to respond to the need for trained teachers. Today, SHSU is responding to a new critical need—helping the state "make the grade" in rural healthcare.
Growing the Future Nurse Force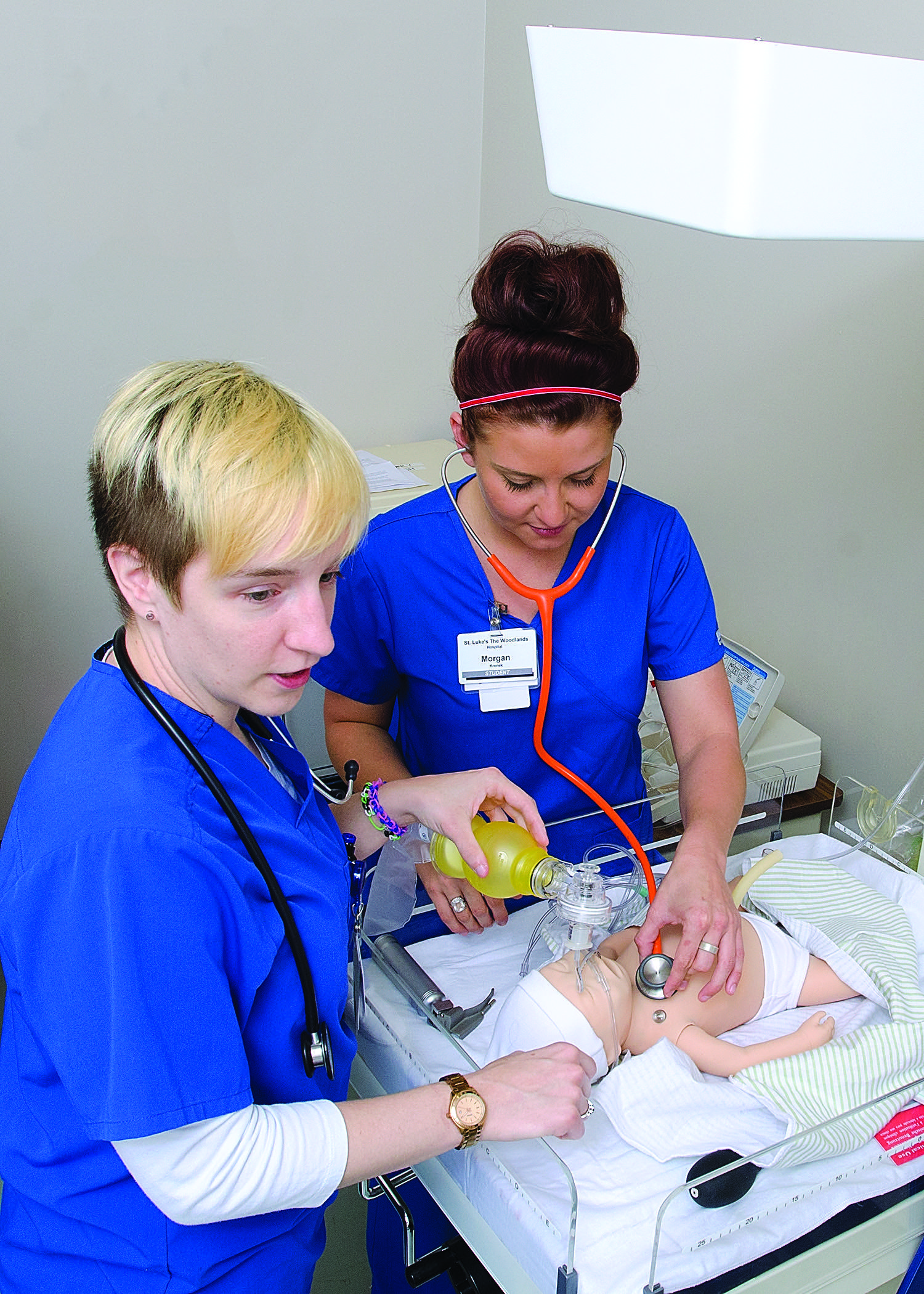 In 2008, Sam Houston State University leadership recognized the void created by a critical shortage of nurses in Texas coupled with no professional nursing educational programs within a 40-mile radius of Huntsville.
A solution came three years later when the School of Nursing was established at SHSU. Offering a Bachelor of Science in Nursing, the new program lead the way for an impressive expansion of academic offerings and professional health programs.
Generous university donors, who understood the need for more nurses and the financial demands placed on these students, helped make the growth of the program possible through their support.
John R. Ragsdale ('59) gave back through a nursing scholarship. To honor his late wife's years of service as a nurse, he established the Mary Ellen Ragsdale Nursing Scholarship Endowment in 2010. "She would be thrilled and proud to know that, as the years go by many young people will follow in the profession she loved with the help of this scholarship. We can never have too many nurses, and she would want these nursing scholarship recipients to know the joy of life is found in helping other people," Ragsdale said.
A new partnership between SHSU and Huntsville Memorial Hospital was formed in 2012 to provide a means of strengthening the nursing program and benefiting rural communities around the region. Five SHSU nursing students were the first to receive fellowships from HMH to assist them with completing their formal education and provide additional training in the hospital units of their choice.
A year later, the nursing program had grown to more than 45 partnerships, extending from Houston to Bryan-College Station to Trinity and included numerous clinical experiences for students from pediatrics to psychiatry.
Important benchmarks were also reached in 2012 and 2013 when the program received dual accreditation from The Accreditation Commission for Education in Nursing and The Commission on Collegiate Nursing Education. This was important for students who wished to continue their education, since graduate nursing schools only accept students from an accredited undergraduate program.
I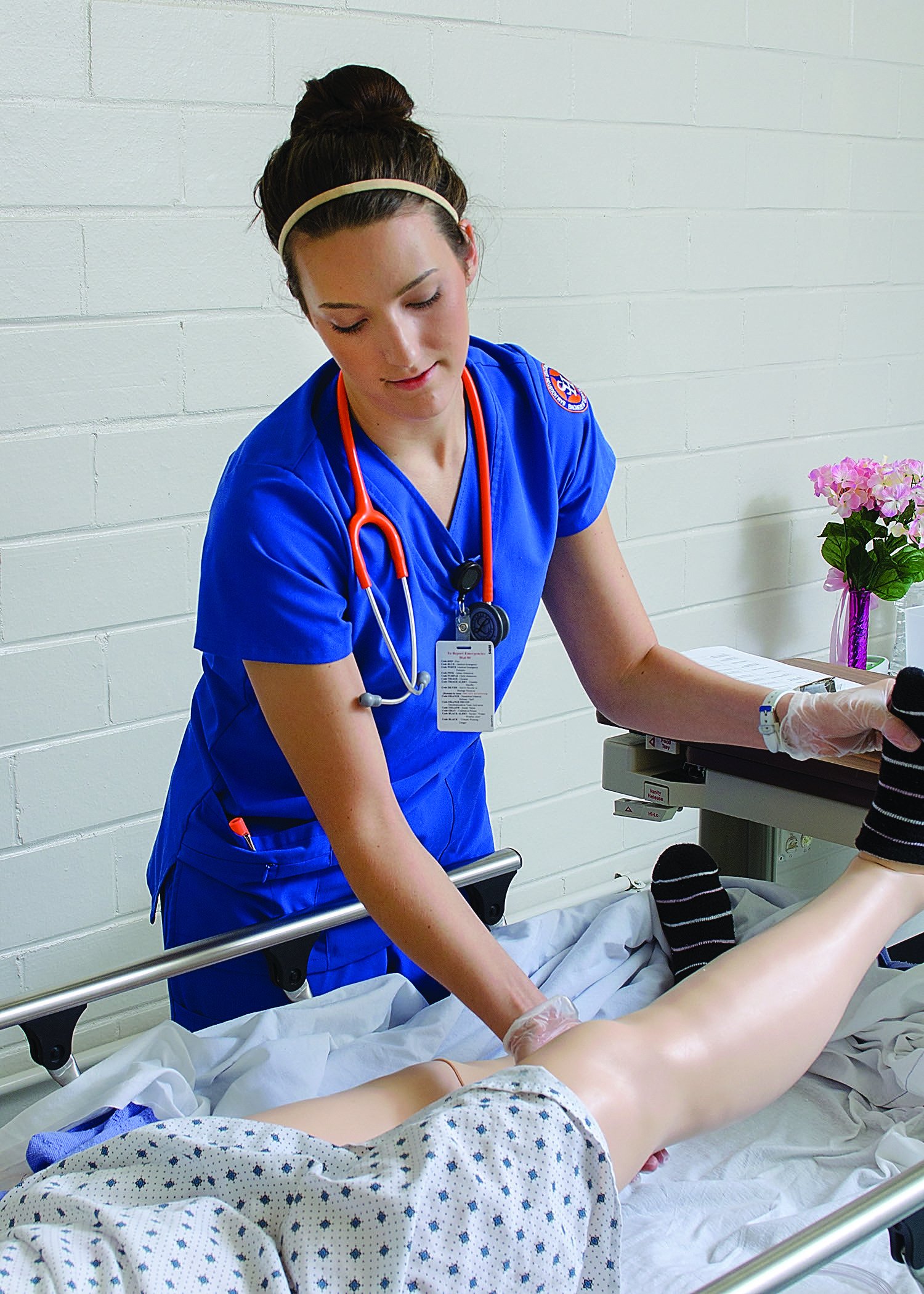 n 2014, the Texas Higher Education Coordinating Board awarded $1.1 million to SHSU's nursing program to work toward meeting the state's growing demand for nursing professionals. Of the seven state universities and 12 community colleges that applied, SHSU received the largest award.
The award enabled the school to hire additional instructional staff to support student success and expand student learning opportunities at SHSU-The Woodlands Center, which housed a nursing skills laboratory and a simulation center. Starting this summer, the School of Nursing will be completely based at SHSU-The Woodlands Center.
Today, the School of Nursing offers three programs, all leading to the Bachelor of Science in Nursing degree (BSN). The programs are BSN (pre-licensure), RN to BSN (post-RN licensure) and LVN to BSN (post LVN licensure). Graduates are recruited for positions regionally and statewide. Many are employed in high-level care areas and enrolled in nurse internships within six months of graduation.
As the school continues to grow, so has the list of donors who want to invest in the future of healthcare. Throughout his career, Dr. Roland E. Black has remembered SHSU as providing an "excellent foundation for growth and adaptation to life." Armed with a desire to give back to the university, he established the Roland E. Black Nursing Scholarship Endowment to help recruit students as future nurses.
Generosity changes the lives of students, but the impact reaches much farther. The investment we make in the next generation of nursing professionals will be felt in the community, state and across the country.
Runyan Named Dean Of College Of Health Sciences
Sam Houston State University has approved the appointment of Rodney Runyan as dean of the College of Health Sciences. Runyan was the director of the School of Family and Consumer Sciences at Texas State University.
"Joining Sam Houston State University as Dean of the College of Health Sciences is an honor and privilege. I am excited to work with such a great group of faculty and staff, get to know our students and engage with the community in creating opportunities for us to meet the health, economic and social needs of Texas," Runyan said.
Runyan earned his doctorate in Human Environment from Michigan State University. Prior to joining Texas State, he held faculty positions at the University of Tennessee- Knoxville, the University of South Carolina and the University of Wisconsin-Stevens Point. From 2013-2016, Runyan was a visiting professor of Marketing at the Lancaster University Management School in the United Kingdom. He spent 16 years in the industry prior to entering into academia.
Runyan's research interests are in small retailer entrepreneurship, especially within rural communities and research methodology. He has published more than 50 articles in journals such as the Journal of Retailing, Entrepreneurship Theory & Practice, Journal of Marketing Management, Journal of Business Research and Journal of Small Business Management and he has conducted or collaborated on research in China, Chile, Russia, Korea, England and Japan.
Additionally, he is an Associate Editor for the Journal of Marketing Management and serves on the editorial boards of the International Journal of Retail and Distribution Management and the Clothing and Textiles Research Journal. He is the immediate past-president of the American Collegiate Retailing Association and president-elect of the Council for Administrators of Family and Consumer Science.
"Dr. Runyan brings many years of experience in both academia and business to assist us as we strengthen existing programs and develop new programs in the College of Health Sciences. I have great confidence that Dr. Runyan's experience will enrich our academic community," Richard Eglsaer, provost and vice president of Academic Affairs said.