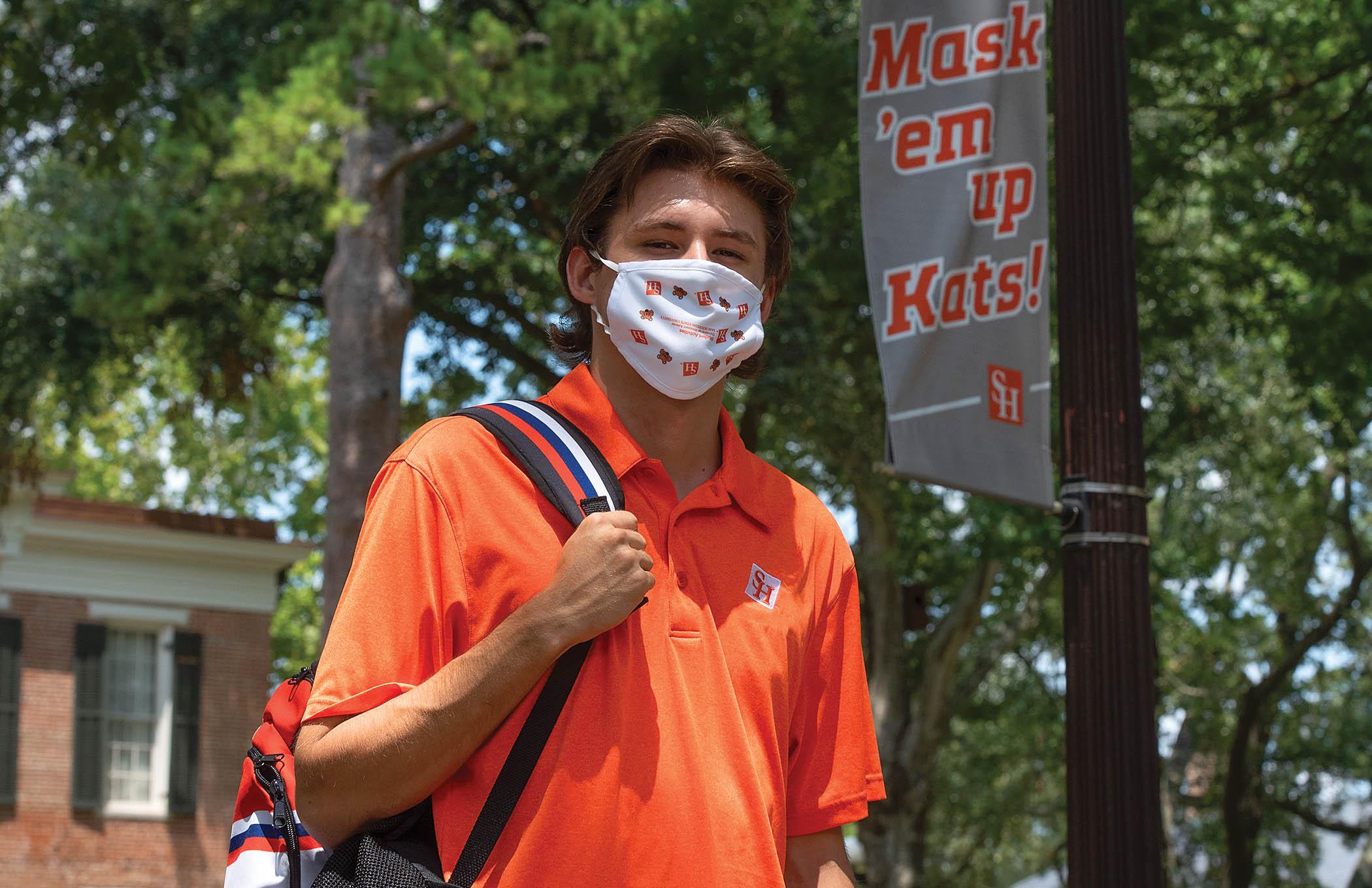 Restart 2020
How SHSU has Adapted to a "New Normal"
Since the onset of the COVID-19 pandemic this past spring, no one could have predicted that education as we know it would have to be reimagined. On multiple fronts, Sam Houston State University took decisive actions to meet the needs of our students. We quickly migrated all academic programming to remote teaching and learning, successfully completed the semester for enrolled students and held a virtual commencement for 3,442 graduates. Even before relief to students was available through the federal CARES Act, we launched the Bearkat Emergency Fund to provide immediate emergency assistance to those students facing the greatest financial hardship. We worked intentionally to continue to provide personal connections to our students, which are the hallmark of a Sam Houston State education. In addition, we served as an important resource for the greater Huntsville community, providing face masks and shields to employees and first responders, expanding our food pantry, serving as a Houston Food Bank super site and providing free meals to essential staff.
We share this information out of an overwhelming sense of pride in SHSU, as well as incredible gratitude for the dedicated team of faculty, staff and donors who kept our university moving forward.
Instruction
Within one week, the team at SHSU Online was able to transition all spring courses to a remote learning format for the remainder of the semester. Since March, when the pandemic broke, SHSU Online hosted more than 250 webinars to assist faculty in transitioning to teach in a blended environment. During this same period, there were more than 1,600 webinar enrollments from faculty.
Personal Safety
Over 18,000 pieces of COVID-related signage, including posters, floor graphics and furniture markings were printed and installed throughout campus directing people how to move safely through buildings and spaces. The university also enhanced its cleaning procedures and installed hand sanitizer stations in all buildings on campus. In preparation for the fall semester, every classroom was equipped with disinfecting wipes for student/faculty use before and after class.
Health Guidance
Since March, the Student Health Center has been equipped with testing supplies, PPE and staff to provide COVID-19 testing for students. At that time, the health center staff also began to transition to telemedicine in order to offer full virtual support in the fall.
Testing
The university partnered with the Texas Division of Emergency Management and Curative Labs Inc. to bring free COVID-19 self-collected testing to the Huntsville campus for students, faculty and staff. Located outside of the Lowman Student Center, a walk-up testing kiosk booth is operated by Curative's lab staff who demonstrate the testing process with each person, observe the sample collection and answer any questions. Funded by the State of Texas Department of Emergency Operations, self-collected COVID-19 kiosk testing provides a great avenue to increase screening at no cost to the university.
Innovations
Faculty across campus collaborated with area healthcare professionals to utilize the university's 3-D printing capabilities to create reusable masks and face shields for medical and other essential workers. University faculty, staff and students partnered with Entergy to mass produce hand sanitizer and facemasks for the local community. The university used the summer break as an opportunity to repurpose its labs and as of September 1, approximately 3,500 kits were distributed to 20 non-profit organizations and government entities including the Good Shepherd Mission, Huntsville Police Department, SAAFE House, Huntsville Senior Citizen Center, YMCA, the Boys and Girls Club, Huntsville Public Library, SHSU Food Pantry and several Huntsville-area schools.
Work Group
Another step in restarting 2020 was White's implementation of a SHSU COVID-19 work group and the appointment of Drew Miller, associate vice president of Student Affairs and executive director of Counseling and Health Services, as the university's official COVID liaison. In this role, Miller serves as the university's point person on COVID-related issues and leads the cross-campus group focused on workable ideas and solutions to help maintain the safety of the community. The group represents a cross-section of faculty and staff from various academic disciplines.
Bearkats quickly came together during the pandemic to provide support to students, faculty, staff and our community.
• 2,785 courses transitioned online in the spring semester and 423 courses transitioned online in the summer sessions
• 35,333 meals were provided to faculty and staff who remained on campus from March through July
• 37,800 meals were provided to students who remained on campus after spring break
• 607,732 views of the university's COVID-19 website since March 1
• 40+ faculty experts were interviewed by media outlets
• 60,325 Zoom meetings were conducted, totaling 19,642,899 minutes
• The university awarded 879 students $981,804 from the Bearkat Emergency Fund
• More than 9,800 views of the SHSU virtual Commencement honoring the Class of 2020