In Memoriam
John Hoke '38
Bonnie Lou (Wright) Lowman '45
Lois Rae (Westerlage) Martin '48
Donald Lee Strickland '49, '54
Edloe (Weems) Stuckey '49
Howard Joseph Walker '49
Robertson Thomas Bruce '50
Joe Tevis Shafer '53
Don Clutes Treuhardt '53, '64
Wayne Thomas White '53
Elizabeth Jane (McCulloch) Nelson '54
Anna Ruth (Asbury) Putnam '54
Arleah Laurette (Bruce) Hillegeist '56
Catherine Mary Khaled '56
Bobby Sam Windham '56
Robert Dean Tyler '57, '60
John Meredith Wilson '57
Richard Phillips Bell, Sr. '58
Lorene (Niederhofer) Cooper '58
Audrey Joan (Fisher) Robinson '58
Ernest Shepherd Waldrop, Jr. '58
Ellis Perez Medina '59
Mary Francis (Mahanay) Ashmore '60
Benjamin Bonilla, Sr. '60
Joe Tom Davis '60, '61
Charlscie Coburn Krivacka '60
Patricia Jean (Hicks) Lemmons '60
Peggy Parsley Paddock '60
Jane Ansalee (Stovall) Davidson '63
Louis Michael Ferrell '63, '69
David Figari, Jr. '63, '70
Charles Longcope, Jr. '63
Virginia (Carlon) McKnight '63
Olin Eugene Crowley '64
James Marcus Sheffield '64
Jacqueline Way Mathews '65
Mary Catherine (Graf) Thomas '65
Francis Anne (Guerrant) Adams '66
Edward Louis Giusti, Jr. '66, '67
Jerry Hyden '66
James Hardy Mallery '66, '68
Alfred McCord Baker '67
Bobby Lee Doonan '67
Jeffrey John Head '67
Judith Luan (Priest) Wiedower '67
William Allison Colson '68
Jeanette (Boyd) Irwin '68
Sarah Jane (Swanzy) Golden '70
William Ray Guidry '70
Susan Kay (Hendrickson) Parker '70
Glenn Earl Brandt '71
Ercyle Lavoice Henderson '71
Katherine Margaret (Burroughs) Wentzel '71
Stephen Darrel Cegelski '72
William Fitzstephens Maurer '72
Deanna Dee< (Cummings) Wickes '72, '78
Michael Carl Brodsgaard '73
Roderick James Fitzgerald '73
James Carroll Reynolds '73
Norman Charles Koger '74
Patricia Gale (Ackerman) Rush '74
Alan Ray Zahradnick '74
Robbie Jean Foster '75
Edward Stephen Hanudel '75
Armando James Abney '76
Stephen Lane Johnson '76
Andrew Stephen Artz '77
Ruby Pauline Banks '78
Valena Ann (Bartell) Cox '78
Sammie Joe Harrod '78
Jeanne Yvonne (Dobbs) Treadway '78
Joe Dean Passmore '80
Michael Wayne Utley '80
Melanie Lynn Drake '81
Marilyn Ruth (Walker) Follin '81, '84
Royce Glenn Smith '81
Carl Cloys Thornton '84
Ronald Worth Clinton '86
Marilyn Frances (Webster) Paradis '86
Melissa Lynn (Osmun) Kearney '88
Samuel Calhoun Dominey, Jr. '90
Pamela Nell Pauley '91
Martha Ann (Fitz) Gonzales '96, '00
Christopher Scott McCalman '01
Amy Leann (Scott) Ochoa '01, '04, '07
Betsy Kyle Herring '02
Cynthia Leann Swanner-Johnson '03, '05
George Chinea, Jr. '08
Eric Trivonte Johnson '08
Janet Irene (Pokorski) Clarke '09
---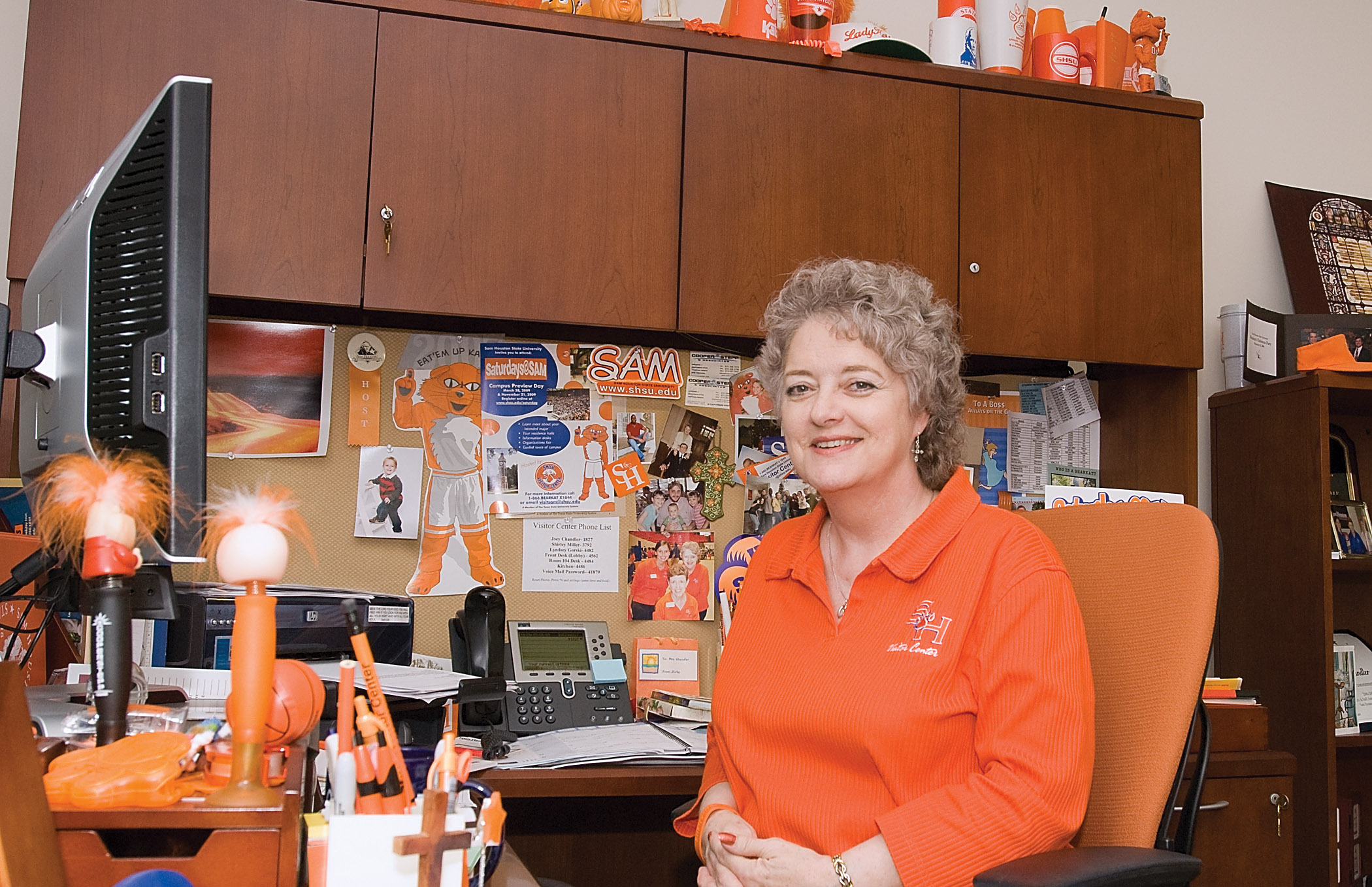 Joey Brand Chandler
SHSU mourns the loss of Joey Brand Chandler who served at SHSU as the assistant director of admissions ('84 to '92), the director of undergraduate admissions ('92 to '05) and director of the Visitor's Center from ('05 to '09). During that time, she helped the university achieve record enrollment growth, and was often recognized for her leadership, school spirit and frequent Bearkat orange outfits. Throughout her professional career, she served on statewide organizations including the Texas Association of Collegiate Registrars and Admissions Officers (TACRAO), where she held numerous positions.
---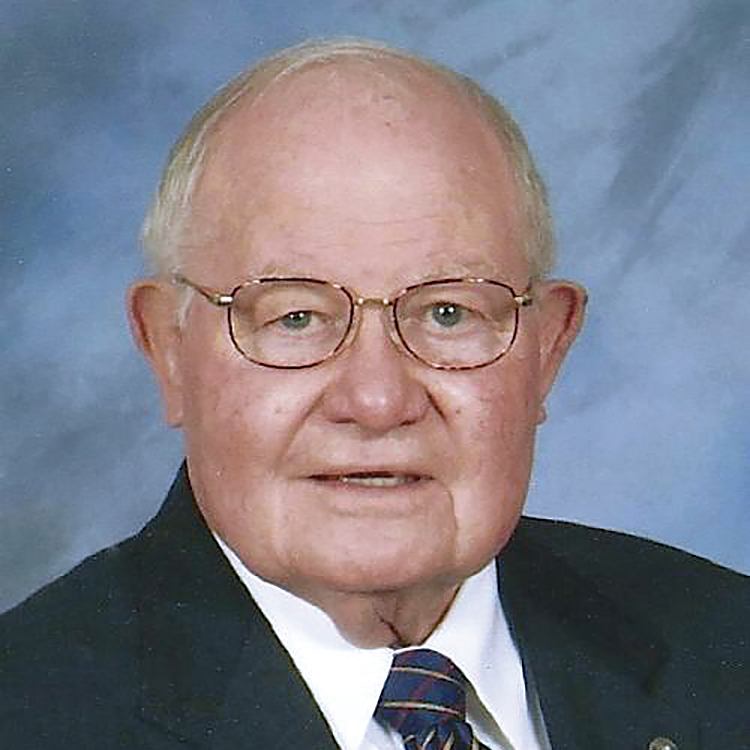 Remembering Donald Stickland
The Bearkat Community honors the memory of Donald Strickland. The successful businessman earned both a bachelor's degree in '49 and master's in '54 from SHSU. For his outstanding commitment not only to SHSU but to his community as well, Strickland was honored with a 2012 SHSU Alumni Association Service Award.
Strickland engaged in a variety of business interests including: public school teacher and administrator for 16 years, former owner of Strickland's Variety and Gift Stores, owner of Strickland Funeral Homes, director of First Liberty National Bank, owner of Strickland Cattle Company, president of Strickland Investments, Inc. and president of Somerville Investments, LLC.
For more than 60 years, he was an active Rotarian, serving as club president, a district governor, and director and vice president of Rotary International. Strickland is a former president of the Liberty Independent School District board of trustees, for which he served 20 years. He also served as president of the Liberty Chamber of Commerce and chairman of the Liberty-Neches Council of Boy Scouts of America.
He served as mayor of the City of Somerville and was a member and board chairman of the Brazos Valley Council of Governments, chairman of the board of directors of Gulf Coast Trades Center, chairman of the board of the Brazos Valley Health Partnerships, and a member of the Burleson County Hospital District.