Changing the Game for Fans and Student-Athletes
Whether watching a game on the benches behind the team, in the orange chairback section or from a VIP suite, there is no better experience for a true Bearkat fan than watching a game in a stadium. Details

The Value of an Athletic Scholarship
Jeremiah Briscoe, a two-time Walter Peyton Award recipient, dominated opposing offenses during his time at Sam Houston State University. Details
Changing the Game for Fans and Student-Athletes
Whether watching a game on the benches behind the team, in the orange chairback section or from a VIP suite, there is no better experience for a true Bearkat fan than watching a game in a stadium—in touch with the sights, sounds and smells of college football.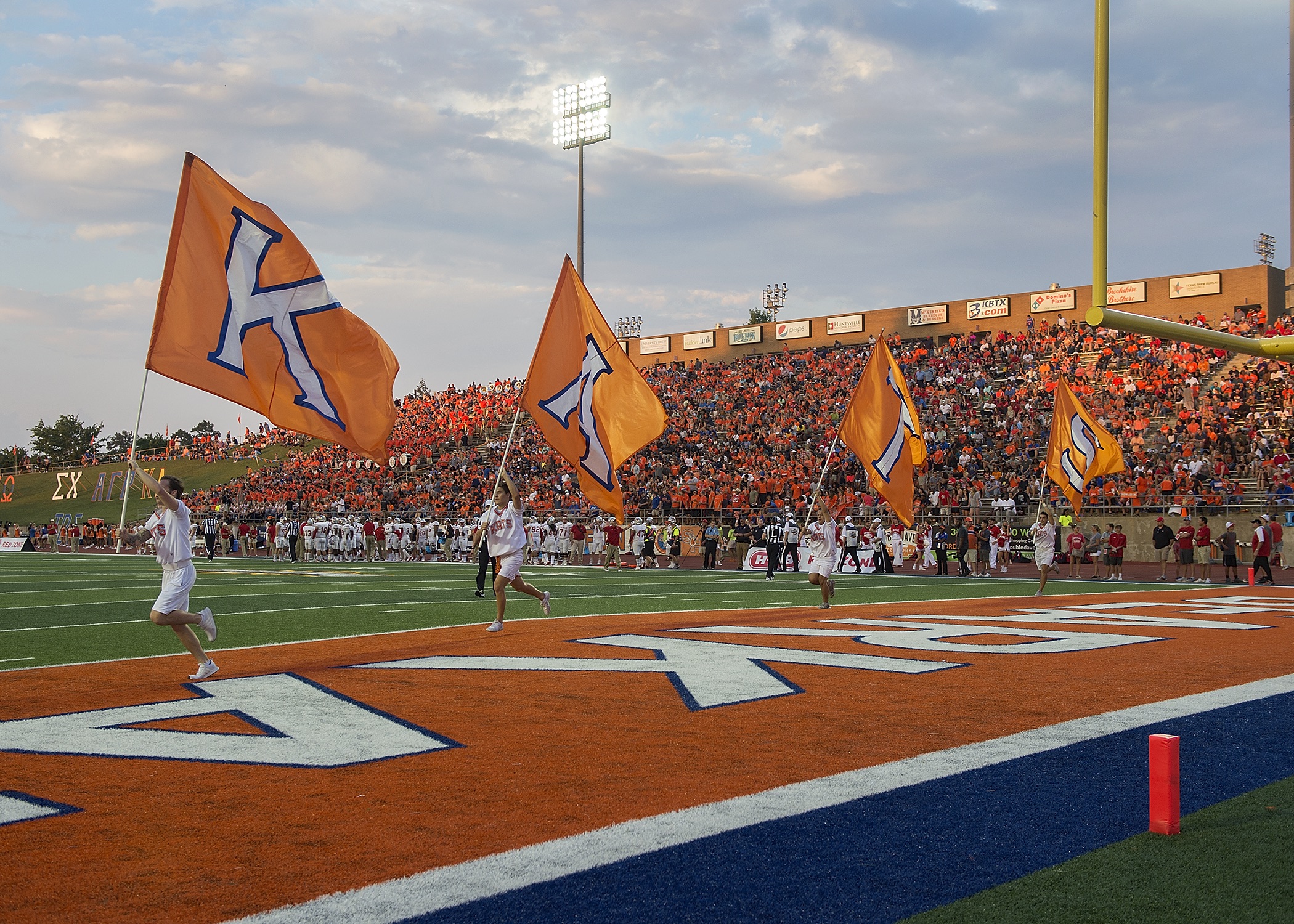 What is it that makes sitting on bleachers more appealing than sitting in a cozy recliner with a fridge full of drinks? Is it the anticipation, excitement and camaraderie of tailgating with friends while the aroma of barbecue and grilled hamburgers filters through the crowd? Maybe it's the music of the band and halftime performances; the chanting of "Sam" by the crowd on one side of the stadium followed by "Houston" on the other; the painted "Kat Krazies" pounding away on their steel sign; or the bigger-than-life scoreboard flashing news and information about the team? Or, is it sharing in a Texas sports tradition with other devoted fans in an energy-filled atmosphere, high-fiving strangers, while reveling in cacophony of cheers, boos, thuds and groans that you just can't get while watching a game on TV?
Sam Houston State University wants to deliver a championship experience for fans by improving those things that already draw Bearkats to the stadium and adding amenities that will make the experience more enjoyable. It's a priority for the athletic component of the university's "Honoring Traditions. Creating Futures" capital campaign, which includes upgrades to both Bowers Stadium and the Ron Mafrige Field House.
"Fans can expect new and updated concessions and restrooms on the southwest side of the stadium and improved access with a new walkway concourse through the middle of the seating area," said Bobby Williams, SHSU director of athletics.
Other renovations include a reconfigured design which will provide premium seating, suite options and a club area with access to outdoor viewing. The plan also calls for a new media center to enhance game-day coverage for television, radio and print.
"Mafrige has been added to the capital campaign project because of the magnitude of its importance for recruiting and retaining exceptional student-athletes and coaches," Williams said. "Student-athletes, for most of the 17 Bearkat sports, access the field house, so it is critical the building be brought up to standard."
The Mafrige Field House, which opened in September 1986, will be getting its first major "face-lift."
"Prospective students and recruits tour the field house throughout the year," Williams said. "They are comparing what they see at Sam Houston to other programs across the state and nation. It's important that Mafrige Field House provides the services necessary to meet the needs of our student-athletes, coaches and staff."
The building serves several important functions. In addition to being the location of administrative offices for Bearkat Athletics, it is also where student-athletes go for physical training and treatment.
"During football and track season, Mafrige is used by home and visiting teams and game officials. Also, fans enjoy game-day experiences from the Bearkat Champions Lounge overlooking the south end zone at Bowers Stadium," Williams said.
Renovations include updated and expanded locker rooms for football and track, larger training and equipment rooms, renovated offices for coaching staffs, larger meeting rooms, a players' lounge, and improved heating, cooling and water systems. The administrative offices will be relocated to a new home in the Woodforest Bank Athletics Center on Avenue I at Bobby K. Marks Drive.
"With these improvements, we will be able to stay on track with enhancing the fan experience, acquiring quality talent and growing revenues so that we can keep up with the increased cost of operations and equipment," Williams said.
For more information about the athletics component of the capital campaign, ways to help and naming opportunities, contact Russell Martinez, director of development for athletics at 936.294.4260 or russell.martinez@shsu.edu.
The Value of an Athletic Scholarship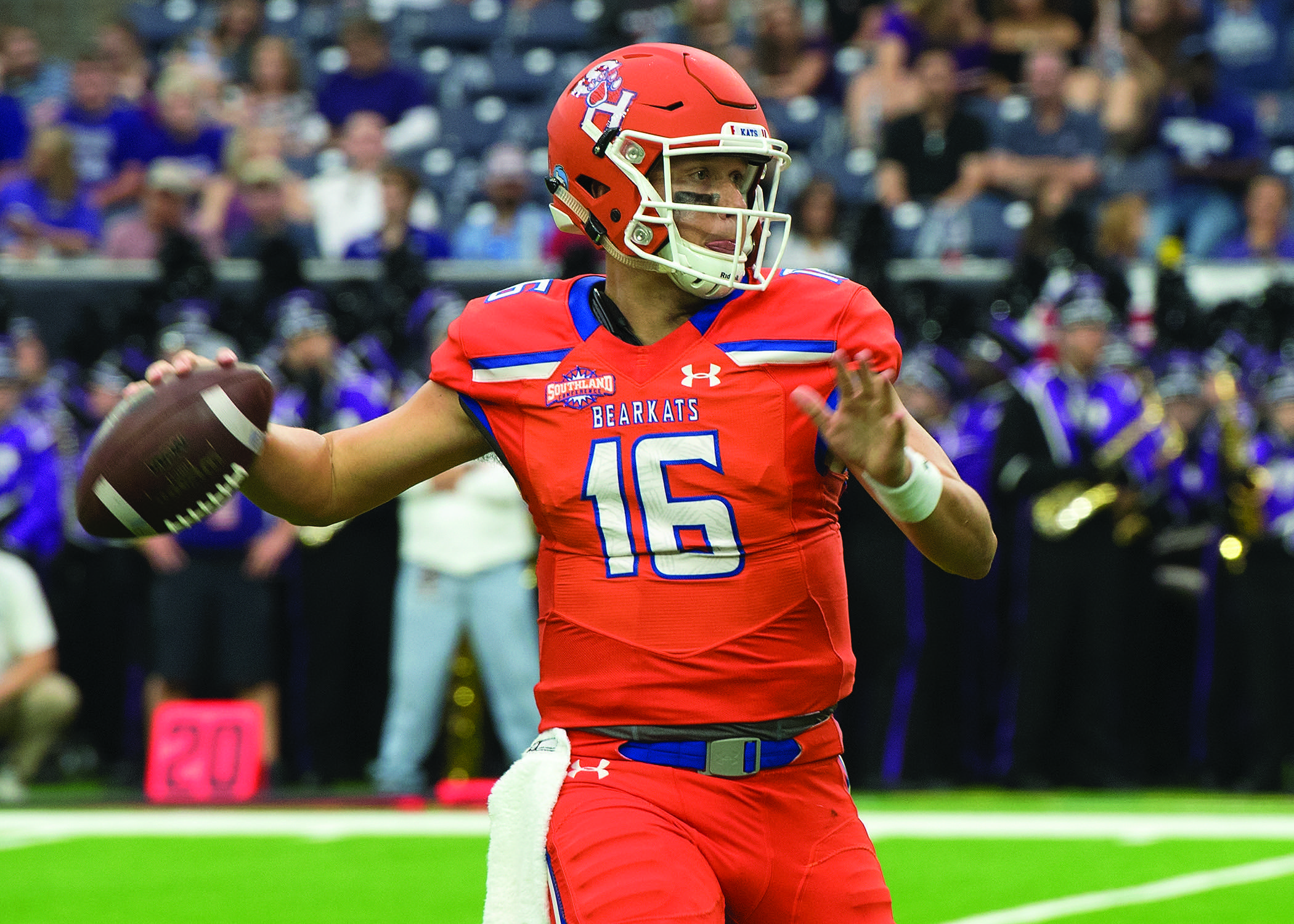 Jeremiah Briscoe, a two-time Walter Peyton Award recipient, dominated opposing offenses during his time at Sam Houston State University. He left his mark as the all-time leader in total yards passing, total offense and touchdown passes, while also earning his degree in business.
Briscoe began his collegiate career playing football and baseball for the University of Alabama at Birmingham, until the football program was terminated. Then an appealing recruitment offer from SHSU brought him to Texas, where he received a full-ride athletic scholarship to play football.
---
"These scholarships are important in rewarding athletes, who might not otherwise be able to afford the cost of college, for their dedication and talent and provide them further opportunity to shine." - K.C. Keeler, SHSU head football coach
---
Competing at the highest levels in the country requires resources that are only possible through continuous support. Gifts allow for the enhancement of the student-athlete experience not only on the field, but also in the classroom.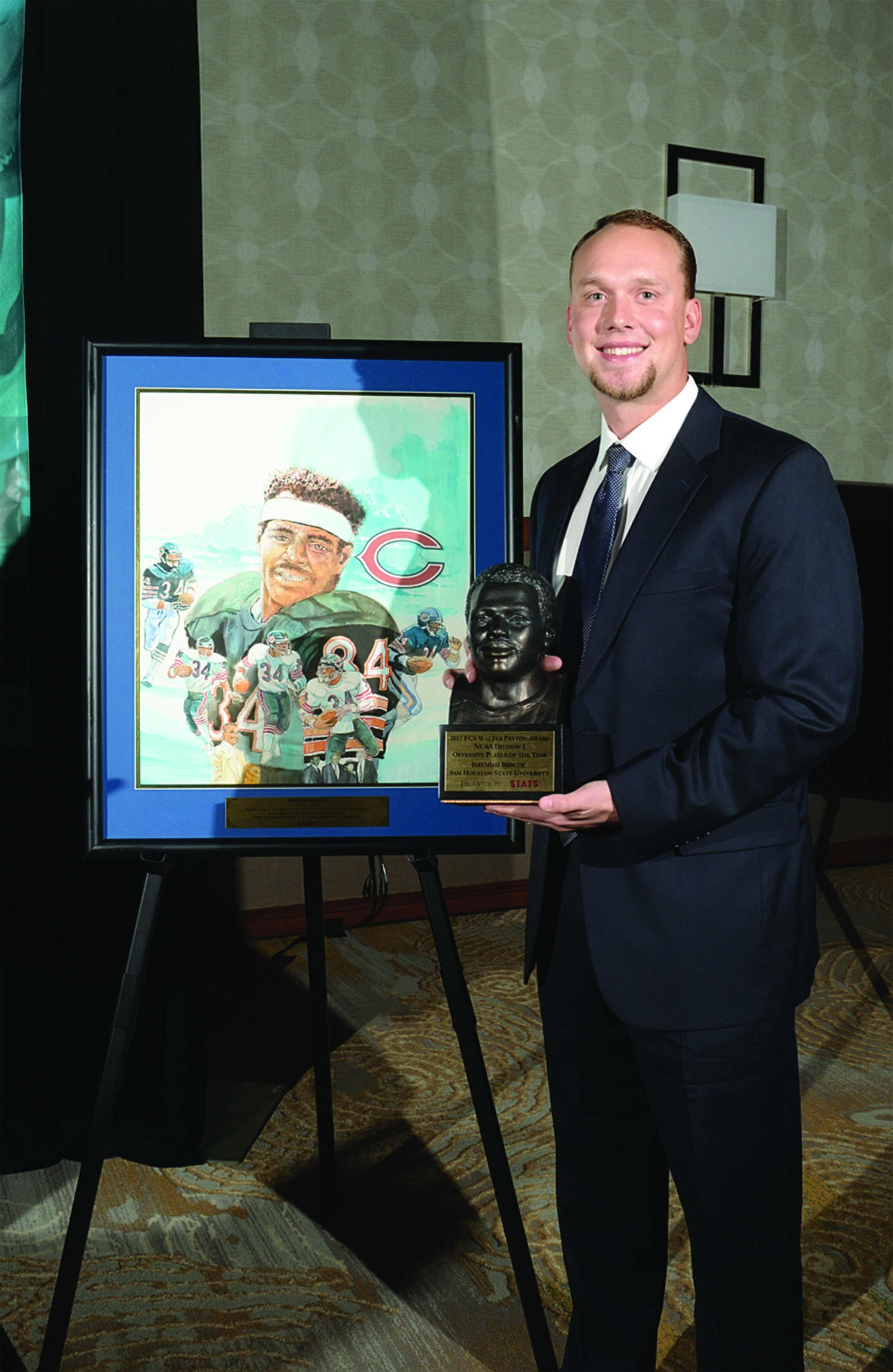 "College recruitment can be fiercely competitive. It is through the incentives of generous athletic scholarships that we have been able to secure top athletes like Briscoe," K.C. Keeler, SHSU head football coach, said. "These scholarships are important in rewarding athletes, who might not otherwise be able to afford the cost of college, for their dedication and talent and provide them further opportunity to shine."
Briscoe could easily be considered one of the best quarterbacks in SHSU history, but he still remains humble and credits the university community for his ultimate success.
"On behalf of myself and other fellow Bearkats, we can't thank our donors enough. We wouldn't be as successful without the continuous backing," Briscoe said. "From major support to small gifts, our donors help give us the edge needed to make this the best athletic program in the nation."
After a rigorous season of training, the former Bearkat and current NFL prospect will wait for the possibility to hear his name called into the pro ranks during the 2018 NFL Draft from AT&T Stadium in Arlington, TX.