Student-Athletes Represent SHSU
Aug. 16, 2023
SHSU Media Contact: Campbell Atkins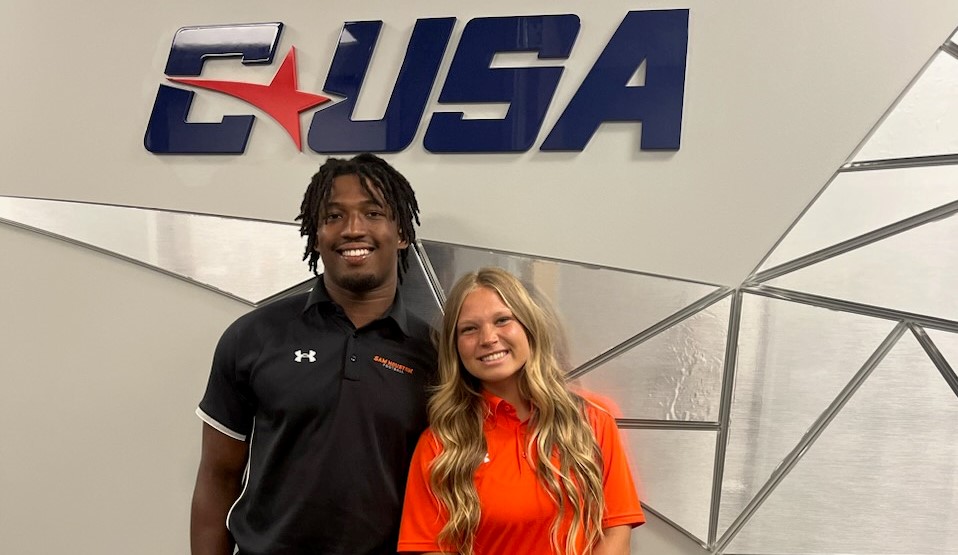 Sam Houston State University's Student-Athlete Advisory Committee (SAAC) works to ensure all Bearkats have collective and equal support throughout their unique experiences in collegiate athletics. Football's Jaylen Phillips and soccer's Dana Hanson, who are members of the committee's executive council, represented SHSU at a Conference USA SAAC meeting in Dallas July 27-29, the first meeting of its kind since the realignment.
"SAAC does a great job providing student-athletes with a voice," said Phillips, who was elected chairman of SAAC for the entire conference. "I was honored and blessed to help represent Sam and CUSA and will do everything in my ability to be the best chair I can be."
During the meetings, Phillips and two other candidates presented a speech to representatives from all nine current CUSA-competing schools before being selected to the prestigious role by his peers. He sees the appointment as a privilege and believes it speaks volumes that a Bearkat was chosen for the role in the school's first year in the conference.
"I think a lot of the things we are bringing to the table in CUSA will be very valuable, not only to SAAC, but to the entire conference," Phillips said.
"Instantly, it felt super casual and comfortable," said Hanson on the camaraderie between the athletes from all nine schools. "Everyone was eager to get to know each other as people and it was a super diverse group. Even though we are from different schools and may play different sports, we want to see each other succeed."
Representatives met and collaborated with top CUSA officials during the two-day event, including Commissioner Judy MacLeod, to discuss policies, upcoming events and exchange ideas. Topics included job opportunities for student-athletes, mental health, school and community engagement as well as further education regarding name, image and likeness (NIL) and transfer portal processes.
"It was awesome to meet people from other schools because all of us have different stories," Phillips said. "Student-athletes come from everywhere across the world, so it was constructive to find out the different things they do in their committees, brainstorm ideas and learn from each other."
"It also gave us the opportunity to get to know the conference and gave CUSA leaders an opportunity to get to know us more as a school and athletic program," Hanson said.
Phillips and Hanson, like all SHSU SAAC members, were identified as potential committee leaders early in their athletic careers by Chris Thompson, SHSU's senior associate athletic director. The SHSU graduate has been a member of the athletic department staff as a coach or administrator since 1981 and leads a course helping freshmen understand how to manage life as a student-athlete.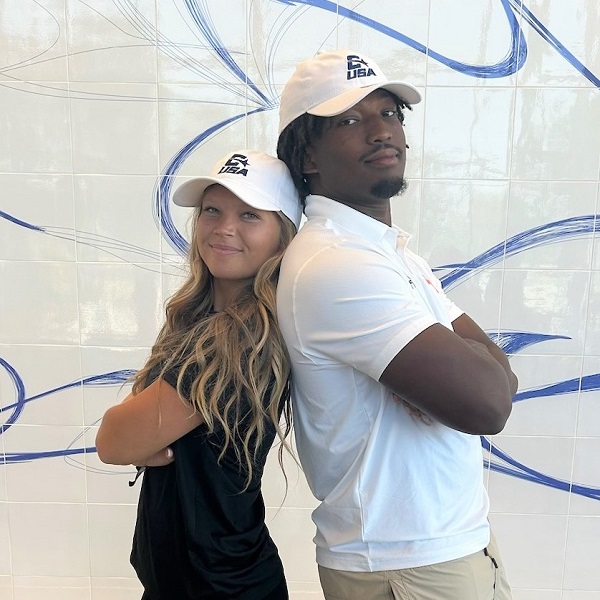 "Ms. Thompson does a really great job of creating relationships with all student-athletes, so she knows us personally," Hanson said. "She handpicks who she sees will be a good fit for these roles."
Both Phillips and Hanson have possessed leadership intangibles throughout their lives, which have been fostered through family and faith.
"To be a good leader, you need to be a good follower," Phillips said. "First, you have to follow and learn from others. Have significance. Be willing to serve others, because I feel like that is the greatest thing you can do in life."
"Being a leader is setting yourself apart, and not so you can get glory," Hanson said. "Know your values, know your morals, and stick to them."
Phillips is a junior in terms of athletic eligibility but earned his bachelor's degree in communications Aug. 5. He will now pursue his master's degree in business. Hanson is a junior currently studying marketing and sports media. Both leaders encourage all student-athletes to come to them for assistance as they navigate their unique experiences on and off the field or court.
Phillips and Hanson are two of the four members that make up SAAC's executive council along with Denise Blankenzee (bowling) and Kian Scroggins (men's basketball). Other SHSU SAAC members include Colt Atkinson and Wesley Folse (baseball), Anthony Wrzeszcz (men's basketball), Sydnee Kemp and Kaylee Jefferson (women's basketball), Stephanie McCoy (bowling), Kavian Gaither, Ysidro Mascarro, Jax Sherrard and Trevor Williams (football), Nathan Weber (men's golf), Cari Denson (women's golf), Katarina Baehren and Landry Townsend (soccer), Megan Basson (tennis), Nikos Fotinopoulos, Christian Rivera and Hayden Whitehead (men's track), Bailey Cotton, Bethany Kelly, Emma Melton and Lilly Rodel (women's track), Alyssa Fielder and Jenna Roberson (volleyball), Ellie Grill and Hannah Scheaffer (softball).
- END -
This page maintained by SHSU's Communications Office:
Associate Director, Communications: Emily Binetti
Telephone:936.294.4406
Communications Manager: Mikah Boyd
Telephone: 936.294.1837
Communications Writer: Campbell Atkins
Telephone: 936.294.2638
Thomason Building: Suite 102
Please send comments, corrections, news tips to Today@Sam.edu