Starship Technologies Launches Robot Delivery Service On Campus
Sept. 7, 2023
SHSU Media Contact: Mikah Boyd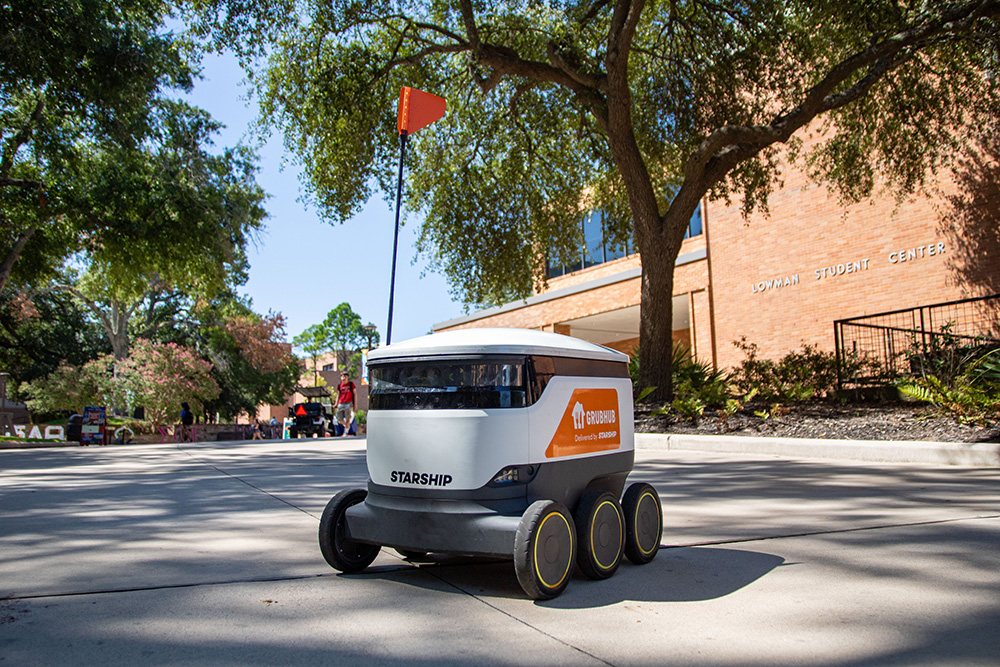 Grubhub and Starship Technologies rolled out its robot food delivery service today on the Sam Houston State University campus in Huntsville.
Starship's fleet of autonomous, on-demand robots will deliver from eight campus eateries: Chick-fil-A, Panda Express, Pastabilities, Starbucks, Steak n Shake, Subway, Taco Sabroso and The Brisket Burger Co.
The campus community can now use the Grubhub app (iOS and Android) to order food and drinks from campus restaurants to be delivered campus-wide, within minutes. The service works in conjunction with the student meal plan.
"We are really excited to bring robots to campus and to offer our customers this type of technology," said Brad Blackburn, Sam Houston Hospitality resident district manager. "Students place their order through the app, identify where they want their food delivered then we will fill the order and send the robot on its way. Once the robot arrives, the student uses their phone to open the hatch via the app, grab their order, close the hatch and send the robot back for another delivery. It's really that simple!"
Grubhub and Starship are already providing robot food delivery services to campuses across the country, including the University of Kentucky, Fairfield University, University of Nevada, Las Vegas, Wayne State University and Southern Methodist University.
"Robot delivery solves the unique challenges of accessing hard-to-reach areas that come from operating on a college campus," said Adam Herbert, senior director of campus partnerships at Grubhub. "With Starship's robots, students can enjoy a fun, new way to order their favorite meals right to their door—whether that be the library, their dorm, academic hall or another campus building. Offering this type of delivery further improves the Grubhub dining experience as we continue to provide innovative solutions for students and our campus partners."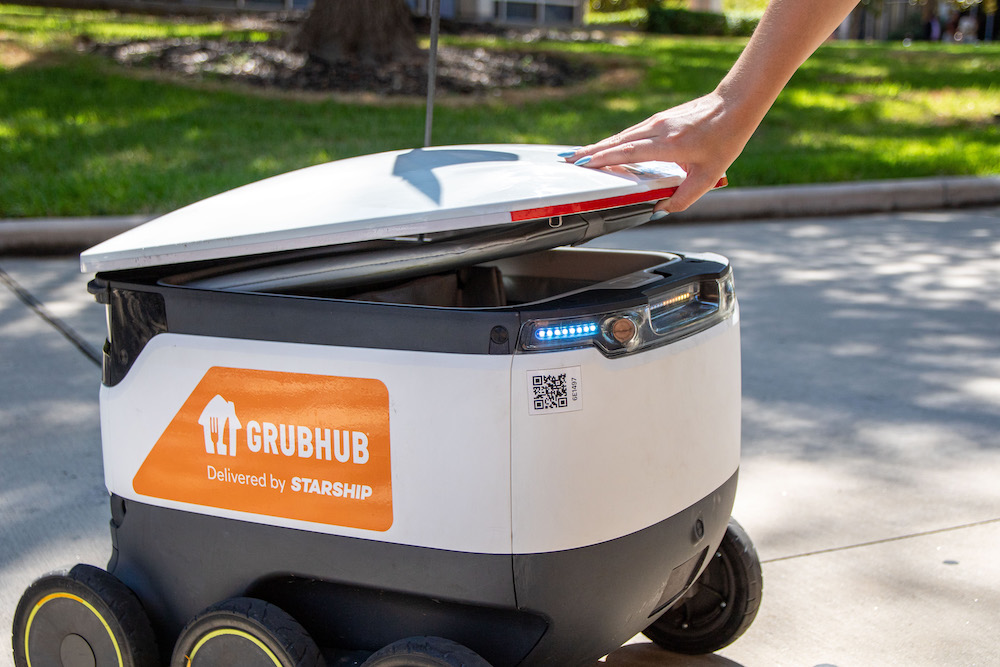 To get started, users open the Grubhub app, choose from a range of their favorite food or drink items, then select the location for their delivery to be sent. They can then watch as the robot makes its journey to them, via an interactive map. Once the robot arrives, they receive an alert, and can then meet and unlock it through the app. The delivery usually takes just a matter of minutes, depending on the menu items ordered and the distance the robot must travel. Each robot can carry the equivalent of about three shopping bags of goods.
"It's always fun seeing how students react when we start service on a new campus," said Chris Neider, VP of business development at Starship Technologies. "Our robots are designed to make life easier and more convenient, and we think the Bearkats community will be surprised how quickly they become a normal part of campus life."
Starship Technologies operates commercially on a daily basis around the world. Its zero-emission robots have made more than 5 million autonomous deliveries, traveled millions of miles and make more than 150,000 road crossings every day. The robots use a combination of sophisticated machine learning, artificial intelligence and sensors to travel on sidewalks and navigate around obstacles. Vision-based navigation helps the robots to map their environment to the nearest inch. The robots can cross streets, climb curbs, travel at night and operate in both rain and snow. A team of humans can also monitor their progress remotely and can take control at a moment's notice.
- END -
This page maintained by SHSU's Communications Office:
Associate Director, Communications: Emily Binetti
Telephone:936.294.4406
Communications Manager: Mikah Boyd
Telephone: 936.294.1837
Communications Writer: Campbell Atkins
Telephone: 936.294.2638
Thomason Building: Suite 102
Please send comments, corrections, news tips to Today@Sam.edu