SHSU 2023-2033 Campus Master Plans Approved By Regents
May 26, 2023
SHSU Media Contact: Emily Binetti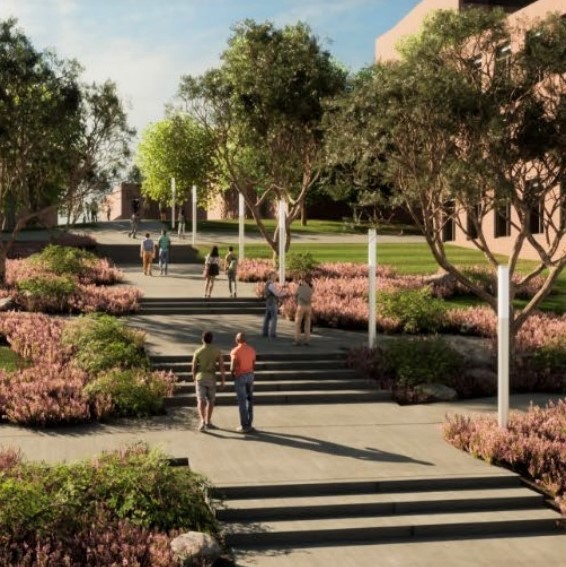 A new Sam Houston State University Master Plan that balances a reinvestment in legacy buildings as well as additional spaces to meet future growth needs was among the items approved by the Texas State University System Board of Regents at their regular quarterly meeting on May 25.
The approved Master Plan, designed by Page Southerland Page, Inc., incorporates the current and future needs of the Huntsville, Conroe and The Woodlands campuses and updates the 2013 Campus Master Plan.
In academic affairs, SHSU's Strategic Plan, including 20 goals, was approved. This plan will allow the university to align and focus its resources to meet the needs of the future.
A degree program addition providing a Master of Arts in History and Political Studies was approved. The 100 percent online program is expected to be of high value and interest to secondary educators and community college instructors who want to be credentialed to teach dual credit courses in both history and government as well as graduate students with interdisciplinary interests.
A certificate program addition providing an undergraduate certificate in Communication for Legal and Criminal Justice Professions was approved. The 100 percent online certificate is a freestanding credential that can be earned as a stand-alone certificate or awarded on the way toward a bachelor's degree.
Change in program delivery of the Master of Public Health was approved. To be offered in a 100 percent online modality, the program serves to provide a flexible opportunity for SHSU students to earn a graduate public health degree to enhance their professional development.
Degree program deletion of the Doctor of Education in Developmental Education Administration was approved. The Department of Educational Leadership is seeking to merge the existing Doctor of Education in Developmental Education Administration with the existing Ed.D. in Higher Education Leadership. Both degree programs are housed in the same department, with similar curricula, and often attract students from similar career paths.
Degree program deletion of the Master of Arts in Administration was approved. The program has been inactive since 2011 with no students currently enrolled in the program.
Degree program title and CIP code change for the Doctor of Education in Literacy was approved. Shifting the focus of the degree program to curriculum and instruction and allowing students to pursue degree tracks in Special Education, TESOL, or Literacy, allows SHSU to remain competitive and responsive to the needs of the state of Texas in K-12 and higher education.
Degree program title change for the Master of Education in Reading and Language Arts to the Master of Education in Literacy Instruction was approved. The change will highlight the evolving role, which extends past reading and language arts to include advocacy and leadership of all literacy instruction.
A department reorganization was granted to split the existing Department of General Business and Finance into two academic departments: Department of Business Administration and Entrepreneurship and the Department of Finance and Banking. This change will also allow the departments to focus on their unique strategies and strengths and allow each to grow and expand its outreach to meet the increasing demands of the Texas workforce.
A reduction in semester credit hours for a Master of Arts in Sociology was approved, aligning it with comparable programs throughout Texas and the United States.
Authorized curriculum changes include 17 course additions, 4 course deletions and 33 course changes.
All academic affairs program changes are to be implemented upon final approval by the TSUS Board of Regents and the Texas Higher Education Coordinating Board.
In finance, Regents approved a program fee of $19,950 for Texas residents and $21,950 for non-Texas residents for the SHSU College of Osteopathic Medicine. In addition to the program fee, students will be subject to statutory tuition, which is currently set at $6,550 per academic year for Texas residents and $19,650 per academic year for non-Texas residents. These changes are contingent upon SHSU receiving formula funding through the health-related institutions formula funding.
Operating budget adjustments for FY23 were provided to Regents. The approved budget increased by 1.35 percent or $5.83M, which includes Educational and General Funds at $373,000, Designated Funds of more than $4.0M, and Auxiliary Funds at $1.38M.
Approved capital improvements include the Active Learning Center, Bowers Stadium Press Box Expansion and Gibbs Ranch Equestrian Facility and Agriculture Labs (Phase 2) listed on the FY 2024-2029 Capital Improvements Program for a total of $87.2M in total project costs.
In contracts, consent was granted to execute agreements with Marcel Boulevard, LLC for the lease of 12,142 square feet of space in Conroe, Texas, which will house the SHSU College of Osteopathic Medicine's Physicians Clinic.
Approval was granted to amend Coach Kurt C. Keeler's employment contract with SHSU by extending the terms until June 30, 2027, and adjusting compensation in certain circumstances.
Under miscellaneous items, approval was granted to name the new road being constructed through SHSU's Gibbs Ranch Equestrian Facility and Agriculture Labs complex "Blake Sandel Lane."
- END -
This page maintained by SHSU's Communications Office:
Associate Director, Communications: Emily Binetti
Telephone:936.294.4406
Communications Manager: Mikah Boyd
Telephone: 936.294.1837
Communications Writer: Campbell Atkins
Telephone: 936.294.2638
Thomason Building: Suite 102
Please send comments, corrections, news tips to Today@Sam.edu