SHSU Breaks Ground On Beckner Tennis Center
Sept. 29, 2023
SHSU Media Contact: Mikah Boyd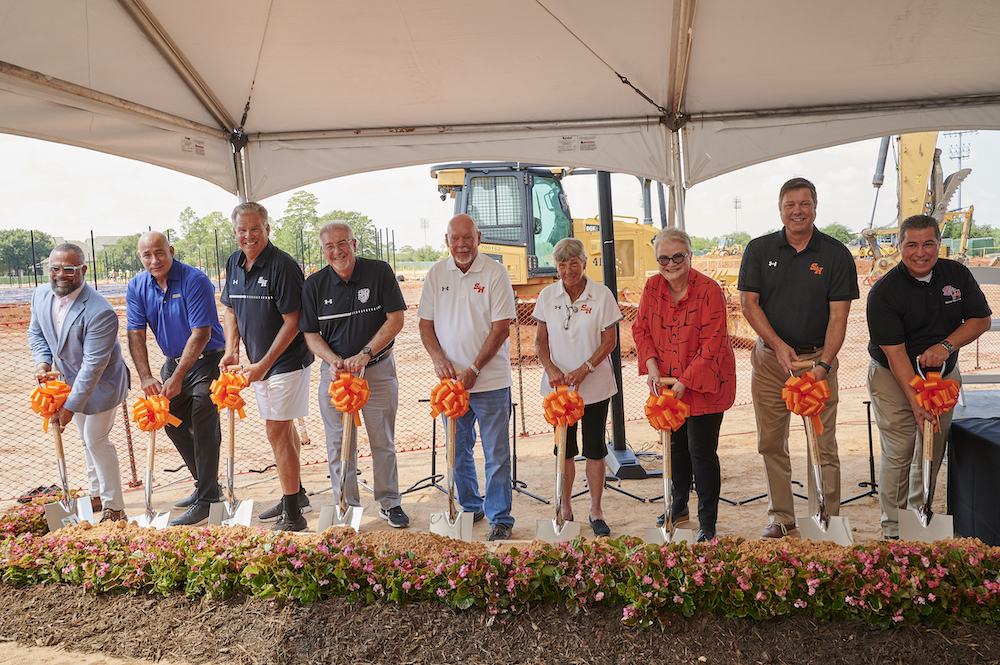 As part of Sam Houston State University's 10-year master plan centered on the creation of state-of-the-art facilities, the university broke ground on a new tennis complex in a special ceremony on Sept. 28. The ceremony featured representatives from the City of Huntsville and Walker County, as well as Chuck and Wanda Beckner, the namesakes of the future complex.
The Beckners are both avid Bearkat tennis fans and have a deep-rooted passion for the sport. Chuck has competed in several sectional and national championship tournaments in the United States Tennis Association Team Tennis. Wanda is a former co-chair of the National Senior Women's Clay Court Tennis Tournament at the Houston Racquet Club and has volunteered there for over 15 years.
Attendees were excited to gain a first look at renderings for the upcoming facility, which will be located at 515 Bowers Blvd., across from the Don Sanders Baseball field.
"This is the fruition of a dream, and it's a dream that came from the hearts of people who understand what athletics can do for a university, what it can do for athletes and what it can do not just for their athletic competition, but how they do in the classroom and how they prepare themselves for life after," University President, Alisa White said as she introduced the Beckners and commented on the impact of their generous gift.
The Beckners and White were joined for the groundbreaking by Bobby Williams director of SHSU Athletics; Matt Bethea, vice president of University Advancement; Juan Nunez, vice president for Facilities Management; Rob Hubbard, head coach of SHSU tennis; Jim Jamail, CEO of Jamail & Smith; and Charlie Carrión, CTB vice president of operations of Hellas.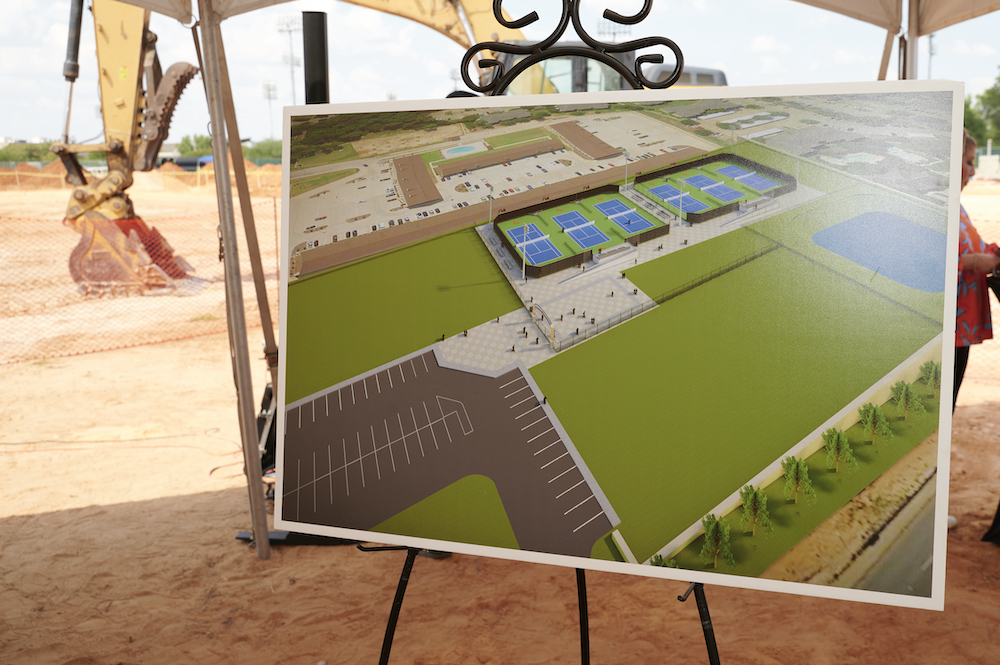 Williams remarked on how the Beckners' support of the complex has allowed the university to continue to elevate the status of the entire athletics program.
"With everything this university has done in enrollment, the medical school, our R-2 status, all of those things, that's where athletics needed to catch up to the university," Williams said. "The opportunity to come to Conference USA and play at the level of Division One and improve our tennis program to new heights where it has been recently and is going to go are all due to you, and I can't thank you enough for that."
Also in attendance were members of the SHSU Tennis team and supporters of SHSU Athletics. All who were present recognized the significance of the new facility, which will replace the McAdams Tennis Complex, which has been in use for the past 40 years.
"This tennis complex will allow our tennis team to be able to compete and practice on campus and will give us the ability to host NCAA championship competitions," White said. "This investment in our tennis team will be a wonderful shot in the arm to our players and coaches, and the complex will be a great recruiting tool. I look forward to watching our tennis team compete at the Chuck and Wanda Beckner Tennis Center in the near future."
- END -
This page maintained by SHSU's Communications Office:
Director of Content Communications: Emily Binetti
Communications Manager: Mikah Boyd
Telephone: 936.294.1837
Communications Specialist: Campbell Atkins
Telephone: 936.294.2638
Please send comments, corrections, news tips to Today@Sam.edu