SHSU Announces Partnership with Shoppa's Farm Supply Inc.
March 22, 2023
SHSU Media Contact: Mikah Boyd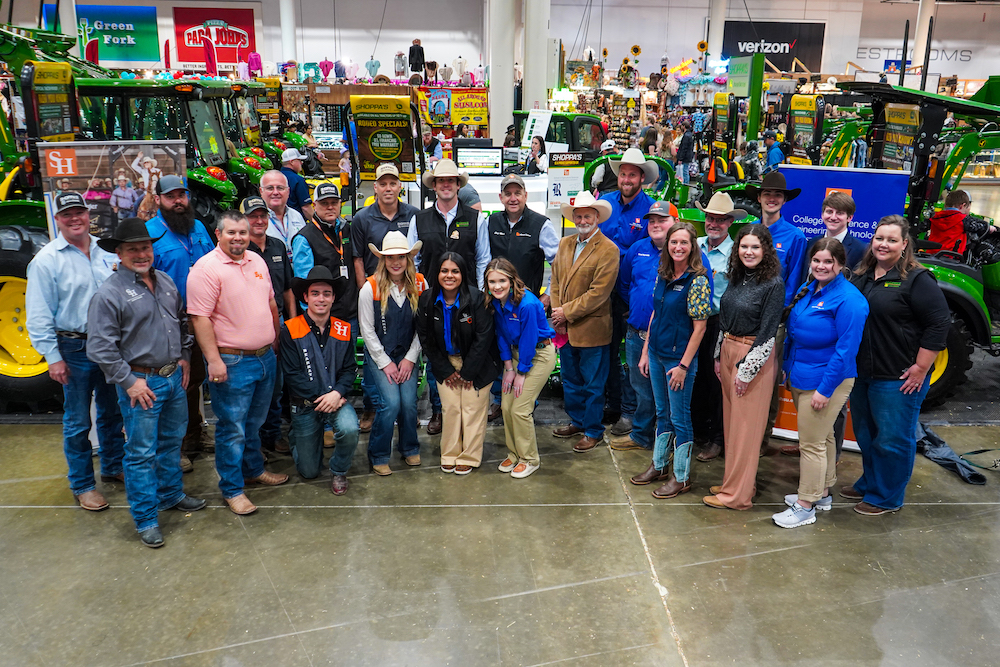 The School of Agricultural Sciences at Sam Houston State University has recently announced a new partnership with Shoppa's Farm Supply Inc., a John Deere dealer, at the Houston Livestock Show and Rodeo. The partnership aims to provide students with new opportunities and enhance their experience at the Gibbs Ranch Agricultural Complex.
Shoppa's John Deere has had a working relationship with the university for years, with Shoppa's providing Bearkats with internships and job opportunities for many years. Many of the interns and entry-level workers from years past have worked their way up in the company and continue the legacy of collaboration.
Stephanie Schulz, the aftermarket manager for Shoppa's Farm Supply Inc., and a Bearkat alumna, stayed in touch with her former professor Doug Ullrich and other leaders in the School of Agricultural Sciences and was excited to hear about the expansion project at Gibbs Ranch Agricultural Complex.
"I think it's a really amazing facility that's being built that's going to benefit so many students in the future and we wanted to be a part of it," Schulz said. "We talked about it for a while what the need was, then I spoke with our owner, Chris Shoppa, and he jumped on board."
With his approval, the company is now formalizing its longstanding relationship with SHSU by providing funding for a greenhouse at Gibbs Ranch Agricultural Complex, equipment for the School of Agricultural Sciences, workforce partnerships as well as internship and scholarship opportunities.
Ullrich, the chair of the School of Agricultural Sciences, is happy to continue working with Shoppa's and receive the support the program needs to keep students workforce ready.
"We've been very focused and concerned with each of our students having the skills they need to get a job in their industry," Ullrich said. "We want to make sure that our kids are getting jobs related to what they studied here, because that's what it's all about."
In his continued explanation, Ullrich expressed how the addition of John Deere equipment to existing agricultural engineering courses will better the student experience.
"We have a Mustang Cat lab where they'll bring in heavy equipment, bulldozers and other equipment to Gibbs Ranch, where students in that program learn to run, operate, maintain and troubleshoot all the equipment. The John Deere equipment will give us a whole other dimension."
Currently in the first phase of construction, the Gibbs Ranch Agricultural Complex is a multi-facility project that will propel the rural property of Gibbs Ranch into a premier agricultural teaching and research facility. The complex will house several academic programs and will serve as home to the SHSU Rodeo Team. New features will include a multi-purpose agricultural arena and rodeo team stall barn while a horticulture and learning center will provide classrooms, labs and workspaces, along with two greenhouses.
- END -
This page maintained by SHSU's Communications Office:
Director of Content Communications: Emily Binetti
Communications Manager: Mikah Boyd
Telephone: 936.294.1837
Communications Specialist: Campbell Atkins
Telephone: 936.294.2638
Please send comments, corrections, news tips to Today@Sam.edu