Professor Named USDA E. Kika De La Garza Fellow
July 27, 2023
SHSU Media Contact: Mikah Boyd
Maureen Victoria, a visiting assistant professor within Sam Houston State University's School of Agricultural Sciences, was chosen as a 2023 Kika De La Garza Fellow for the United States Department of Agriculture (USDA). She was selected for this highly competitive position based on her work supporting underserved student populations while teaching in high schools and at SHSU.
Victoria came to SHSU after completing a teaching and research assistantship at Texas A&M for her PhD. Through her assistantship, she was able to get involved in teaching senior-level courses and exploring research independently and with her students. She has also served as a high school agriculture and welding teacher.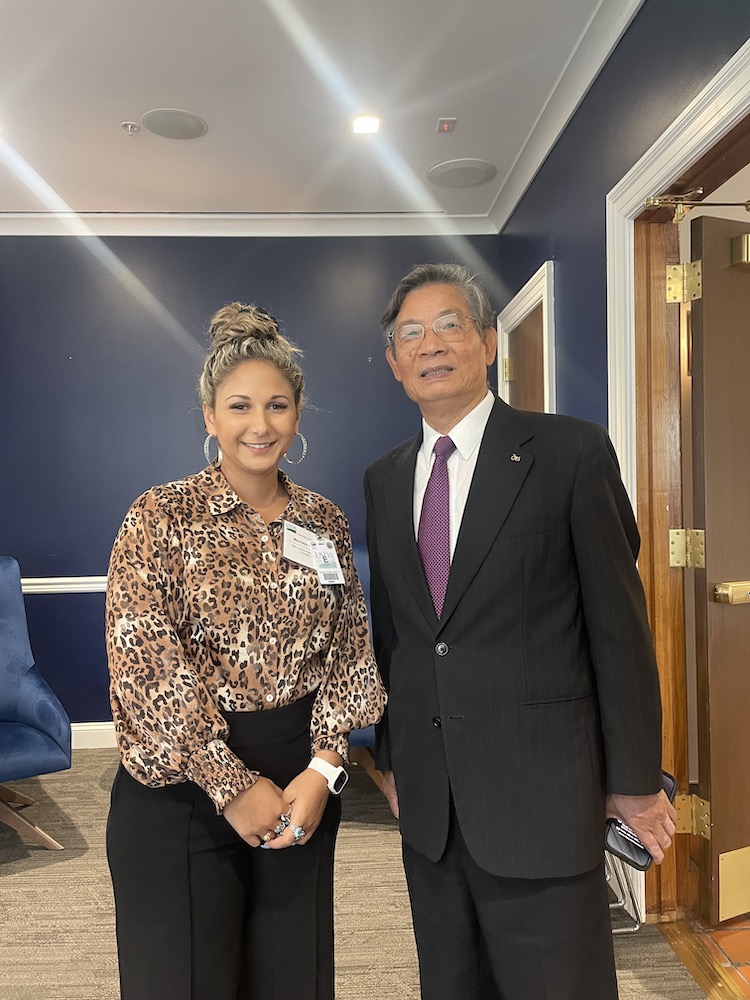 Thanks to support from her peers and guidance from last year's Fellow from SHSU, Rafael E. Martinez, Victoria was able to craft an application that stood out from the competition that has seen people apply multiple times before being accepted. When she received the acceptance call, she immediately relayed the news to Doug Ullrich, the former chair of the department who encouraged her to apply for the fellowship since her first day on the job.
"It was really exciting and I immediately had to start making plans to be in D.C. because I'm teaching section two of a class and my colleague is teaching section one," Victoria said. "I told him he was going to have to take the students to the Texas FFA convention without me and that I was sorry, but this is a once-in-a-lifetime opportunity."
Victoria went to Washington D.C. in mid-July and met with different branches of the USDA to discuss the staffing needs and how Hispanic Serving Institutions (HSI) like SHSU can collaborate with the department to break down barriers for those students. For Victoria, this was a way to interact with like-minded peers as she has spent her career as a teacher making sure that her students can succeed.
"We know what they're looking for in future employees. We also have a better insight into what their needs are as far as our research," Victoria said. "If we do research on their potential workforce and come back saying our students are struggling with this or are excelling at this skill, then they can start curtailing their programs to be more targeted for our students and hopefully employ them."
While visiting the different departments with the other Fellows, Victoria was able to build relationships with representatives from other universities and create pathways for potential multi-state collaboration.
"We talked about how we expose our students to other perspectives and views in different states," Victoria said.
She explained that by hosting a learning event that exposes students to the agriculture of different states, they would be more marketable hires for the USDA, as they would already be aware of the range of agricultural commodities produced in various states.
On top of this collaborative prospect, Victoria was excited by a program through the USDA that provides the children of migrant workers with support to pursue a GED and college, as well as an internship with the department. Victoria is excited to be working with the USDA and looks forward to continuing to break down barriers for students pursuing agriculture.
"We want to open doors for underrepresented students to see there is a space for them in the USDA," Victoria said. "It's not just policymakers who study political science and agriculture, it's people with real experiences and diverse experiences that contribute to a greater good."
- END -
This page maintained by SHSU's Communications Office:
Associate Director, Communications: Emily Binetti
Telephone:936.294.4406
Communications Manager: Mikah Boyd
Telephone: 936.294.1837
Communications Writer: Campbell Atkins
Telephone: 936.294.2638
Thomason Building: Suite 102
Please send comments, corrections, news tips to Today@Sam.edu