New Academic Year Begins With President's Address
Sept. 1, 2023
SHSU Media Contact: Emily Binetti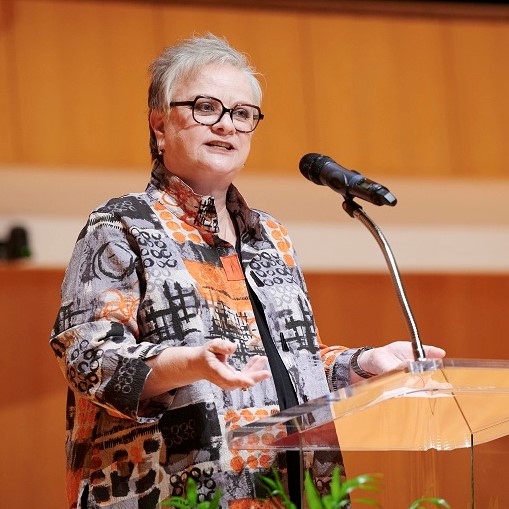 Sam Houston State University President Alisa White launched a new academic year speaking to members of the campus community at the annual Faculty and Staff meeting on Aug. 30.
Recapping some of the past year's highlights and providing insight into plans for the university's future, White's presentation began with a video recap from the previous academic year.
White talked about the new Master Plan and also marked the occasion as the official launch of the university's Strategic Plan and expressed gratitude for the work across campus in developing a focused plan.
"I'm proud of the broad participation we had among the campus community to develop these plans. We worked together to develop a vision to help us fulfill our mission of educating our students to help them be ready for a successful future," she said.
President White emphasized the importance of retaining highly skilled SHSU faculty and staff, underscoring the rationale behind an increased focus on merit raises this year.
Several accomplishments of faculty and staff were mentioned by White. She also highlighted new Texas legislative funding for the College of Osteopathic Medicine. This state investment of $32 million will allow for reduced medical school tuition by more than half.
Assisting students in bridging the gap with the demands of the job market, White highlighted the achievements of the university's Career Services and Advising team, with prioritized support of first-year students and expanded professional development student opportunities.
The IT department's creative approaches to improving services were also mentioned by the president, noting their work in the redesign of the ticketing system and expanded technology training.
New campus food dining options through Aramark were also mentioned by White, including the launch of a robot food delivery service now available.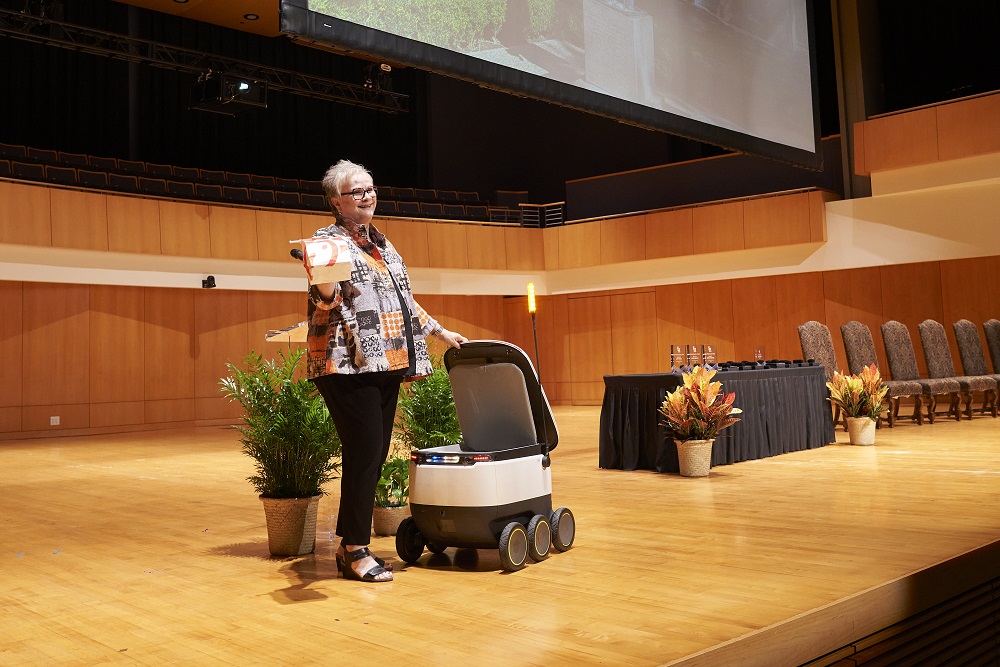 White shared gratitude for the outstanding effort of staff in Facilities Management, highlighting the great work they do to keep the campus beautiful. She also gave thanks to the Facilities team for their sustainability initiatives.
In Athletics, the president had several accomplishments to showcase related to both athletic and academic success. The department's overall GPA for the Spring semester was 3.07, with 34 student-athletes earning a 4.0 GPA.
White also remarked on the fundraising efforts of University Advancement with $20 million in pledges and gifts in the last fiscal year.
Remarking on the university's history of supporting workforce needs, White spoke on new initiatives of embedding micro-credentials and stackable credentials into degree plans, noting SHSU as the only school in Texas to have implemented a degree plan for students through EduNav, allowing students to create personalized educational plans based around their life and work demands.
The event concluded with honoring select faculty and staff for their years of service as well as Faculty Excellence and Staff Excellence award recipients.
- END -
This page maintained by SHSU's Communications Office:
Director of Content Communications: Emily Binetti
Communications Manager: Mikah Boyd
Telephone: 936.294.1837
Communications Specialist: Campbell Atkins
Telephone: 936.294.2638
Please send comments, corrections, news tips to Today@Sam.edu