Museum Exhibit Highlights Galveston Island
June 5, 2023
SHSU Media Contact: Mikah Boyd

By Megan Buro
The Sam Houston Memorial Museum & Republic of Texas Presidential Library presents "Forgotten Gateway: Coming to America Through Galveston Island," based on the major exhibition of the same name developed by the Bullock Texas State History Museum and guest-curated by Dr. Suzanne Seriff, independent museum curator and senior lecturer of anthropology at The University of Texas at Austin. "Forgotten Gateway" is presented in partnership with Humanities Texas, the state affiliate of the National Endowment for the Humanities.
As a major gateway for immigration, Galveston Island was the port of entry for hundreds of thousands of people coming to America from 1845 to 1924. "Forgotten Gateway" considers the importance of place in the immigrant experience—tracing the history of Galveston Island as it changed from a small harborage for sailing vessels to a major cosmopolitan steamship and railroad hub and back to a nearly abandoned immigrant station—and explores universal themes of immigration including leaving home, encountering danger, confronting discrimination and navigating bureaucracy.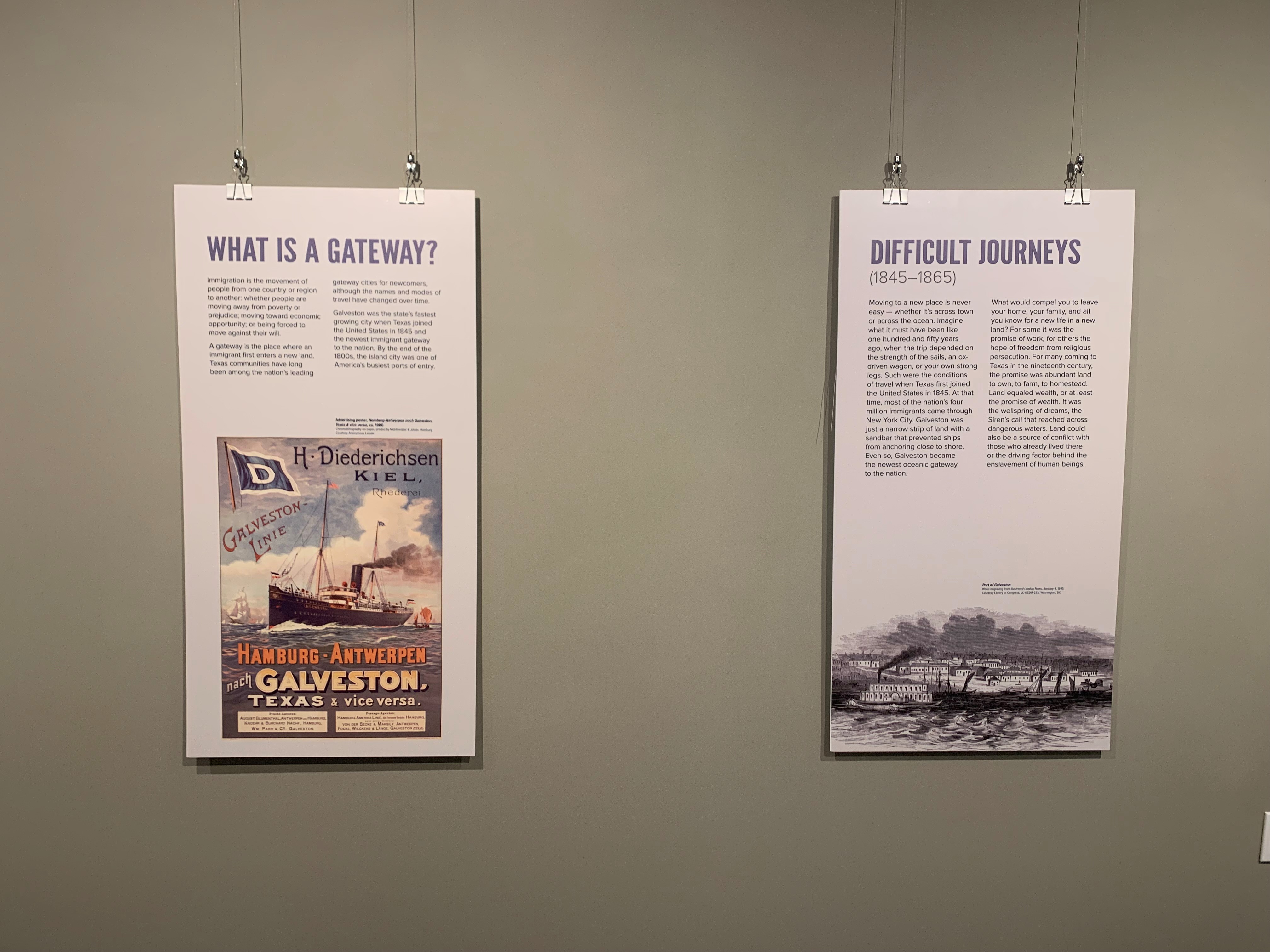 "I think this exhibit will resonate with some people because they had ancestors that came to America through the port at Galveston," said Megan Buro, museum marketing manager. "I know several of us on staff at the museum can trace our families through Galveston."
The exhibition will be available to the public until July 2, 2023, in the exhibit gallery at the museum's Katy & E. Don Walker, Sr. Education Center, located at 1402 19th Street. Exhibit gallery hours are Tuesday – Saturday 9:00 a.m. to 4:30 p.m. and Sunday Noon to 4:30 p.m. For more information on this exhibit and other events at the Sam Houston Memorial Museum & Republic of Texas Presidential Library, visit www.samhoustonmemroialmuseum.com
Humanities Texas develops and supports diverse programs across the state, including lectures, oral history projects, teacher institutes, museum exhibitions and documentary films. For more information, please visit Humanities Texas online at www.humanitiestexas.org.
- END -
This page maintained by SHSU's Communications Office:
Associate Director, Communications: Emily Binetti
Telephone:936.294.4406
Communications Manager: Mikah Boyd
Telephone: 936.294.1837
Communications Writer: Campbell Atkins
Telephone: 936.294.2638
Thomason Building: Suite 102
Please send comments, corrections, news tips to Today@Sam.edu