Introducing The 2023 Staff Excellence Winners
Aug. 9, 2023
SHSU Media Contact: Mikah Boyd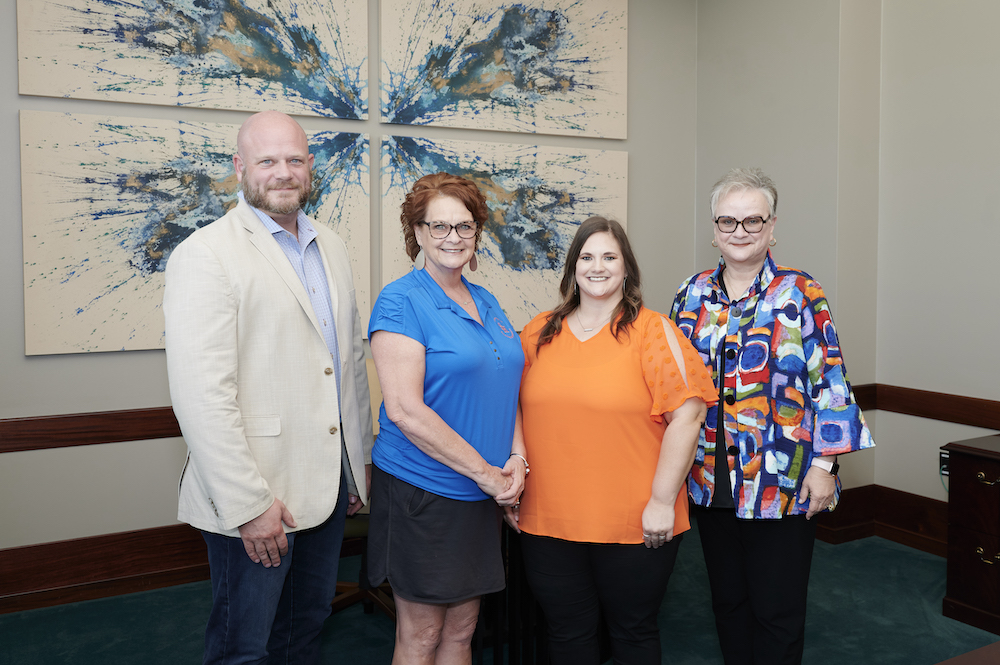 Four Sam Houston State University employees who have demonstrated excellence in service, proven commitment, commendable performance and a high level of motivation have been selected as recipients of the 2023 Staff Excellence Award. They are Debra Mikulin, Administrative Assistant I for the Department of Psychology and Philosophy; Lacey Price, Scholarship Coordinator in Financial Aid and Scholarships; Mary Catherine Breen, Executive Director of the Academic Success Center and Steven Koether, Coordinator IV for the Department of Biological Sciences.
Staff members are selected based on nominations by their peers, supervisors and members of the SHSU faculty. In addition to a plaque of recognition, each recipient will be awarded a $2,000 bonus.
Each year, the university invites the Bearkat community to nominate staff members who have consistently demonstrated excellence. The nomination period begins in February and ends in April.
---
Debra Mikulin recently retired from the position of administrative assistant I within the Department of Psychology and Philosophy. She served the office with steadfast dedication and positivity and supported faculty, staff and students alike whenever they needed a helping hand.
How would you describe your own job?
I provided administrative support for the faculty and students of the Psychology and Philosophy Department for 15 years.
What did you love about your job?
They are my Bearkat Family. Working with those who make you feel appreciated and acknowledged has made coming to work very enjoyable.
What did you love about working at SHSU?
I appreciated the opportunity to work at SHSU for 15 years. It provided a positive work environment by focusing on the well-being of its employees and students, providing support and training at different levels, and has policies in place that encourage respect, flexibility, personal development and trust.
Comments supporting her nomination include:
"Debby has been doing the work of two people in our very large department. Despite her workload, she has been a pleasure to work and interact with. She is always cheerful, never overly demanding, and always looking to find solutions to problems that arise."
"Debby's work on scheduling is a great example of her excellent abilities, great attitude, motivation and efficiency. But I also want to address her evident care and concern for our students. This comes out very clearly in the way she manages the psychology and philosophy department office, which also has two student workers. Not only does Debby oversee their scheduling and performance, but she takes the lead for our department in making sure that our student workers feel a part of the team."
---
Steven Koether is a program coordinator and instructor in the Department of Biological Sciences. He leads various programs and initiatives such as the Foundations of Science, the Education/Composite Science double major program, the SHSU American Democracy Project (ADP) and is on the national ADP steering committee. Koether aims to provide students with the best possible learning experience and provide them with avenues to make informed decisions in and out of the classroom.
"I'm sincerely humbled and flattered to be considered alongside so many amazing people. SHSU staff work so very hard each and every day for our students - and it shows," Koether said regarding his nomination and receipt of the award.
How would you describe your own job?
I was originally hired to manage the last QEP, the Foundations of Science (labs, lectures, data, programming). The work quickly grew due to its interdisciplinary nature and affiliations with the American Association of State Colleges and Universities (AASCU). I now have the pleasure of working with Student Success Initiatives leading our Graduate/Undergraduate Instructor Academy (GUIA) and serving on various Common Reader committees. My work has also led me to a position in the Center for Community Engagement as the American Democracy Project coordinator, leading voter and voter registration initiatives and deliberative dialogue events and training. More recently, I've been thrilled to support our incoming freshmen by developing a curriculum for Student Affairs' collaborative, inaugural, Bearkat Kickoff.
What do you love about your job?
I love being able to work with and support students, engage with faculty and staff across areas, and watch our community succeed and grow.
What do you love about SHSU?
I love that even though SHSU is a relatively large institution, we still retain the positive aspects of a much smaller university. Our departments, centers, and the administrators that manage them provide staff with the opportunity to present their hard work and grow professionally. We truly are a community.
Comments supporting his nomination include:
"Steven works across divisions/departments on his various projects to improve instruction, make the best use of resources, and cut down on duplication efforts. The example I am most familiar with is his efforts to organize, manage and support the Graduate and Undergraduate Instructor Academy (GUIA)."
"Steven worked with Student Activities and the Student Government Association to give students the opportunity to register and ride to the polls. The team even worked with several athletic groups to ensure they had the option to participate. These efforts, from Deliberative Dialogues to voter engagement, provide our students with a more holistic education, encouraging informed decision-making and practice applying these skills in life."
---
Lacey Price is a scholarship coordinator in the Financial Aid and Scholarships office. Through her work, she has helped numerous students access scholarship opportunities to help fund their education. Her compassionate nature has helped her to better serve students and their parents, including those who are first-generation learners.
"I'm humbled. To be nominated by my colleagues and campus partners is an honor. I work with a number of extraordinary people and it would be hard to have to pick just one to nominate," Price said of her nomination.
How would you describe your own job?
As scholarship coordinator, I oversee every scholarship that is awarded to a student, whether that be through an endowment, an annual fund, athletics or external. If a student gets a scholarship, it comes across my desk. I also work with faculty and staff across campus with their selection processes. Additionally, I assist the Financial Aid Office in awarding federal and state aid when needed and during peak times.
What do you love about your job?
I love working with students, faculty, and staff. I've worked in Financial Aid for 10 years in several roles and the student interaction is truly uplifting. Recently, I've worked more with faculty and staff doing training and assisting on scholarship selection meetings. I love meeting new people and hearing why they chose SHSU to further their education. I have a passion for scholarships; I want to be part of all of it, from the donor to the recipient.
What do you love about SHSU?
Sam Houston is home. From the first time I walked on campus as a freshman, I knew this was where I was supposed to be. As a two-time alumnus, I enjoy all the benefits of being a Lifetime Member of the Alumni Association. You can catch me wearing orange at sporting events, plays, concerts and every event SHSU has to offer. Even if it's just a regular Tuesday, I'm probably wearing orange. Eat 'em Up Kats!
Comments supporting her nomination include:
"Lacey has improved the scholarship and Texas grant program within the last 1-2 years, while working hard on building relationships across campus and was recognized by the Provost and Dr. White."
"Whether she's working directly with students or assisting a staff member to help a student, much of her assistance to the students goes unseen. Her job is to offer guidance to students so they can access scholarship opportunities to cover their college expenses. But parents and students appreciate her so much for going the extra mile, especially the first-generation students who are unfamiliar with the process."
---
Mary Catherine Breen is the executive director of the Academic Success Center, which is dedicated to supporting students of all levels and meeting them where they are in their academic journeys. Her work has encouraged a welcoming, peer-based space where students can speak with student tutors who can provide them with a different level of care and understanding. Throughout her time leading the center, she has shown a passion for student success and encourages those around her to think outside of the box.
Comments supporting her nomination include:
"Mary Catherine was driven to move from a tenured associate professor position to join SHSU because she is a dedicated scholar-practitioner and is committed to engaging education praxis through impactful work. In five years, Mary Catherine centralized tutoring and academic support so students have accessible and convenient services."
"Not only has Mary Catherine achieved a vision of a learning ecosystem that normalizes collaborative learning, but she has also developed a peer educator staff that has doubled since she arrived. Student staff at the Academic Success Center are mentored and developed, many opting to stay at SHSU as professional staff members."
- END -
This page maintained by SHSU's Communications Office:
Associate Director, Communications: Emily Binetti
Telephone:936.294.4406
Communications Manager: Mikah Boyd
Telephone: 936.294.1837
Communications Writer: Campbell Atkins
Telephone: 936.294.2638
Thomason Building: Suite 102
Please send comments, corrections, news tips to Today@Sam.edu