Heritage Magazine: Expanding The Competitive Landscape
Sept. 15, 2023
SHSU Media Contact: Mikah Boyd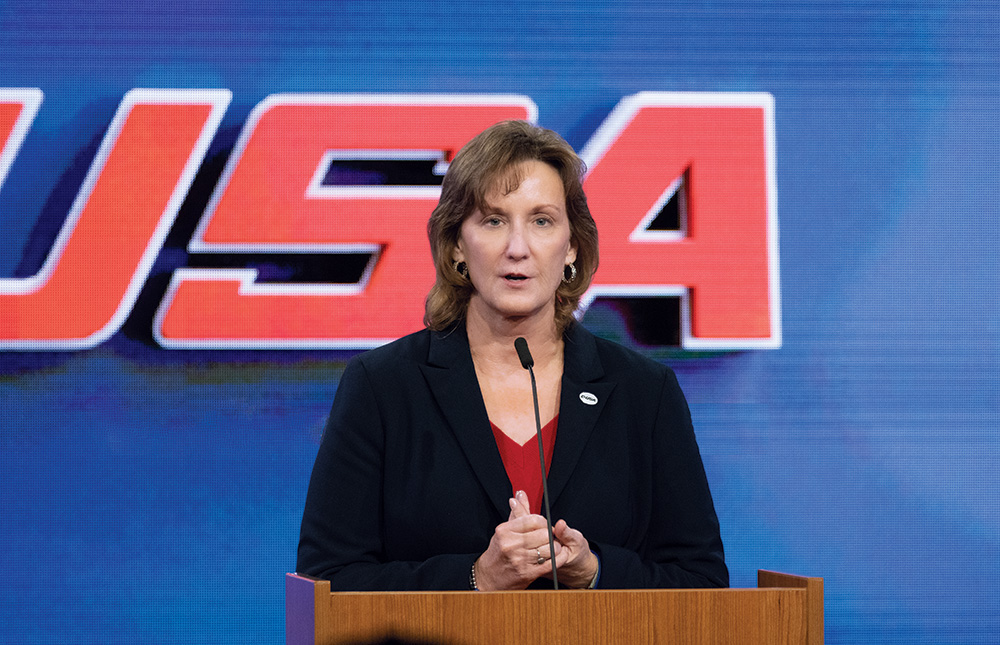 Amidst a transitional and unpredictable period in the history of college athletics, Conference USA (CUSA) readies to welcome a plethora of new members, including the Sam Houston Bearkats, while maintaining a strong tradition of excellence established over nearly three decades.
"Conference realignment used to be a once-in-a-career kind of thing, but it is here to stay," said Judy MacLeod, who has served as CUSA's commissioner since 2015. "Everybody is a little anxious about what it will look like and if it will ever settle, but I do believe some of the impact has been extremely positive. SHSU is a great example of that: a school that has been building for this transition for a while and is now getting that opportunity."
Along with SHSU, CUSA welcomes new members New Mexico State, Jacksonville State and Liberty in 2023 to join the University of Texas at El Paso, Florida International University, Louisiana Tech, Western Kentucky University and Middle Tennessee University. Kennesaw State will also join the conference in 2024.
"As we looked to rebuild and establish our new identity, we looked at schools that were already FCS, had some success and a lot of potential," MacLeod said. "When you have a culture of winning, it's a lot easier to move that culture up and continue it rather than bringing in members who are maybe already at that level but haven't had that success."
The new members will look to bring their own history and contributions to the conference's long record of winning while building on their own success.
"We have hungry programs ready to prove themselves on the national stage," MacLeod said. "Almost all of our schools are in smaller college towns and communities, many close to metro areas, so it's a little bit of a different feel. Overall, this is a committed group and I think they've already shown that. We have a great opportunity to establish our identity through our new TV package and media deals. We'll be ready for our July 1 launch. It will be a great day to welcome our new members officially."
The new-look conference's multimedia rights deal was announced in November with longtime partners CBS Sports Network and ESPN, and will emphasize accessibility, opportune scheduling models, national linear and digital exposure and increased revenue.
"This is a major step forward for CUSA in terms of our multimedia rights as it relates to streamlined exposure, accessibility for our fans and greater financial resources for our members," MacLeod said.
"Building on our strong relationships with CBS and ESPN enabled us to provide increased exposure and consistent broadcast homes for our membership and fans as we continue to see the landscape of Conference USA and college athletics evolve."
The multi-year agreement, which kicks off in 2023, positions CBS Sports with tier one selection status for CUSA football and men's basketball over the length of the partnership while also televising the football championship, men's basketball semifinal and championship games, the women's basketball championship game and baseball and softball championship games.
CUSA membership approved a linear television-friendly scheduling format for football that sees all October league matchups played on midweek evenings. The broadcast partners will share the conference's October weeknight football games on linear television across CBS Sports Network, ESPN, ESPN2 or ESPNU.
ESPN+ or ESPN3 will carry all additional regular season football games while also serving as the exclusive digital home for all of Conference USA's Olympic sports (soccer, volleyball, baseball, softball, etc.), including all C-USA tournament games aside from the title games for baseball and softball, which will air on CBS Sports Network. Consolidating all digital inventory with ESPN provides a much more streamlined process for C-USA fans under one banner. Over 450 live sporting events will be available and streaming on ESPN's digital platforms.
---
To read the full version of Heritage Magazine Summer 2023, follow this link.
- END -
This page maintained by SHSU's Communications Office:
Associate Director, Communications: Emily Binetti
Telephone:936.294.4406
Communications Manager: Mikah Boyd
Telephone: 936.294.1837
Communications Writer: Campbell Atkins
Telephone: 936.294.2638
Thomason Building: Suite 102
Please send comments, corrections, news tips to Today@Sam.edu