Division Of Student Affairs Recognizes Staff Excellence With Award Recognition
June 9, 2023
SHSU Media Contact: Mikah Boyd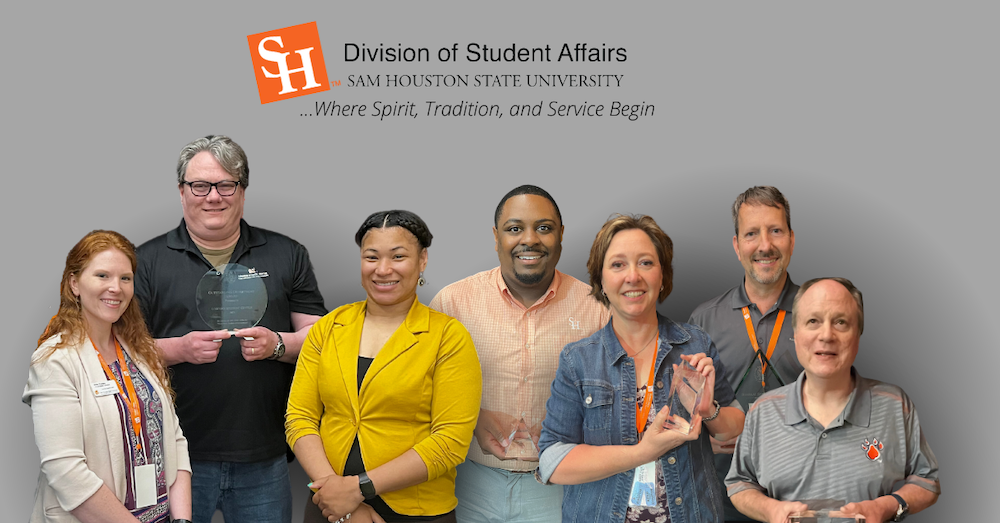 By Debbie Nichols
This May, the Division of Student Affairs held its annual Service and Recognition Awards during the division's staff development program to honor staff members for both outstanding accomplishments achieved and years of service at Sam Houston State University.
"So much of the work that happens in Student Affairs happens behind the scenes. Despite that, the work of our team members has a significant impact on the lives of our students and their success here at SHSU and beyond. The team members who were recognized at this year's recognition ceremony are representative of the type of outstanding professionals who our students are fortunate to interact with every day. They make us proud, and we couldn't do the work we do without them," said Drew Miller, interim vice president for Student Affairs.
Those recognized were nominated for awards by their peers through an online portal. Throughout the nomination process, the winners were showered in praise, as is seen in the comments following their award descriptions.
---
Kelley Osborn, director of Services for Students with Disabilities, received the Unsung Hero Award, which goes to a staff member who works quietly behind the scenes for the good of Student Affairs and the university, demonstrating leadership through dedication and service.
"Kelley is constantly working behind the scenes to advocate for our students and their well-being. He stays on top of his budget to ensure every penny is going towards assisting our students and nothing is being spent frivolously."
Michelle Strahan, an administrative associate for Services for Students with Disabilities, received the Frank E. Parker Exceptional Work with Students Award, which goes to a staff member who demonstrates outstanding commitment beyond the scope of their job duties in helping students pursue their goals and achieve success
"She is the nucleus of Services for Students with Disabilities. With her leadership and guidance, our office is organized, coordinated and dedicated to work for the benefit of the students we serve."
Tony Nick, the student relations coordinator for Residence Life, received the Bearkat Spirit Award for demonstrating outstanding dedication, initiative, motivation, positive attitude and spirit to Student Affairs and the university.
"Tony's enthusiasm and passion for students are exceptional and he deserves this award because of his commitment to the campus community and making SHSU a better place to be."
Also recognized during the ceremony was a staff or faculty member outside of the division who demonstrates a commitment to the vision and mission of the division. Jalon Berry, assistant director for Inclusion Initiatives, received the On-Campus Friend of Student Affairs Award for his help in supporting programs and initiatives, as well as serving as an advocate to all departments in the Division of Student Affairs.
"Jalon directly advocates for our division. In an individual capacity, Jalon has been an intentional partner for our department. You regularly see him attending events across campus, many of those hosted by Student Affairs departments."
An award was also presented to the division's Outstanding Collaborative Program that enhances current collaborative efforts on university issues, programs, activities and/or services. This year's award went to the Earth Day program. Melissa Fadler, associate director for Recreational Sports and Rachel Valle, director of Student Activities, were instrumental in planning and executing the highly successful Earth Day event, which has grown significantly over the past eight years and has had a substantial positive impact on the campus community. This program has been predominantly planned and funded by an SHSU Student Affairs department, with collaborative partners working to educate and bring awareness to this issue.
One other recognition award went to the department that has demonstrated a commitment to university and/or division traditions and values. The Lowman Student Center received this year's nod as they proudly serve as the university's living room on campus. The department has a positive impact on the campus community and has effectively utilized its resources, including budgets, staff and technology to accomplish the goals of the department and the division. They proactively and intentionally look for ways to collaborate with campus partners and over 200 individual student groups, hosting and supporting over 8,500 events while enhancing student productions and events.
Service Awards were also handed out to employees for five, 10, 15 and 25 years of service. The list of recipients includes:
5-Year Service Award Recipients
Sally Bacon, Residence Life
Marcus Jamison, Residence Life
David Naranjo, Recreational Sports
Melissa Smith, Student Health Center
Mikayla White, Leadership Initiatives
10-Year Service Award Recipients
Kendra Bookman, Student Health Center
Melissa Fadler, Recreational Sports
Julie Hlozek, Services for Students with Disabilities
Robin Pierson, Residence Life
Gene Roberts, Student Legal and Mediation Services
Manuela Salinas, Student Health Center
15-Year Service Award Recipients
Patrick Antwi, Recreational Sports
Teresa Bird, Dean of Students Office
Arica Castleberry, Services for Students with Disabilities
Heather Dolezal, Recreational Sports
25-Year Service Award Recipients
Dana Grant, Residence Life
Frieda Turner, Student Health Center
- END -
This page maintained by SHSU's Communications Office:
Director of Content Communications: Emily Binetti
Communications Manager: Mikah Boyd
Telephone: 936.294.1837
Communications Specialist: Campbell Atkins
Telephone: 936.294.2638
Please send comments, corrections, news tips to Today@Sam.edu