Dean Mohr Named Educator Of The Year By American Osteopathic Foundation
Oct. 9, 2023
SHSU Media Contact: Mikah Boyd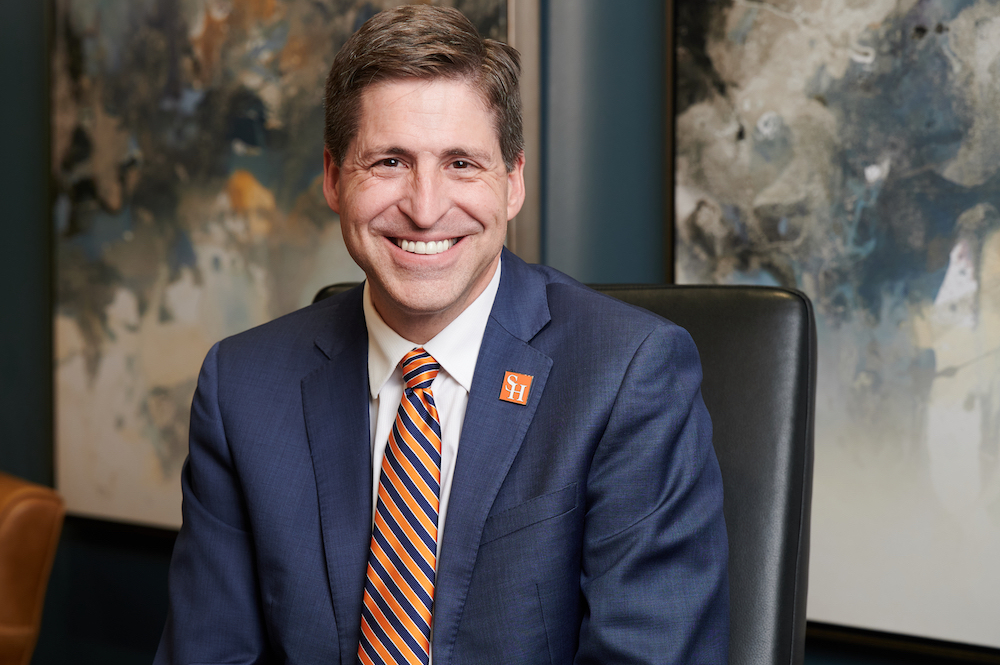 Dr. Thomas J. Mohr, dean of Sam Houston State University College of Osteopathic Medicine (SHSU-COM), was named the 2023 W. Douglas Ward, PhD, Educator of the Year by the American Osteopathic Foundation (AOF). Presented October 6 during AOF's Honors Gala in Orlando, the prestigious award honors an individual who displays the osteopathic profession's highest standards of excellence in teaching, is passionate about osteopathic medicine, has made a significant impact on the academic advancement of osteopathic students and has made long-standing contributions to the profession in the academic arena.
In less than a year as dean of SHSU-COM, Mohr, DO, established a new office of Graduate Medical Education (GME) and led the development of a new rural family medicine residency program. He was awarded a $5.7 million Health Resources and Services Administration grant to fund that program with Huntsville Memorial Hospital and is developing other GME programs, one of which was recently awarded a $250,000 planning and development grant from the Texas Higher Education Coordinating Board. He served as a member of the system-wide team that helped to secure formula funding from the Texas legislature, resulting in SHSU-COM offering students the most affordable osteopathic medical education in the nation. He is leading SHSU-COM through final accreditation and preparing for their first match and graduation in 2024. This will be the third time Mohr has officiated an inaugural COM graduation as dean.
Mohr was instrumental in the launch or development of four COMs, four GME consortia and more than 25 new residency programs in five states, expanding access to health care and medical education to communities in need.
He has spent 25 years in full-time COM employment while continuing direct patient care as an internal medicine physician. At Michigan State University COM, Mohr was awarded a federal grant to establish a Division of General Internal Medicine and founded the Michigan State Adult Medicine Clinic. He served as interim and acting dean of Rocky Vista University COM in Parker, Colo., where he helped develop a curriculum that catapulted the school to the top COMLEX Board scores in the nation. Mohr led the establishment of Rocky Mountain Osteopathic Postgraduate Training Institution, and secured grants for two teaching health centers, including a rural internal medicine program. He was also the founding director of medical education for Sky Ridge Medical Center in Lone Tree, Colo..
Mohr helped procure more than $10 million in state and private funding for GME development at University of the Incarnate Word School of Osteopathic Medicine in San Antonio and helped accredit and launch seven new residency and fellowship programs. He created the Texas Institute for Graduate Medical Education and Research, a 501c(3) GME consortium that serves as the accredited institutional sponsor for these programs.
As dean and chief academic officer of the Idaho COM, Mohr guided the institution through its first match, graduation and attainment of full Commission of Osteopathic College Accreditation.
A fellow of the American College of Osteopathic Internists, Mohr served as member and vice-chair of the Council on Education and Evaluation for eight years and was a residency inspector. He was the national chair of the Assembly of Osteopathic Graduate Medical Educators (AACOM) and continues to serve on their board as past president.
Mohr served on the boards of the Colorado Society of Osteopathic Medicine, the Idaho Osteopathic Physician Association and the Texas Osteopathic Medical Association, where he is currently a board member. He was one of only three osteopathic physicians serving on the Coalition for Physician Accountability and continues to serve on the AACOM Board of Deans. He is a frequent speaker at local, regional and national conferences.
While Mohr has an outstanding track record as an academic and industry leader and administrator, his true love is teaching, whether working individually with a resident, facilitating a small group of student doctors, providing interactive group sessions to a class of 160 or delivering a traditional lecture to a large CME conference.
"I owe a huge debt to countless mentoring physicians and educators," Mohr said. "It is my sincere hope that I can do the same for the next generation of physicians. There is a ripple effect in medical education. There is great satisfaction in knowing that we can make a difference in the lives of our student doctors now and that extends to every patient they serve over the course of their career. In medical education, your ability to help others is amplified."
Mohr is an influential educator, leader and mentor who has consistently gone above and beyond to help shape osteopathic physicians of past, present and future.
- END -
This page maintained by SHSU's Communications Office:
Director of Content Communications: Emily Binetti
Communications Manager: Mikah Boyd
Telephone: 936.294.1837
Communications Specialist: Campbell Atkins
Telephone: 936.294.2638
Please send comments, corrections, news tips to Today@Sam.edu