Continue Celebrating Black History Month With Campus Events
Feb. 13, 2023
SHSU Media Contact: Mikah Boyd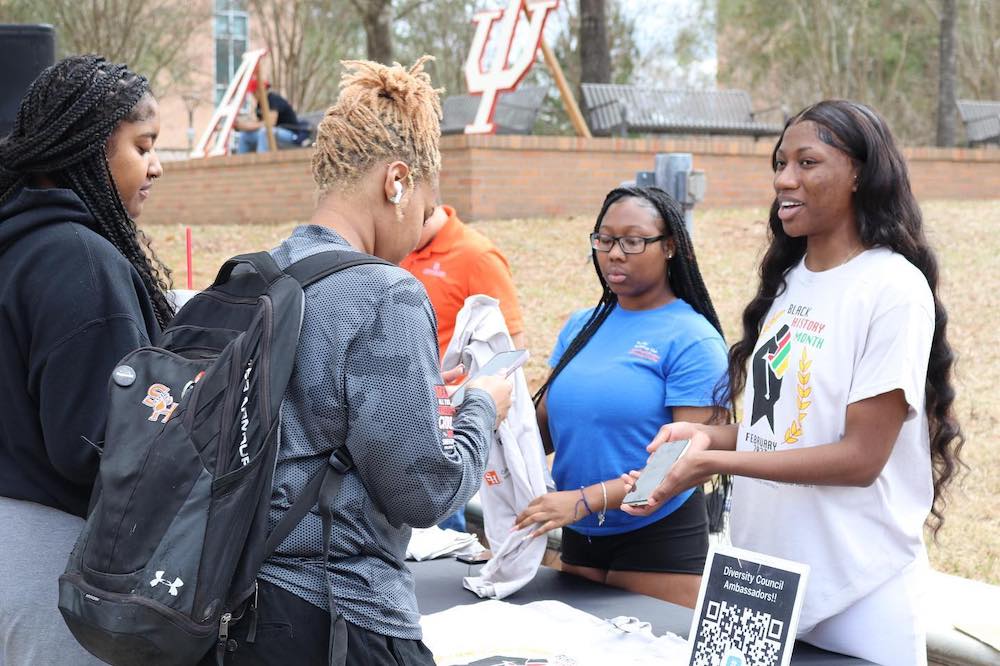 February 1 marks the first day of Black History Month, a time to recognize and celebrate how African Americans have shaped the nation through their achievements. The month has been recognized by American presidents since 1976 and has influenced countries such as Canada and the United Kingdom to devote a month to Black history.
Every year, multiple campus organizations and departments at Sam Houston State University host events throughout the month of February to celebrate Black History Month with students.
The Center for Diversity and Intercultural Affairs' Diversity Council has hosted some events already and has more in store for students. Kameron Thomas, co-executive director of Diversity Council explained the significance of celebrating Black History Month.
"Black History Month is very important, it celebrates the triumphs that come with being a black person. In my life growing up, you hear what we are able to do, what our standards are and what we have to do to be a good person," Thomas said. "And then the goals we have to achieve that other people don't know about, things we're told as children that we have to excel, we have to be better than others to get an inch of what they have. So, highlighting that in Black History Month and all the accomplishments that Black people have done signifies just where we come from, and where we have to go because the accomplishments we've made are great."
On top of Diversity Council's events, the Student Government Association (SGA) and other campus organizations are hosting a handful of events throughout the remainder of Black History Month.
Feb. 15
First-Generation Center Celebrates Black History Month 11 a.m. – 1 p.m. Outside Newton Gresham Library
African American/ Black Caucus Meeting 5 p.m. LSC 325
Feb. 17
Black Wall Street 11 a.m. – 2 p.m. LSC Orange Ballroom

Small businesses will be set up in the ballroom for Bearkats to learn more about their products and services.
Feb. 20
The Bigger Picture ft. NAACP 5 – 6:30 p.m. LSC 324

A discussion will be held concerning the safety of minorities on campus as well as opinions on changes students feel should be made to improve feelings based on inclusion.
Feb. 23
The Blind Spot 12 – 5 p.m. LSC Orange Ballroom
Black History Trivia 12 – 2 p.m. Frank Parker Plaza

This tabling event will feature a trivia game where students can win a free Black History Month item of their choice after answering trivia about black history.
Feb. 24
Black Entertainment Talent Show: Apollo Night Edition ft. NAACP, 5 – 7 p.m. LSC Orange Ballroom

Campus organizations will battle it out to win prizes in this talent competition.
Feb. 24 & 25
19th Annual Diversity Leadership Conference, 3 p.m. Fri., 9 a.m. – 4 p.m. Sat.

This annual two-day event will feature workshops, door prizes and keynote speakers such as Eddie Huang and Imani Barbarin.
Feb. 27
Chat with Lou Young III, 5 – 7 p.m., LSC Orange Ballroom

SGA Chief of Staff, Alana West will host a Q&A session with Lou Young III about his experiences as a pro football player and social media influencer/comedian.
For more information about the different events, check the events page for SHSU or Diversity Council and be sure to check the Center for Diversity and Intercultural Affairs' and SGA's social media pages for timely updates on the events.
- END -
This page maintained by SHSU's Communications Office:
Director of Content Communications: Emily Binetti
Communications Manager: Mikah Boyd
Telephone: 936.294.1837
Communications Specialist: Campbell Atkins
Telephone: 936.294.2638
Please send comments, corrections, news tips to Today@Sam.edu