Commencement Spotlight: The Williams Siblings
May 15, 2023
SHSU Media Contact: Campbell Atkins
Each semester, the Commencement Spotlight series highlights graduating Bearkats with a "can-do" spirit through challenge and service.
---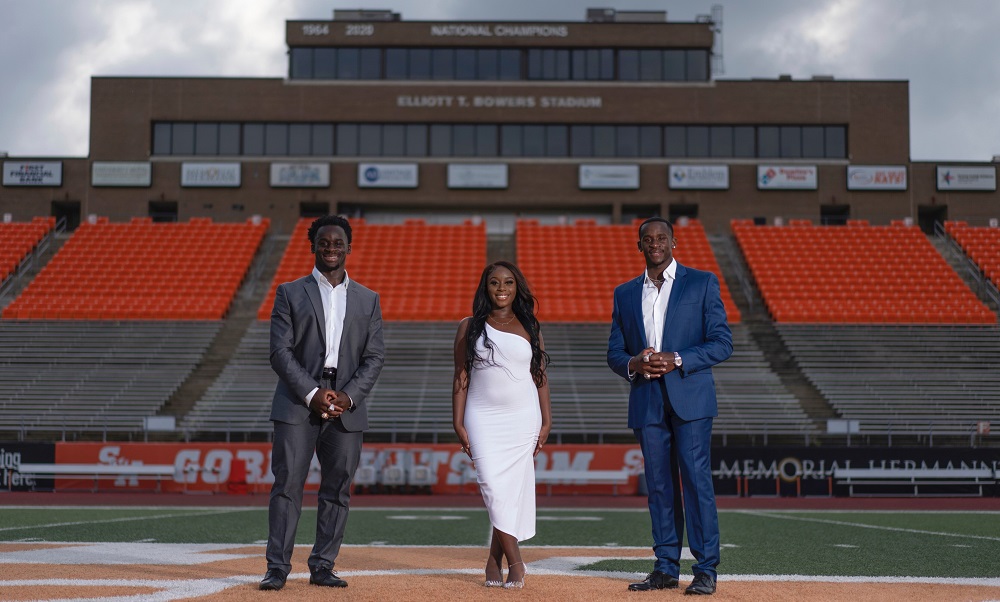 Tony Williams, Trevor Williams & Taylor Williams
College Station, Texas
The commencement of a loved one is an unforgettable experience for any family, but one bunch of Bearkats relished in three times the glory when the Williams siblings recently collected their diplomas. Tony Williams, Trevor Williams and Taylor Williams, who were all involved with the Sam Houston State University football program, continued their tradition of family and togetherness during the special occasion.
"Not many people get this opportunity," said Trevor Williams, the middle sibling who arrived at SHSU first out of high school. "To get to go to the same college together and see each other this often is special. I'm just glad we were able to have that and I don't take it for granted."
22-year-old Trevor Williams became a Bearkat out of high school and has been a linebacker on the football team since 2018. He previously earned his undergraduate degree in entrepreneurship and now, received his Masters in Business Administration (MBA). His older brother, 24-year-old Tony Williams, joined his brother at SHSU and on the football team in 2019 after two years at Trinity Valley Community College. The wide receiver also earned his MBA.
"We have pretty much been together every step of the way, from the time we were little kids until now," Tony Williams said. "Finishing up our collegiate careers together has really been a blessing."
If having two siblings on the team wasn't enough, Taylor Williams joined her brothers at SHSU and began working for the team in 2021. As the self-proclaimed team's little sister, she assisted with management operations by coordinating visits with potential prospects and showing off all SHSU has to offer. She received her undergraduate degree in communication studies with a minor in marketing.
"I'm their little sister, but I've always felt like a little sister to all the boys on the team," the 21-year-old said. "There's that feeling of family, like not being an outsider, and also feeling really comfortable with everyone."
The proudest family members are understandably their parents. The siblings cannot help but laugh when they think about how their father proudly tells anyone who will listen that his three children are graduating from SHSU at the same time. In his profile picture on Facebook, he can be seen holding the 2020 National Championship trophy with his sons.
As the oldest sibling, Tony Williams recalled the valuable lessons set by his parents and the path they created for them. Their guidance and leadership has catapulted his business-savvy mindset and established a basis for his future aspirations.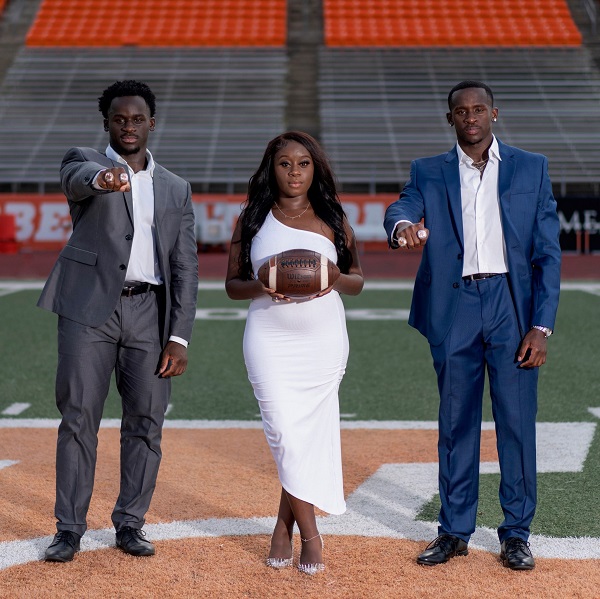 "My parents have really done a good job of instilling that belief in us, how to do things for ourselves and develop skills to have the best future we can," Tony Williams said. "They always pushed that entrepreneurial mindset with us, so I knew I wanted to do something with business. I also know the skills I've garnered through football, and from life in general, can lead into the business path very easily."
Trevor Williams also has aspirations in the business world, but has one more year of eligibility with the Bearkats and hopes to take his football talents to the next level. He has racked up multiple accolades during his time at SHSU, including a third team preseason all-America selection by Stats Perform in 2022 and an All-WAC first team recognition in 2021.
"My ultimate goal is to play professional football," Trevor Williams said. "But I want to make sure I continue that business mindset. I would definitely like to own my own business to some sort of degree."
Taylor Williams admitted she had no interest in football early in life, but ultimately came around through the love of her brothers. Now, sports is her life and she has aspirations to continue her current trajectory.
"I want to stay in sports management," Taylor Williams said. "I definitely want to go into football and recruiting. A D1 college is the goal, so I've been looking at different prospects. There's a possibility that I will take some grad school classes while I'm working, but I'm not going to rush it."
As the siblings' time together winds down, they reflect on how rare of an opportunity they had and what the future will have in store.
"I've been thinking about it a lot as it got closer," said Trevor Williams, who will be the last remaining sibling next year. "Tony has been here since my second semester, Taylor has been here for three years, so it is definitely going to be new territory. But I've built relationships with everyone on the team and staff. I also know all three of us are going to do great things regardless of where we're at."
- END -
This page maintained by SHSU's Communications Office:
Director of Content Communications: Emily Binetti
Communications Manager: Mikah Boyd
Telephone: 936.294.1837
Communications Specialist: Campbell Atkins
Telephone: 936.294.2638
Please send comments, corrections, news tips to Today@Sam.edu