Celebrating Female Firsts At SHSU
March 9, 2023
SHSU Media Contact: Mikah Boyd
March is recognized as Women's History Month around the world, a time to celebrate the achievements and contributions that women have made and continue to make, to society. Over our 140-year legacy, there have been a number of female-centric milestones. Featured below are notable accomplishments by women who were the first to discover, first to achieve and the first to break down barriers at Sam Houston State University.
---
1879—Emma Moore Barrett: the first student to enroll at the Sam Houston Normal Institute.
Barrett is known for her work with deaf and blind students and taught at the Blind Institute in Austin.
---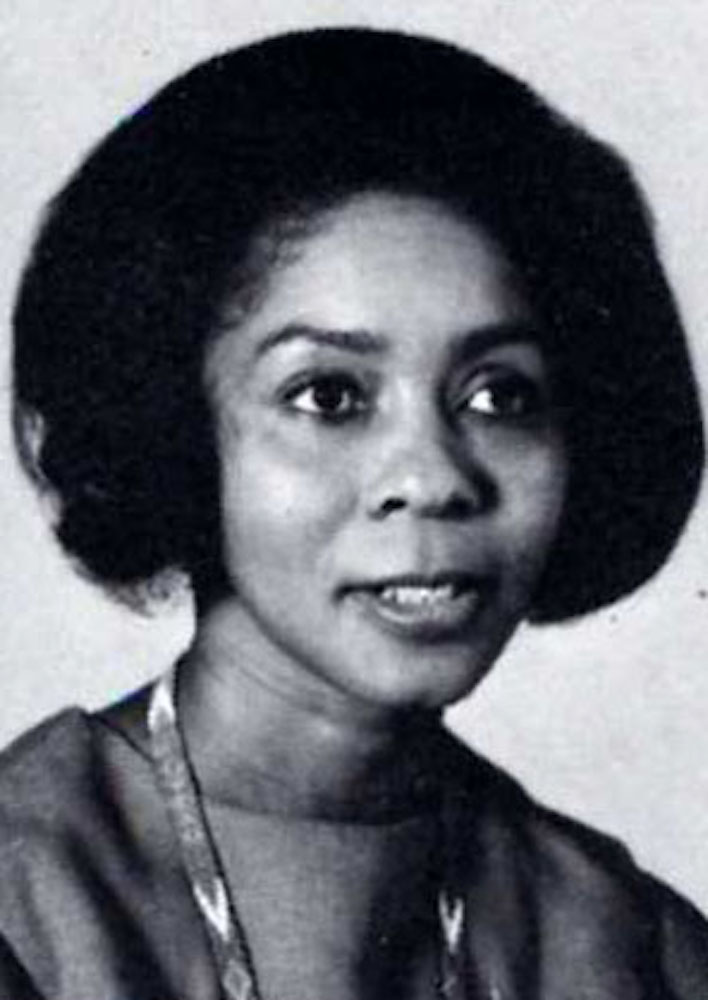 1965—Jasper Sanford: The first African-American faculty member at SHSU.
Sanford was hired as a librarian (considered faculty) in the Estill Library.
---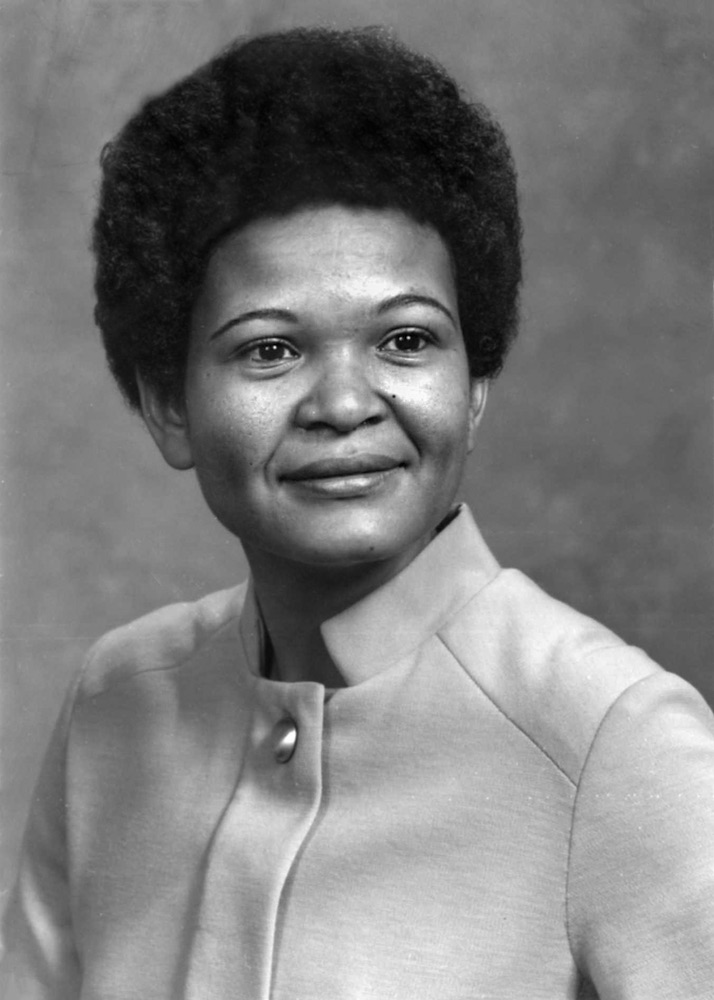 1972—Bettye Weatherall: the first African-American female faculty member to teach at SHSU.
Weatherall was hired beginning in the fall semester of 1972 and devoted 26 years at SHSU as an associate professor, program coordinator, acting chair and finally in the fall of 1989, professor of home economics and chair of the consumer services, fashion and design.
---
1976—Audrey Guerrant: the first woman to be named an SHSU distinguished alumni.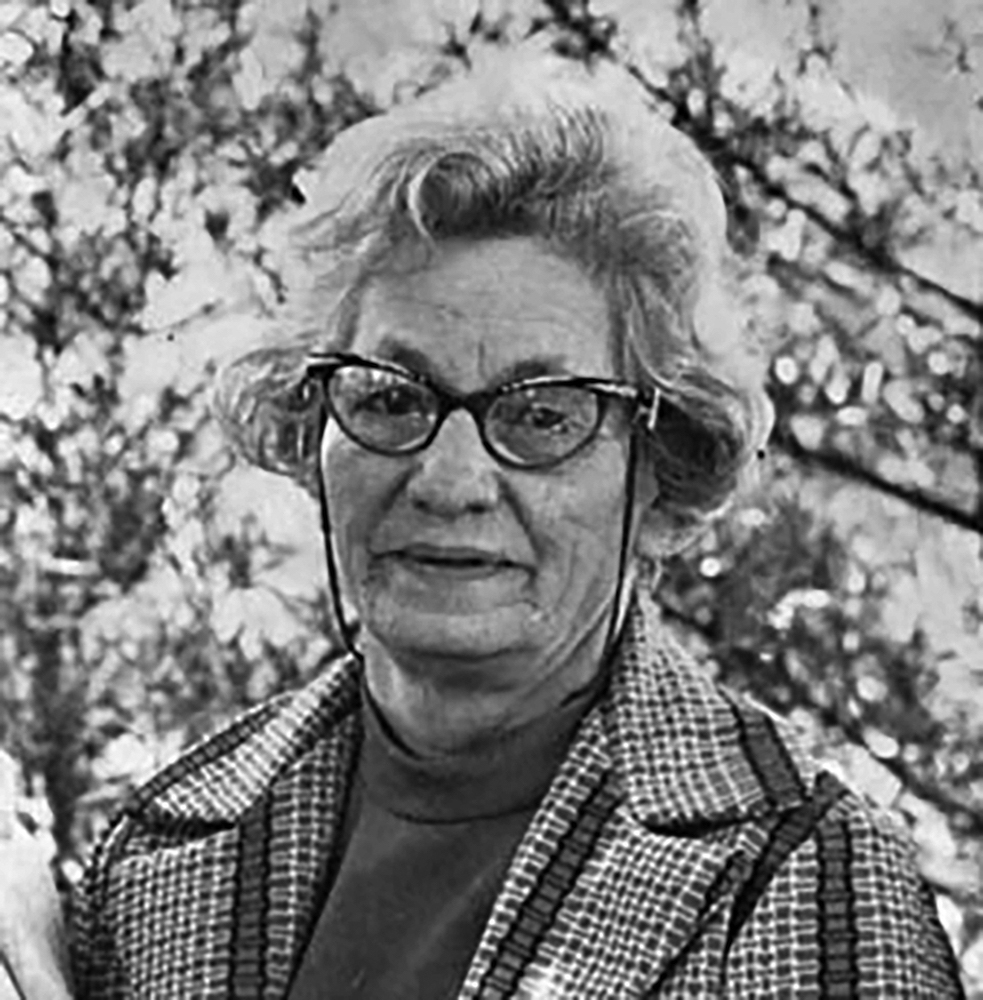 Guerrant, one of Huntsville's best loved and most respected businesswomen, managed to earn her Bachelor of Science degree in 1940 and complete her Master of Education degree while devoting countless hours to community services of every description. The Distinguished Alumni Award is the highest honor that SHSU can bestow upon its alumni. It recognizes alumni who have distinguished themselves through exemplary personal and professional achievements and who have made significant contributions to Sam Houston State or to society, thus reflecting honor and distinction on the university.
---
1977—Karen Lindsey: the first female commissioned through the SHSU ROTC program.
Lindsey received a Bachelor of Arts in Physical Education, Teacher Education. During her service, she was a Counterguerrilla and earned her Parachutist Badge, SCBC, SCAC, and Electronic Warfare. She was on the All-Army basketball team. After her military service, she has been in pharmaceutical sales and currently resides in Terry, MS.
---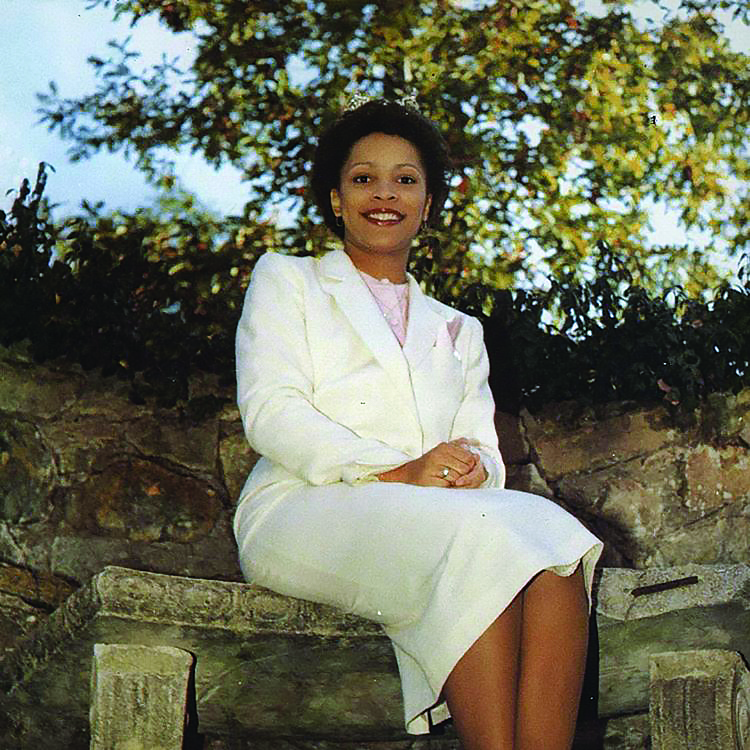 1980—Annabel Lopez: the first African American Homecoming Queen at SHSU.
As a Radio, Television and Film Broadcasting major she worked on CATV-7 news as a reporter, producer and director. She was also president of Alpha Epsilon Rho and active in Delta Sigma Theta.
---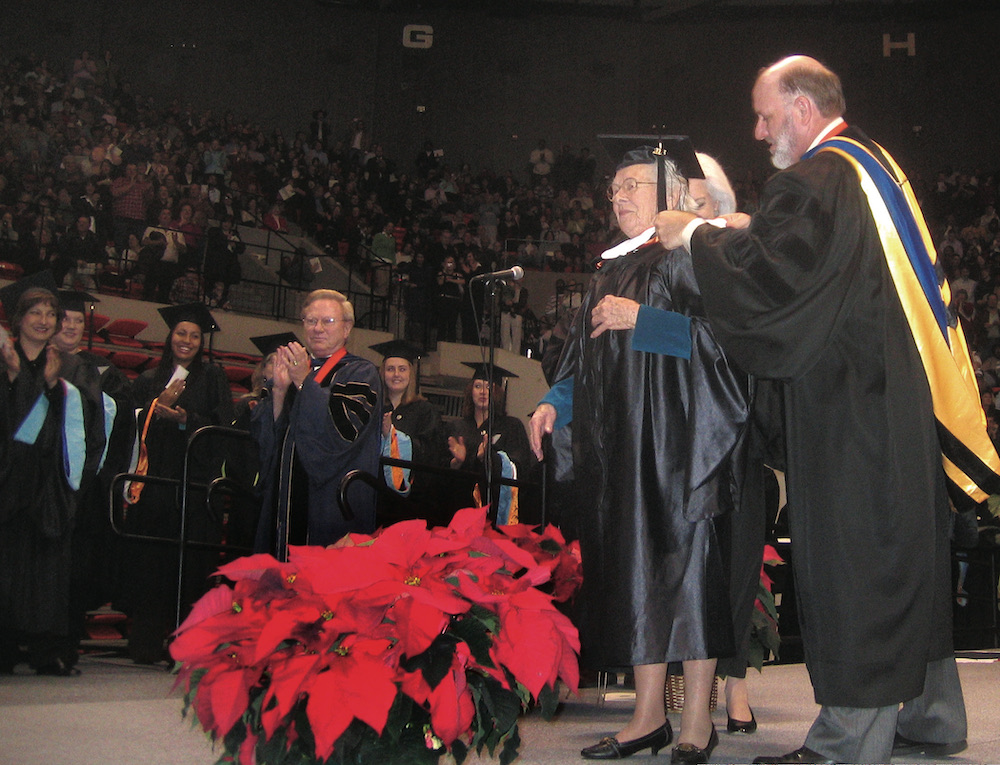 2001—Laura Thresher Johnston: At 85, she became the oldest graduate in the school's history.
Johnson, always interested in learning a new language, decided to pursue a degree in Spanish at SHSU in 1990. Over the course of 12 years, she was not only a student, but an advisor and mother figure to many.
---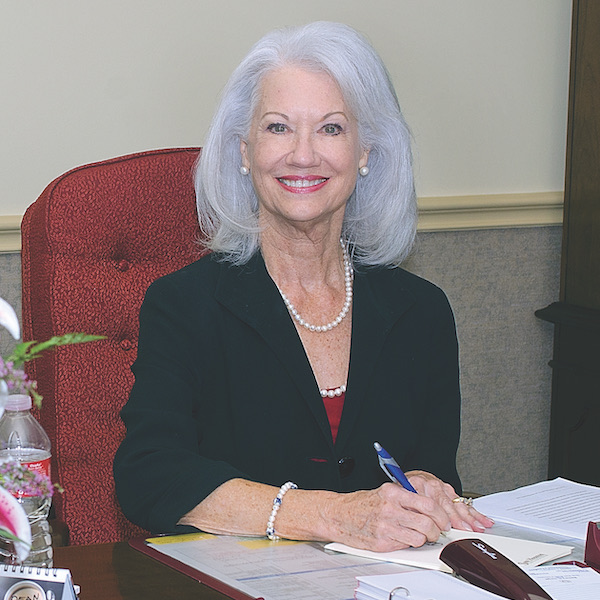 2002—Genevieve Brown: the school's first female academic dean when she took over the College of Education and Applied Science.
Brown joined SHSU as a professor in 1984 and became dean of the College of Education in 2002. Throughout her career, she was the recipient of numerous awards and served on several local, state and national boards, organizations and committees. Brown retired in 2012 after 48 years in education, with 28 of those years at Sam Houston State.
---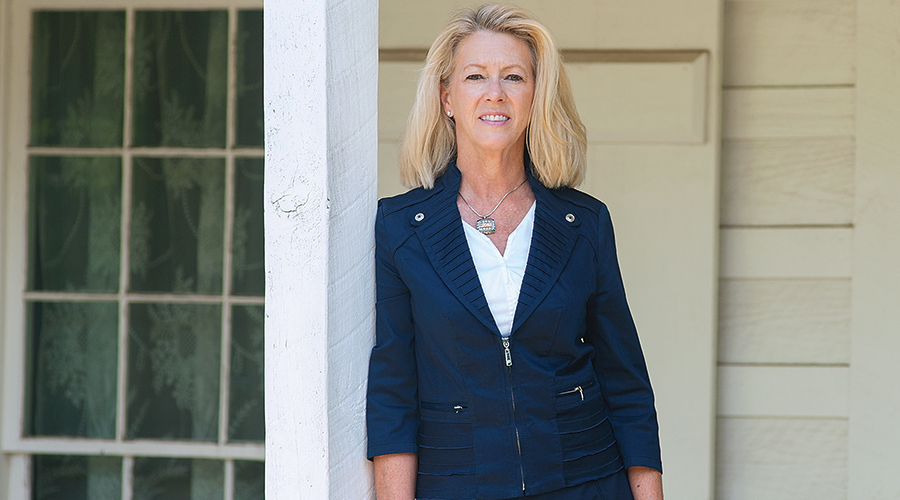 2010—Dana Gibson Hoyt: the university's 13th and first female president.
Hoyt assumed the presidency of Sam Houston State University on September 1, 2010, after serving as the university's vice president for finance and operations since April 2009. Under Hoyt's leadership, the university made major advances in new construction, endowments and spearheaded the Texas State University System's first osteopathic medical school. Hoyt retired from her role as university president in August 2020.
---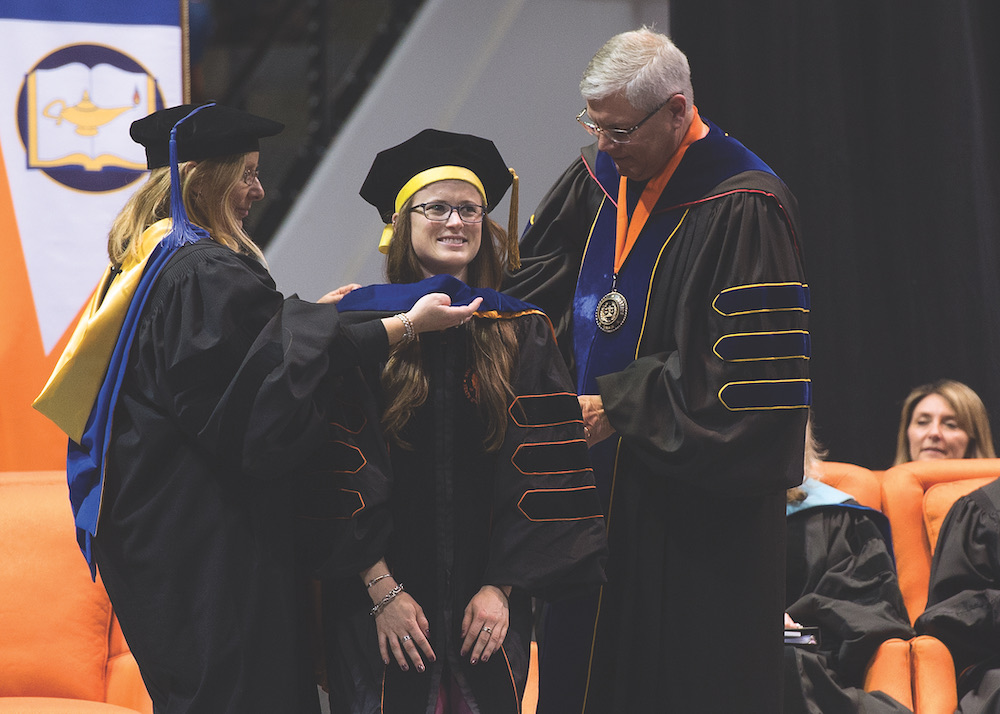 2017—Lindsay Glicksberg: the first in the nation to graduate with a PhD in forensic science.
Glicksberg received her inaugural doctoral degree during the Dec. 2017 commencement ceremony. While at SHSU, she was recognized as an Emerging Forensic Scientist by the Forensic Science Foundation for her research. She now serves as a Toxicologist at the Dallas County Southwestern Institute of Forensic Sciences.
---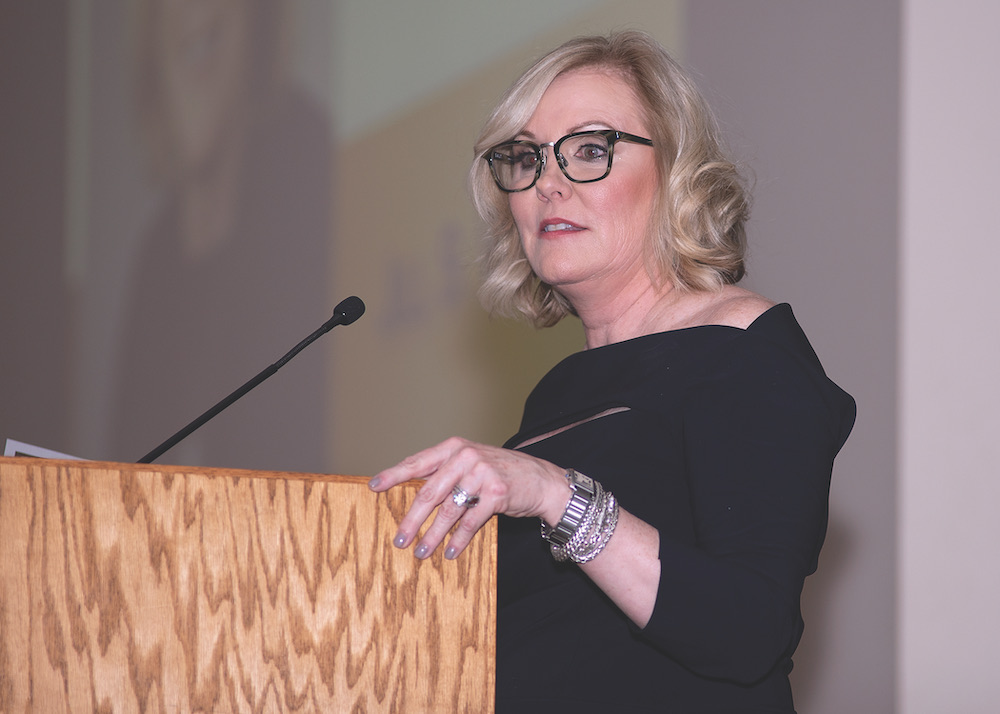 2018—Jill Sharp Vaughan: the first woman named to the Texas Bankers Hall of Fame.
Upon receiving her Bachelor of Business Administration in finance, Vaughan began her banking career in 1983. She previously served as Executive Vice President and Southwest Regional Credit Executive for Zions Bancorporation. The Texas Bankers Hall of Fame was established to recognize outstanding bankers for their contribution to their communities, the banking industry and the State of Texas. Today, Vaughan is back at SHSU as the Smith-Hutson Endowed Chair of Banking for the College of Business Administration, a position she was named in 2021.
---
NOTE: All entries are based upon "Sam Houston State University: A History, 1879-2004," by Ty Cashion and are republished from the Summer 2020 edition of Heritage Magazine. Any updated or conflicting information will be noted for future reference.
- END -
This page maintained by SHSU's Communications Office:
Director of Content Communications: Emily Binetti
Communications Manager: Mikah Boyd
Telephone: 936.294.1837
Communications Specialist: Campbell Atkins
Telephone: 936.294.2638
Please send comments, corrections, news tips to Today@Sam.edu