From Bearkat to Broadway
March 7, 2023
SHSU Media Contact: Campbell Atkins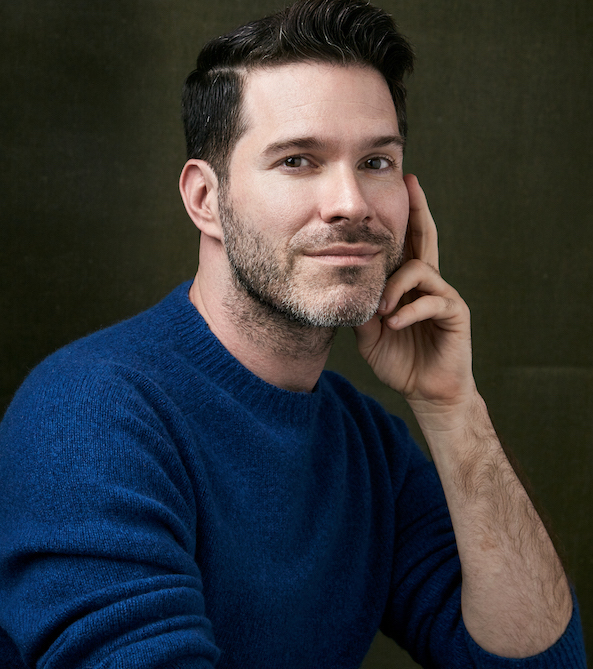 The multi-faceted and former Sam Houston State University theatre major Tye Blue knows the value of entertainment, especially in the midst of life's constant drudgery. He has used it to navigate through humble beginnings on a cotton field in Fairchilds, Texas as well as the clubs of Los Angeles and theaters of New York City.
Now, Blue is seeing his hard work and dedication come to fruition in the form of Titanique, a parody musical he co-wrote and directs that he hopes will offer people a similar escape from their daily hardships.
"There are a lot of heavy topics that we cannot seem to get away from," Blue said. "My mission with this show is to provide people with 100 straight minutes of pure nostalgia and escape. I want people to forget they are short on rent money or that argument they had with their cousin. I want this show to be the antidote for day-to-day living."
If the reviews are any indication, Blue and his team have accomplished just that with Titanique. The show is a spoof and retelling of James Cameron's 1998 disaster epic and love story centered around the doomed ocean liner with modern themes and a strong musical component.
Celine Dion, who sang the film's hit song, "My Heart Will Go On", is portrayed as a main character and narrator in Blue's version who helps drive the story forward through song and comic relief.
Blue first had the idea for Titanique while working at the now-defunct Rockwell Table & Stage lounge in LA. The company was producing shows that mashed together soundtracks from famous directors and incorporated those songs into one show about that director, such as Quentin Tarantino, Robert Zemeckis, Baz Luhrmann and John Hughes.
"I was working on that series when the venue started doing more comedic parodies of movies," Blue said. "LA is such a movie town that they found a real pocket for people who love film, but also love to see them roasted or made fun of with music."
Soon enough, Blue committed to work at Rockwell full-time, as long as he got to choose and direct the shows. For two years, Blue directed The Unauthorized Musical Parodies of The Devil Wears Prada, The Big Lebowski, Troop Beverly Hills, Hocus Pocus and Mean Gurlz. The opportunity allowed him to hone his directorial skills while adding his own personal touch to a plethora of projects.
"I just sort of went to town and hired really funny writers, actors and singers, infused some drag into it and kind of turned the whole movie on its head while still retaining the heart of the film," Blue said on The Devil Wears Prada, the first parody he directed for the series. "It worked really well. People really ate it up because the movie is loved and, when you weave a movie people love with top songs they also love, it intertwines in a really healthy way."
During this process, the idea for Titanique began to grow more and more prominent. He first hoped to develop it for Rockwell, but the lounge wasn't interested in the idea. He decided to bet on himself and branch out on his own with a vision in his head.
"I took out my credit card, texted my friends and started writing," Blue said.
The process began in 2016 and the script was finished in the summer of 2017. Upon completion, Blue hosted a private reading in LA with roughly 150 people, including some from a prestigious theatre called the Wallis Annenberg Center for the Performing Arts. They loved the script and invited Blue to premiere the show in their concert series that December. The feedback, as well as ticket sales, showed the performance's vast potential.
"That was the moment when we said, okay, we may really have something here," Blue said. "I started to seek out venues in LA where we could explore producing it or collaborate with a production company to keep it moving forward."
He found that in LA theatre Dynasty Typewriter, where the show sold out every time. Blue then decided to take another chance on his show and move it to New York City in a space called The Green Room 42.
"We daringly booked that venue for a week," Blue said. "I flew everyone out to New York, we did the show and sold out every performance again. They immediately asked us to come back six months later, so we did another run there and it just organically snowballed over the years."
Titanique built up a loyal base of fans while continuing to captivate new audiences and catch the eyes of several Broadway producers. The show has worked its way up and is currently playing at the Daryl Roth Theatre, an off-Broadway performance space in Union Square.
The show has also been praised for its inclusivity, portraying a number of diverse actors and characters. In fact, Rose's overbearing mother is played by a man in light drag. Critics have highlighted the show's unique and refreshing portrayal of LGBTQ characters and themes.
"In producing an ongoing show like this, inevitably there are conversations about diversity, inclusion and representation because, coming through the sort of social awakening that we've been going through the past few years, it's important to me that my work is reflective of the time and, at least subtly, opens people's eyes to other ideas and other types of people, bodies, genders or presentations," Blue said.
Throughout his career, Blue has found himself involved in productions that are open and inclusive to all people and lifestyles. He spent four seasons on the Emmy-Award winning casting team of RuPaul's Drag Race, portrayed a drag queen in Hair, The Musical and also had a role in a production of Rent, a musical that follows young, struggling artists in Manhattan during the AIDS crisis.
"My first foray into the professional world of entertainment was in shows that are sort of about that," Blue said. "I have never really veered from that, whether it's intentional or not. We've been very forward thinking about how to weave in more diversity. If you can evoke the character and the movie, you can play the part."
Blue was raised in a small farmhouse in Fairchilds, about an hour southwest of Houston. His first introduction to the arts came in the form of the saxophone and his middle school band. As it turned out, he was extremely talented and would earn a number of musical achievements in his youth before attending the Berklee College of Music in Boston.
During a year at Berklee, he also discovered his love for singing. He then moved back to Houston and ended up doing shows at AstroWorld, where he met several people who were getting their musical theatre degrees at SHSU. These individuals, as well as the late Jonathan Charles and Jim Miller, who was the chair of the theatre department at the time, recruited him to the university.
"They just embraced me," Blue said. "I think they saw something in me and I didn't have to prove anything. They just put me in shows and everybody was so warm; I remember feeling so welcomed at Sam. I needed that theatre community because I really didn't know a lot about it."
While full of talent, Blue was still extremely raw in the musical theatre world during his early days at SHSU. But Charles' flexibility as a director allowed him to be himself while performing, even if that meant unintentionally upstaging his classmates.
"One time, the guy playing one of leads complained that I was pulling focus away from him," Blue said as he jovially recalled the experience in which he amused the audience by playing with a rubber chicken. "Charles told him, 'Well, if you're being upstaged by a rubber chicken I think you have more things to worry about'."
Blue credits the university for allowing him to develop the myriad of skillsets required to be a musical theatre performer.
"I didn't leave with some of the connections people from bigger schools have, but I would hope that I can at least be a testament to young people who are going on a similar journey," Blue said. "With time, grit, work ethic and kindness toward your collaborators, you can get there. It might take you longer, but once you get there, you know that you have genuinely earned it. It has taken me 25 years of being scrappy, pushing and creating my own opportunities and not giving up that have gotten me here, and that's the truth. I would hope to encourage some people to just not give up."
Blue and his collaborators are currently working on ways to continue exposing Titanique to new audiences and admitted they are hoping to release some announcements regarding its future soon. He is also developing a new nightlife, speakeasy dance show set in the prohibition era that is set to open in the fall.
For more information, visit Blue's website.
- END -
This page maintained by SHSU's Communications Office:
Associate Director, Communications: Emily Binetti
Telephone:936.294.4406
Communications Manager: Mikah Boyd
Telephone: 936.294.1837
Communications Writer: Campbell Atkins
Telephone: 936.294.2638
Thomason Building: Suite 102
Please send comments, corrections, news tips to Today@Sam.edu