Bearkat Orgs: NABA
Oct. 5, 2023
SHSU Media Contact: Mikah Boyd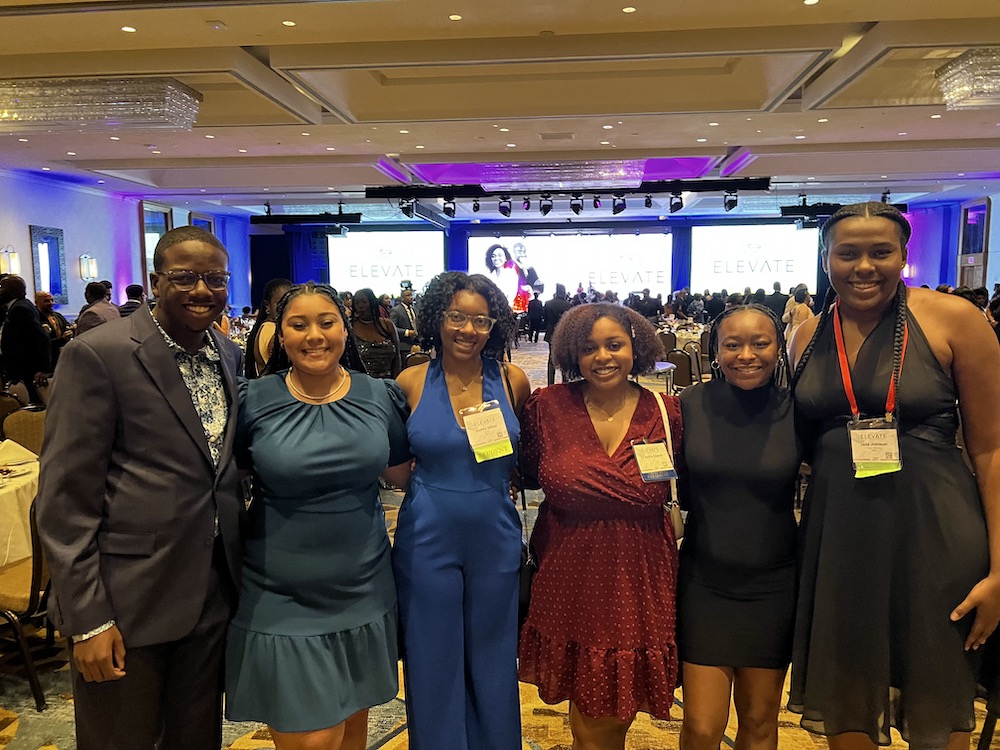 Bearkat Orgs is a series highlighting the works of SHSU's many on-campus student organizations. For more information on campus organizations or information on how to join or start a campus organization, visit OrgLINK.
---
By Jaidin Shaw
"Statistics for Black CPAs, certified public accountants, is less than three percent," said Ta'Kerria Gipson, president of the Sam Houston State University chapter of the National Association of Black Accountants (NABA).
For black business professionals looking for a community that helps build networking skills and provides connections with like-minded people, NABA is the organization they call home. NABA is a national organization that was founded in 1969 and formed university chapters to encourage black undergraduate students to get connected with professionals.
This past summer at the NABA 2023 National Convention & Expo, the Sam Houston chapter won Chapter of the Year for the Western region as a result of the wonderful work done this past year.
"We've done a lot of growing, and we had to do a rebrand since we were formerly known as the National Association of Black Accountants," Gipson said of recent changes. "We just go by NABA now, and the whole purpose of that was to kind of be more inclusive of black business professionals."
She also stated that Black business professionals in general, regardless of major, are a small, marginalized group in the business world and NABA's main goal now is to present them with equal opportunities for success.
Students can find NABA every Tuesday in the Smith Hudson Building conducting meetings in business attire, or NABA professional attire, which consists of a polo shirt that represents the organization's unity. In these meetings, they'll also get the chance to listen to and talk to companies that come in and present, including Fortune 500 companies.
Outside of the regular meetings, NABA is heavily involved in community service within Huntsville and even Houston. The organization makes it a priority to give back to their community and Sam Houston State University. Their mission statement, "Lifting as we climb," touched on the importance of giving back to the community, instead of taking, and helping other underrepresented groups, not just Black people.
Gipson also gave some insight into what it takes to run an organization and how her executive board and advisor, Professor Daniel Puhl, helps her delegate tasks. Such as making sure financials are up to date and that the organization is doing enough community service, as well as maintaining a professional image through public relations.
"Nobody does anything on their own. Like I'm not even president on my own," said Gipson when asked what it was like to hold an executive position.
According to Gipson, her favorite part of being in the organization is watching not just the group grow but the people within the group grow. She says that even outside of the regular meetings or events, the group looks out for each other and hypes each other up.
"I love seeing how special NABA is to each one of us. It's just an amazing feeling to see that NABA magic just come alive," Gipson said.
Overall, Gipson highly recommends that students go to the meetings and see if NABA is for them, or even attend events during NABA Week, an event that is in the works for the second week of November. She also encourages students to get involved on campus, even if it's not with NABA. Finding a community with like-minded individuals is important not just for undergraduate success but for networking in the future.
View this post on Instagram
- END -
This page maintained by SHSU's Communications Office:
Director of Content Communications: Emily Binetti
Communications Manager: Mikah Boyd
Telephone: 936.294.1837
Communications Specialist: Campbell Atkins
Telephone: 936.294.2638
Please send comments, corrections, news tips to Today@Sam.edu