Announcing The 2023 Academic Affairs Distinguished Staff Award Recipients
May 9, 2023
SHSU Media Contact: Mikah Boyd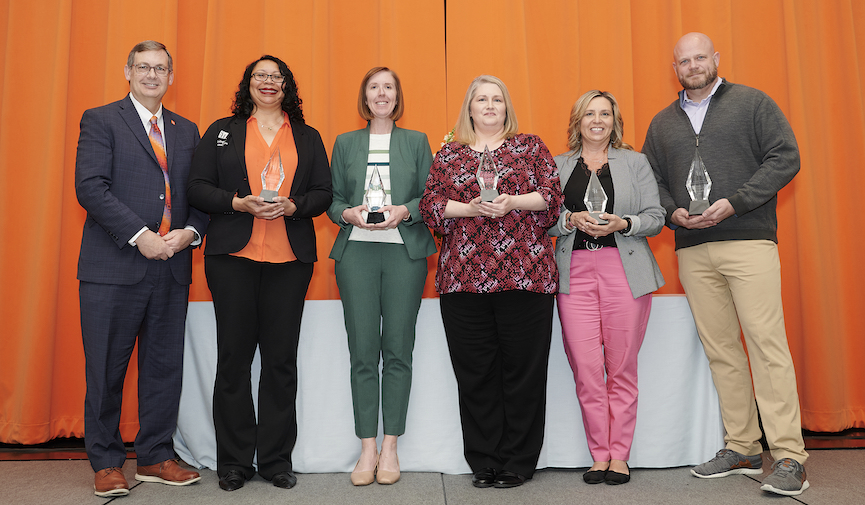 By Madison Willis
Sam Houston State University's Office of the Provost honored and recognized Academic Affairs (AA) staff members at the second annual Academic Affairs Distinguished Staff Awards ceremony. The five recipients of the awards include Katelyn Conner, Kristina Grimes, Doris Pratt, Lisa Chaddick and Steven Koether.
"Our division is full of outstanding staff members who are dedicated to our students, faculty, the division and our university," Michael T. Stephenson, provost and senior vice president for Academic Affairs, said. "I'm honored to have the opportunity to recognize them and this second cohort of winners with this ceremony."
Katelyn Conner, administrative associate III in the College of Science and Engineering Technology (COSET) Office of the Dean and Bearkat alumna, received the Rookie Award. This award recognizes a recently hired staff member who has immersed and asserted themselves in their respective area and the university community.
"Our motto reads: 'The measure of a Life is its Service.' This award affirms that my service to students, faculty and the SHSU community does not go unnoticed and that I am living up to the expectations of a true Bearkat," Conner said. "I am beside myself to have earned this distinction - what an honor!"
Kristina Grimes received the Spirit Award. Grimes is the assistant to the dean in the College of Business Administration. The Spirit Award recognizes an individual who embodies positive energy and initiative while generously serving faculty, students, and colleagues.
"I have been in Academic Affairs for a little over eight years and have been involved with numerous committees across campus. The COBA dean's office has always encouraged staff members to get involved and support campus efforts," Grimes said on her time with Academic Affairs. "I strive every day to be supportive and do everything I can to help others succeed."
Doris Pratt, associate director for student development in the College of Criminal Justice, received the Loyalty Award for her dedication to Academic Affairs and SHSU. This distinction is awarded to a staff member with a history of superior service who has served more than 10 years to the university, more than five years in Academic Affairs and exhibits an ongoing commitment to faculty, staff and students.
"I am committed to providing the best support and service to faculty, students and staff…from advising, providing assistance to faculty, meeting with prospective parents and students, etc," Pratt said. "I am invested in this university and its community. I enjoy what I do, and the past 30 years have been a very rewarding experience."
Lisa Chaddick received the Leadership Award. Chaddick has worked for SHSU for 12 years in different capacities and currently serves as the internship coordinator for the Department of Public Health in the College of Health Sciences. This award showcases a staff member who is a leader and displays impeccable leadership qualities including exceptional communication, problem-solving, integrity and a strong desire to help others succeed.
"Winning the Leadership Award inspires me to continue striving for excellence. I am humbled others recognize my contribution to the university, my college and my students. I am forever grateful to my amazing colleagues and mentors over the years who have all encouraged me, both directly and indirectly, and exemplified excellence in leadership," Chaddick said.
Finally, Stephenson presented the most prestigious award, the Distinguished Staff Member of the Year, to Steven Koether, coordinator, instructor and advisor in the Department of Biological Sciences in COSET. This award honors the staff member who shows an ability to lead, create a positive and uplifting work environment, as well as demonstrate a positive impact through their commitment to the University's core purpose and values.
"The Bearkat community is multifaceted: from students, faculty and staff to administration, Bearkat community success is dependent upon each branch," Koether said. "The creation and celebration of these awards acknowledges the hard work, dedication, leadership and expertise of a branch that is ever-present, but often behind the scenes in the honorable pursuit of education and knowledge creation. While we don't typically do our work for awards or accolades, it does feel good to know it is valued."
- END -
This page maintained by SHSU's Communications Office:
Director of Content Communications: Emily Binetti
Communications Manager: Mikah Boyd
Telephone: 936.294.1837
Communications Specialist: Campbell Atkins
Telephone: 936.294.2638
Please send comments, corrections, news tips to Today@Sam.edu