Explore Summer Camps At SHSU
June 8, 2022
SHSU Media Contact: Wes Hamilton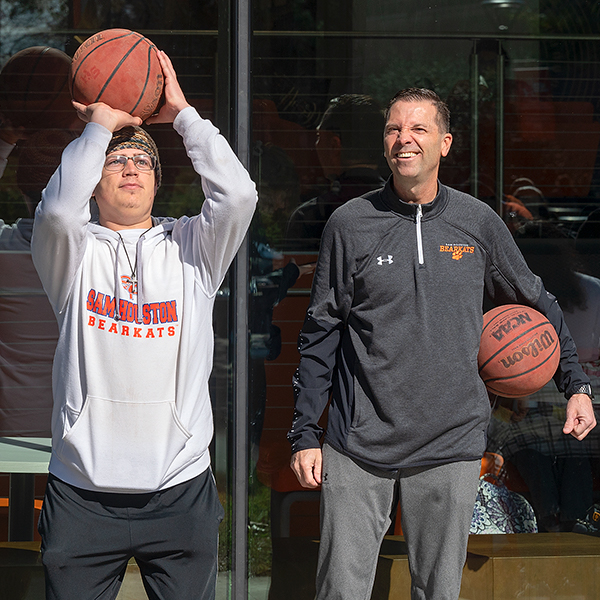 By Lidia Gutierrez
Sam Houston State University's Camp@Sam program gives high school juniors the opportunity to explore SHSU, learn what to expect in college and how the application process works. Many different university departments host camps that allow students to learn about their programs and develop skills in arts or STEM areas of study.
Sarah Burchett, the communications coordinator for the Center for Community Engagement, believes these camps help the community.

"One of the benefits of having a university in your backyard is that there are many opportunities to participate in events and activities taking place on campus," Burchett said. "In the summertime specifically, SHSU hosts numerous summer camps ranging from sports and art camps to camps that provide students with a taste of the college experience."

SHSU believes it is important to continuously provide community members with innovative learning opportunities and hands-on experiences.

"The hope is that participants leave feeling that they have gained a skill or have learned new information that will benefit them moving forward," Burchett said. "And what's more, they'll get to know this beautiful campus a bit better."
For any additional information beyond what is listed below, please contact the Visitor Services and speak with a Recruitment Specialist at 936.294.1844.
---
Camp @ SAM
Dates: July 11-12, July 13-14
Fee: $35
Fully booked/closed.
---
School of Music
All-State Choir Camp:
---
Environmental & Geosciences
GTE TX Summer Bridge Program:
Dates: 6/12/2022 - 6/21/2022
No fee (Deadline March 4)
Eligibility: High School Sophomore/Junior (less than 35 community college credits); passion for STEM; GPA of 2.75 out of 4.0
Information: If selected room & board provided and $800 stipend at conclusion of program. Stay on the lookout for 2023 application. · https://www.shsu.edu/academics/environmental-and-geosciences/get-tx/summer
---
Sam Houston Memorial Museum
Museum Summer Educational Programs:
Dates: TBA
Information: Follow-up on social media pages
Contact: Megan Buro
---
National Cheerleaders Association
NCA All Star Nationals at Sam Houston State University:
---
Athletic Camps
Rugby Camp Sam Houston:
Dates: 7/17/2022 - 7/20/2022
Overnight Camp, Boys - ages 10-18, Coach Gary Holub, email gholub@theregisschool.org for information
Nike Junior Golf Camp Sam Houston:
Brenda Gray Volleyball Camps:
Garrett Valis Softball Elite Sessions Camp:
Garrett Valis Softball Elite Camp:
Bearkat Baseball High School Camp 1:
Bearkat Baseball High School Prospect Camp 2:
Bearkat Elite Big Man Camp (OL-DL):
Bearkat Elite Skills Camp:
Bearkat Elite Specialists Camp(K-P-LS):
---
School of Agriculture
Expanding Opportunities in Agriculture for Under-Represented Populations:
Dates: 6/27/2022 - 7/1/2022
No Cost
Location: SHSU and SFA will be charted by bus
Eligibility: 6-8 minority, low socio-economic students will be chosen from 10 Title 1 Schools
Contact: Dr. Shyam Nair
---
Department of Art
Art Animation Camp:
- END -
This page maintained by SHSU's Communications Office:
Director of Content Communications: Emily Binetti
Communications Manager: Mikah Boyd
Telephone: 936.294.1837
Communications Specialist: Campbell Atkins
Telephone: 936.294.2638
Please send comments, corrections, news tips to Today@Sam.edu