Spring Into The Arts With Comedy, Dance & More
March 21, 2022
SHSU Media Contact: Emily Binetti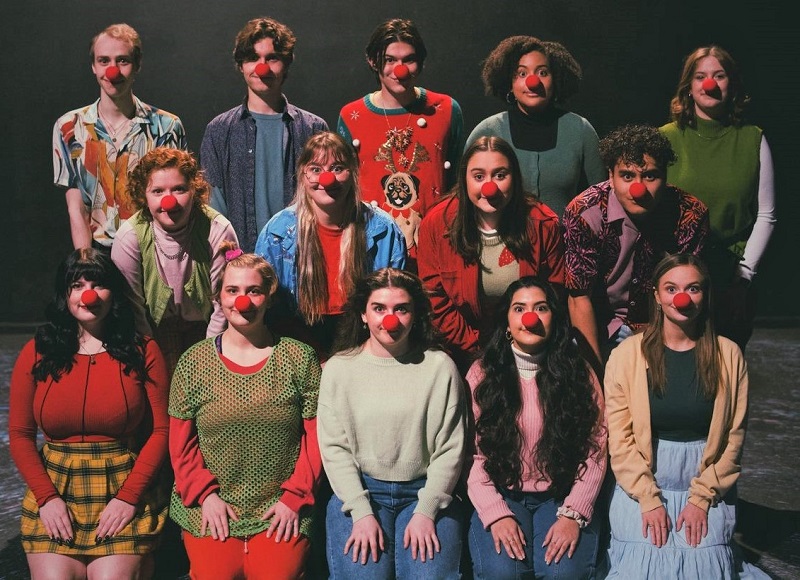 "A Doctor in Spite of Himself" Mar. 24-26
Sam Houston State University's Department of Theatre and Musical Theatre presents Molière's classic comedy in a new and contemporary adaptation by Christopher Bayes and Steven Epp.
What begins as a simple joke of mistaken identity twists into a grand satire about learned bias. Molière not only rails against greedy doctors and ineffective medicine, but against gullibility itself.
"Christopher Bayes and Steven Epp are two world class clowns, and this adaptation pours Molière into a blender of nonstop jokes, hip-hop beats, ABBA tributes, Michael Jackson dance moves, Disney channel throwbacks, and more! We have a live DJ on stage with us helping score the sounds of laughter. This isn't your great-French aunt's Molière. Come ready to laugh — something we all need," director Kevin Crouch said.
"A Doctor in Spite of Himself" will be presented by in the Showcase Theatre with 7:30 p.m. showings each evening as well as a 2 p.m. Saturday matinee option.
The Showcase Theatre is located in the University Theatre Center at 1740 Bobby K. Marks Drive and 17th street between the Newton Gresham Library and the James and Nancy Gaertner Performing Arts Center.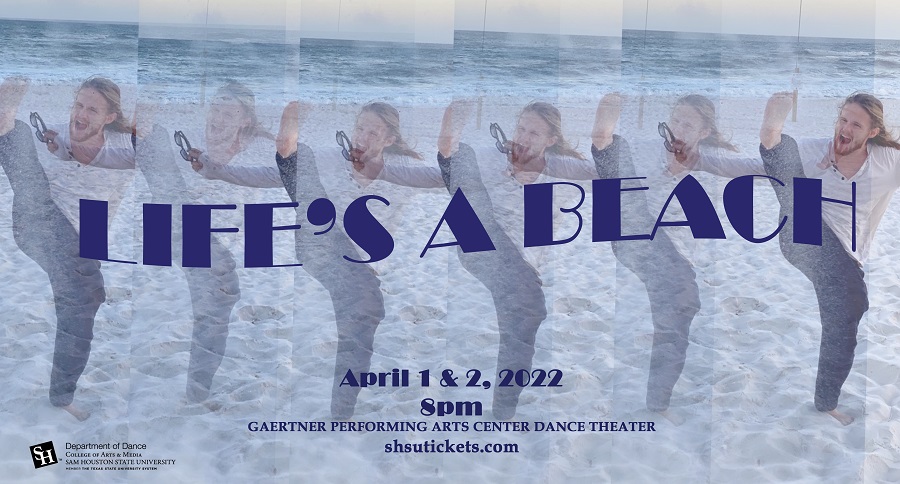 Life's A Beach — A Masters of Dance Concert Apr. 1-2
SHSU's Department of Dance present a production by dance graduate students, "Life's A Beach — A Masters of Dance Concert" at 8:00 p.m. in the Dance Theater. The production offers graduate students the ability to create a dance work. Each night showcases a different set of choreographic works that engage the audience in a whirlwind of emotions, adventures, and laughs.
Jacob Regan and Tyler Orcutt, are working on a project that originates "somewhere between a work-in-progress and a working product that embodies everything wonderful about rough drafts."
Madelyn Klumb, is developing a piece that offers "internal expressiveness and healing from a choreographic and dancer's viewpoint."
A piece by Jacob Regan and Jen Passios stems from "the awareness that all choreography becomes improvisation upon execution and was made in part to practice creating from that principle and share that experience."
Show A (Apr. 1) features choreographers Lauren Serrano, Madelyn Klumb, Jam Martinez, Travis Lake, Keeley Dunnam, Erin Ellis and Krysta Quiambao.
Show B (Apr. 2) features choreographers Amy Fitzsimmons, Evan Warner, Natasha Wakim, Jacob Regan, Tyler Orcutt, Jen Passios, Sarah Vickery, Elsie Smith, Lilly Thurman and Erin Ellis.
Doors will open at 7:30 p.m. and baked goods will be offered as a fundraising opportunity for the Masters of Dance student organization.
The Dance Theater is located in the James and Nancy Gaertner Performing Arts Center at 815 17th Street.
---
The School of Music
2022 SHSU Bill Watrous Jazz Festival Apr. 1–2
Opera Unlimited Apr. 7–9
Both concerts at 7:30 pm in the Gaertner Performing Arts Center.
---
Tickets for upcoming productions and concerts are available on the Box Office website. SHSU faculty and staff may redeem one free ticket when booking online. SHSU students can obtain one free ticket the week of the show when booking online. For ticket information, contact the Box Office at tickets@shsu.edu or call 936.294.2339.
---
The Department of Art
University Gallery 22nd Annual Juried Student Exhibition Mar. 28 – April 9
Satellite Gallery BFA Senior Exhibition Mar. 24 – 26
Dept. of Art events are free. For gallery locations/hours, visit the above links or call 936.294.4311.
- END -
This page maintained by SHSU's Communications Office:
Director of Content Communications: Emily Binetti
Communications Manager: Mikah Boyd
Telephone: 936.294.1837
Communications Specialist: Campbell Atkins
Telephone: 936.294.2638
Please send comments, corrections, news tips to Today@Sam.edu