SHSU Breaks Ground On Agricultural Complex
Aug 10, 2022
SHSU Media Contact: Emily Binetti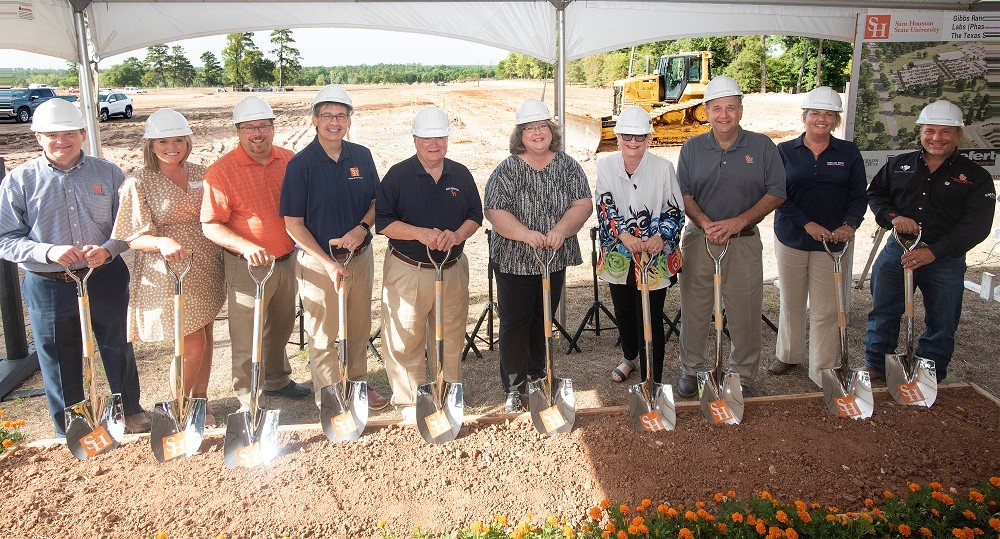 Leaders and supporters from Sam Houston State University sent shovels into the dirt at the groundbreaking ceremony for the Agricultural Complex at Gibbs Ranch on Aug. 5.
Those in attendance included Board of Regents members Alan L. Tinsley and Sheila Faske, University President Alisa White, State Representative Kyle Kacal, Walker County and City of Huntsville representatives, SHSU faculty and administrators, and many distinguished friends of the university including Ferne Frosch, representing the Gibbs family whose support made this day possible.
Currently in the first phase of construction, this multi-facility project will propel the rural property of Gibbs Ranch into a premier agricultural teaching and research facility. The complex will house several academic programs and will serve as home to the SHSU Rodeo Team. New features will include a Multi-Purpose Agricultural Arena and Rodeo Team Stall Barn while a horticulture and learning center will provide classrooms, labs and workspaces, along with two greenhouses.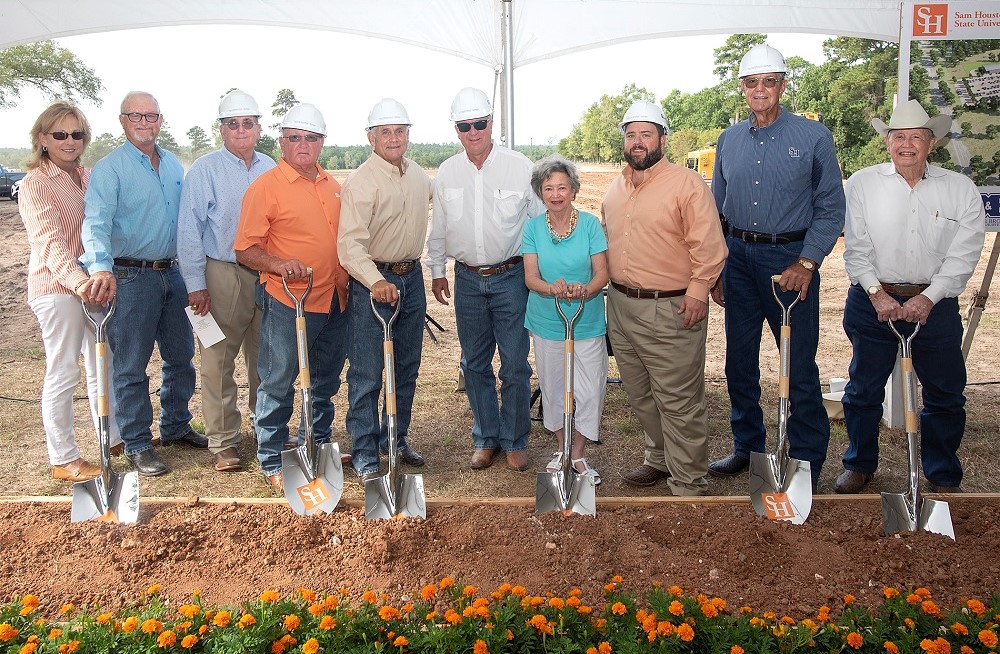 Emphasizing the value of agricultural sciences, White shared with guests how the new complex is vital to SHSU and the entire agricultural industry.
"America will change in a way we don't want it to change if we don't preserve the things that are important to us, and a lot of those things happen in agriculture, so that is why we are here," White said.
Doug Ullrich, chair for the School of Agriculture Sciences, believes the progress raises the bar in the quality of education SHSU provides in making students workforce ready.
"Our mission is not only to educate students about agriculture, but to help them get jobs in the industry. That's what we do best," Ullrich said. "We train our students so they can get into the workforce and play their part in producing food, fiber, and managing our natural resources. This facility is going to be a game changer for that."
The School of Agriculture Sciences at SHSU has a long history of preparing and training students toward agricultural careers. A main-stay of this tradition for the past two decades is the Gibbs Ranch. Located just north of Huntsville, this hands-on learning and research laboratory has long served to cultivate the students of SHSU in animal, plant sciences, agribusiness and agricultural engineering technology.
Gibbs Ranch was once owned and managed by local businessman, rancher and community leader, W.S. Gibbs. In 1993, Ruth Farrington Farris, Gibbs' widow, deeded a 124.94 acre tract, known as "the home place" to SHSU. In June of that year, the remainder of the Gibbs' property, 1459.95 acres, was deeded to the university by the Sam Houston Foundation.
- END -
This page maintained by SHSU's Communications Office:
Director of Content Communications: Emily Binetti
Communications Manager: Mikah Boyd
Telephone: 936.294.1837
Communications Specialist: Campbell Atkins
Telephone: 936.294.2638
Please send comments, corrections, news tips to Today@Sam.edu