School of Nursing Honored with Montgomery County Food Bank Volunteer Service Award
Feb. 25, 2022
SHSU Media Contact: Wes Hamilton
By Karen Leonhart
The Sam Houston State University School of Nursing has been honored with the Volunteer Service Award by the Montgomery County Food Bank. This service award honors an organization for its invaluable volunteer service at the Food Bank. The award will be presented in April at the 2022 Fighting Hunger, Feeding Hope Gala presented by Woodforest National Bank.
The relationship between the Sam Houston State School of Nursing and the Montgomery County Food Bank dates back to 2018 when the students began volunteering in order to fulfil their degree requirements. Over the years, the relationship has grown into something bigger than course credit with students committing their valuable free time to their volunteer work.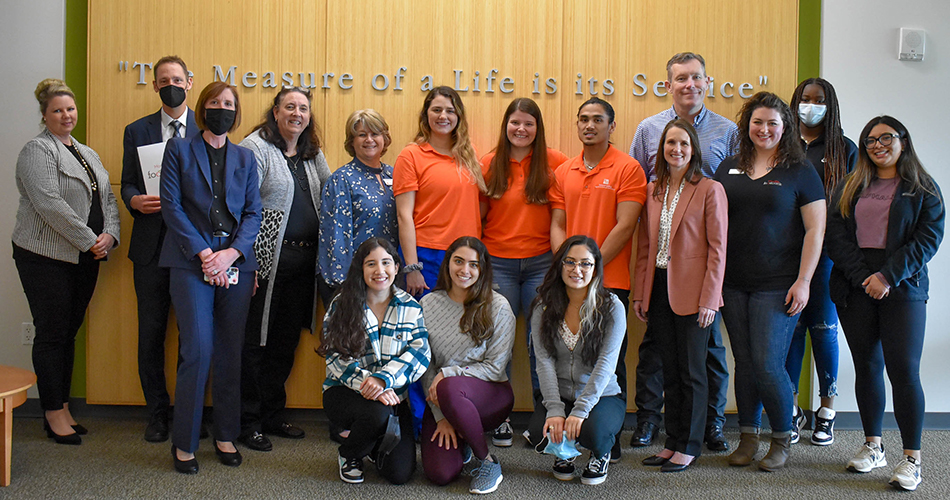 "Sam Houston State University School of Nursing played a significant role in the food bank's record-breaking impact in 2021," said Kristine Marlow, President and CEO of Montgomery County Food Bank. "The students' steadfast passion and servant hearts allowed Montgomery County Food Bank to remain a lifeline to those facing hunger in our county during a very uncertain time. I am so grateful to each of them for volunteering their time with us, and I look forward to honoring the School of Nursing at our Fighting Hunger, Feeding Hope Gala."
Montgomery County Food Bank's mission is to unite the community to fight hunger. In 2021, they were able to provide over 9.6 million nutritional meals through their vast network of over 70 partner pantries, local school districts, and community partners.
"In the height of the pandemic, while Sam Houston State University's School of Nursing students worked tirelessly on the frontlines of healthcare within our community, they also reaffirmed their dedication to the food bank by continuing to volunteer onsite," said Andrea Richardson, Volunteer Services Manager at Montgomery County Food Bank. "We are so fortunate to count on the students' high spirits and service on a regular basis."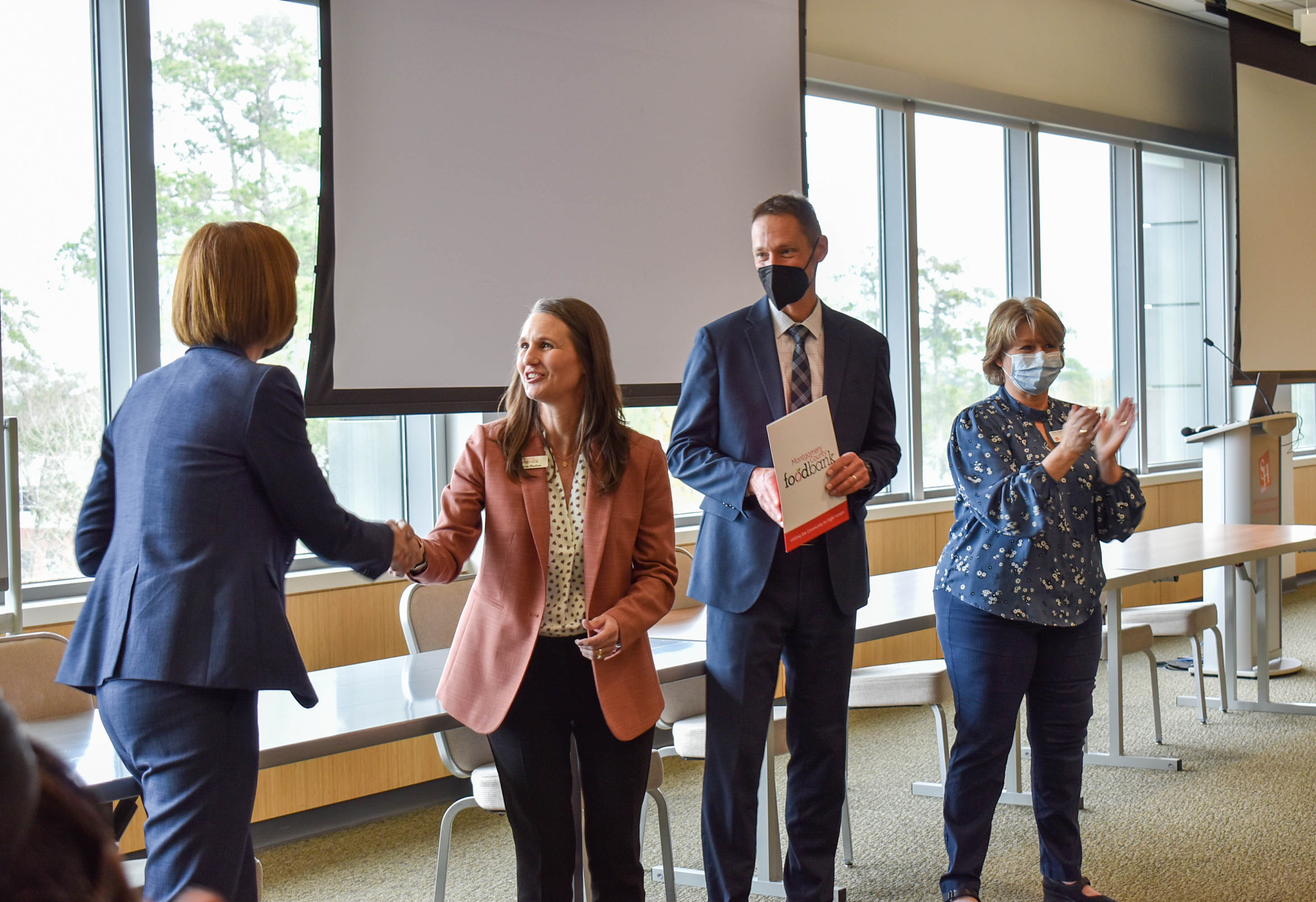 Linda James, clinical associate professor for the School of Nursing, says the Montgomery County Food Bank has been very thankful for the service of SHSU students, faculty and staff. She sees this partnership as a growth opportunity for all involved.
"Initially, we started out serving and learning from the Food Bank but now we have a true partnership as together we have started thinking of ways to help college students who are food insecure," James said. "I almost always stay with the students to help sort food when they are there as a group. I hope that they see in me the love I have for helping those in need and spur them to volunteer with any organization to help fill a community need and create happiness for themselves."
The food bank works in partnership with retailers and wholesalers to provide a solution for food waste by rescuing food that would otherwise go to the landfill. As a part of their green initiatives program, they operate an onsite produce rescue center that allows them to distribute fresh fruits and vegetables, which emphasizes the importance of sustainability and promotes healthy food choices. Nursing student, Bailey Welcome, shared her experience.
"I volunteered in the produce rescue center at the Montgomery County Food Bank. I expected to just go into my shift, quickly inspect donated products and be done, but by the end of my shift I was blown away," Welcome said. "We were able to keep 6,529 pounds of food that would go into the hands of 2,720 families in Montgomery County. Not only was this food going to families in need, but also children, who unfortunately, do not have the funds to buy lunch at school."
This partnership was an easy collaboration because service to others is always front and center at SHSU, according to Director of the School of Nursing Devon Berry.
"We are always looking to score those triple wins: value for the student, value for our community, and value for the agencies we partner with," Berry said. "Our partnership with the Montgomery County Food Bank checks all three boxes and is an example of the best we have to offer as a service-minded academic institution."
The gala theme this year is "One For The Records," in order to spotlight the record-breaking work of the food bank, its volunteers, and community partners in 2020 and 2021. Their vision of a community where everyone has access to sufficient, nutritious food is possible through the support of volunteers and community and corporate partners.

"We can't do it alone. We need the community support, the volunteers and our partners," Marlow said. "We take pride in being able to honor those that got us through the early stages of the pandemic."
To learn more about how you can help the Montgomery County Food Bank, visit their website.
- END -
This page maintained by SHSU's Communications Office:
Director of Content Communications: Emily Binetti
Communications Manager: Mikah Boyd
Telephone: 936.294.1837
Communications Specialist: Campbell Atkins
Telephone: 936.294.2638
Please send comments, corrections, news tips to Today@Sam.edu