McNair Funding Renewed For Fourth Time
September 1, 2022
SHSU Media Contact: Campbell Atkins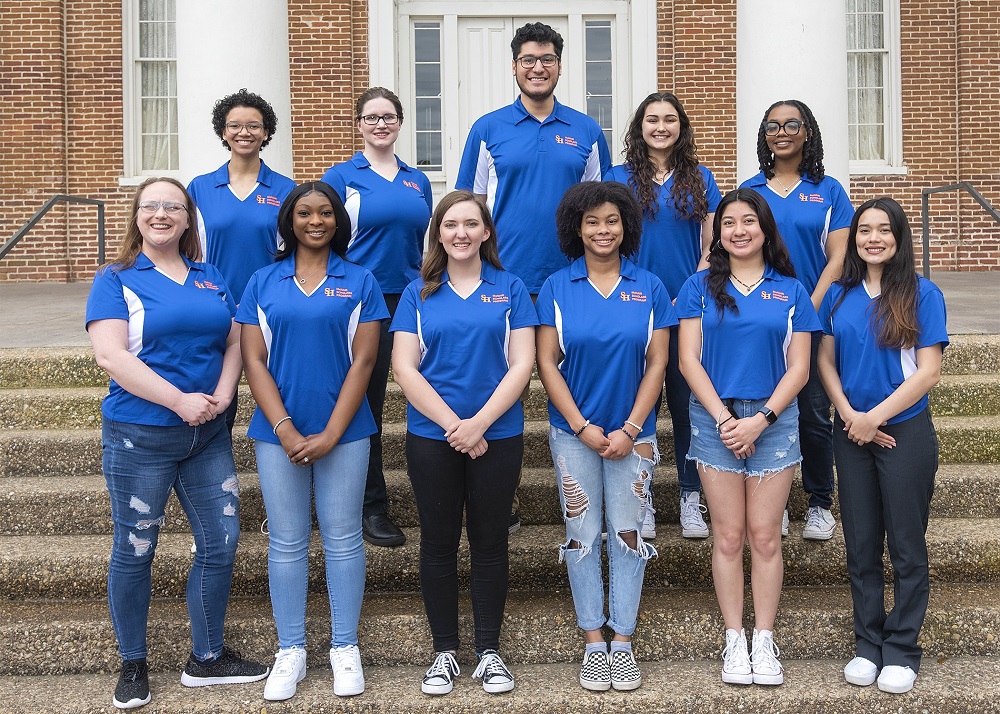 Sam Houston State University's McNair Scholars Program has received funding for another five years for the fourth time since its inception in 2004. SHSU will receive $1.4 million over five years from the U.S. Department of Education, including $274,983 this year, under the Ronald E. McNair Postbaccalaureate Achievement Program.
The program provides low-income, first-generation and ethnic minority undergraduate students with the skills to prepare for graduate school. Students enter the program during their junior year of their undergraduate studies and work closely with McNair staff and a faculty mentor to gain skills that make them competitive for graduate work. While in the program, students benefit from a $2,800 research stipend; a tuition waiver and course credit for MCNR 4301, a research methods course; workshops designed to prepare students for the graduate application process; research under the direction of a faculty mentor, and travel to conferences to present their research and to universities to visit graduate programs.
"The purpose of the grant is to work with students while they are undergraduates to help them prepare for graduate school, enter a graduate program, and eventually complete a doctoral degree," said Kandi Tayebi, principal investigator for the McNair Scholars Program. "The grant does not cover those who are going on to medical school or into law, but all other doctoral programs are covered by the grant."
Tayebi wrote the initial grant and is responsible for first bringing it to SHSU after previously overseeing a McNair grant at the University of Northern Colorado. Bernice Strauss, former director of academic support for the Student Advising and Mentoring (SAM) Center, first came to Tayebi with questions regarding the program in 2003 while searching for ways to assist first-generation and diverse students.
"She heard about the McNair grant and contacted me," Tayebi said. "We both thought it was a good idea to bring the grant here to Sam Houston."
Lydia Fox was brought in to manage day-to-day operations of the program as its director, a position she continues to hold to this day. She also teaches the course that prepares the scholars for graduate studies, along with Tayebi, and works closely mentoring student scholars.
"Not only have we produced great numbers and students who have been very successful at the master's and PhD level, but this is our fourth time being renewed, which is quite an accomplishment," Fox said.
Every five years, SHSU is required to renew their funding, competing with all the schools who are also reapplying as well as new programs. Both Tayebi and Fox described the process as extremely competitive.
The McNair Scholars Program has assisted numerous Bearkat students over the last 18 years and continues to make a vast difference in the lives and careers of traditionally underrepresented students.
The McNair Program works with diverse students as 84 percent of SHSU's McNair Scholars are first-generation students, 76 percent are from low-income backgrounds, and 73 percent are considered ethnic minorities.
McNair Scholars have been extremely successful with 80 percent of McNair Scholars attending a graduate program immediately after receiving their baccalaureate degree. Moreover, McNair students have outperformed students with similar demographics.
"Nationally, only about 19.5 percent of students similar to McNair students even attempt a graduate degree," Tayebi stated. "Even fewer complete a master's or doctoral degree."
Yet 72 percent of SHSU McNair Scholars have completed their master's degree while 44 percent have attained their doctoral degree. These students have gone on to impact their communities, the economy, and their disciplines.
For more information regarding SHSU's McNair Scholars Program and its benefits, click here.
---
Required by the award agreement: 100 percent of the total costs of the program will be financed with Federal money. No percentage of the project will be financed by non-governmental sources.
- END -
This page maintained by SHSU's Communications Office:
Director of Content Communications: Emily Binetti
Communications Manager: Mikah Boyd
Telephone: 936.294.1837
Communications Specialist: Campbell Atkins
Telephone: 936.294.2638
Please send comments, corrections, news tips to Today@Sam.edu