Grant Funding Supports SHSU Partnership With Steve Fund
Nov. 4, 2022
SHSU Media Contact: Campbell Atkins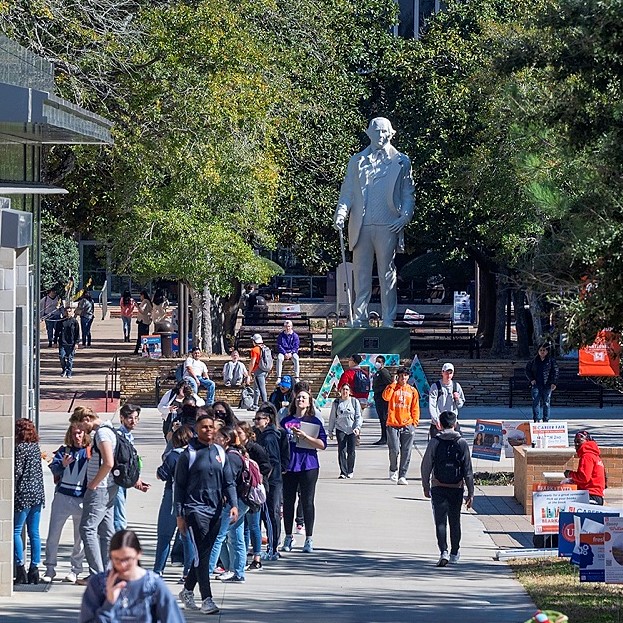 Sam Houston State University received a $250,000 grant from the Trellis Foundation, a public charitable organization focused on improving postsecondary attainment for low-income students and student of color in Texas. The university will use the grant to partner with the Steve Fund in order to achieve equity in mental health on campus.
"If you create a program to support the needs of the most vulnerable members of your community, you ultimately create a program that benefits every member of your community," said Drew Miller, interim vice president of Student Affairs and a member of the mission's steering committee.
The Steve Fund's goal is to ensure that every student of color is fully supported with resources such as programs, services and institutional cultures that value and promote their mental health and well-being.
"We will be working to not only listen and understand what our students are feeling and experiencing within this context, but we will also look at our policies, practices and broader culture through a racial trauma-informed lens so that we can begin to make adjustments in ways that will not only have a positive impact on members of our more targeted community, but our entire community," Miller said.
Miller highlighted the importance of overall access to these materials for students and revealed the campus will host regular targeted meetings with student leaders from the Black and Hispanic communities on campus to provide students with a direct pipeline to the administration to share concerns.
"They are aware of things we never can be, largely because of our privilege," Miller said. "Hearing that kind of feedback will go a long way towards helping create the kind of safe environment we want for all of our students."
The 18-month process began in September and will last through March of 2024. The process includes several steps including the creation of a steering committee to serve and represent students of color on the campus community.
The committee has representatives throughout campus, including Shantha Stokes and Laura Condon from the Counseling Center, Mary Cathreen Breen from Academic Success, Tiffany Driver from ELITE, Jalon Berry and Jeanine Bias from DEI Area, Dustin LeNorman from athletics, Bryan Rodriguez from orientation and Bart Stykes from faculty. The "Steve Fund Coach" is listed as Jan Collins-Eaglin. Stokes and Condon will also serve as the committee's chair and co-chair, respectively.
The next step in the process will be to start connecting with the institution's research department to gather data reports related to students of color on mental health and to publicize listening sessions as a part of the needs assessment phase and recruit student participants.
With the orientation phase complete and a committee established, there are several community meetings and discussions already scheduled, including Tuesday, Nov. 15 and Tuesday, Feb. 14, 2023.
The Steve Fund was established when Stephen C. Rose, graduate of Harvard College and master's graduate of City University, took his own life in 2014 after experiencing mental health challenges. Rose's family then embarked on a journey to help create awareness and build support for the mental health and emotional well-being of college students of color.
- END -
This page maintained by SHSU's Communications Office:
Director of Content Communications: Emily Binetti
Communications Manager: Mikah Boyd
Telephone: 936.294.1837
Communications Specialist: Campbell Atkins
Telephone: 936.294.2638
Please send comments, corrections, news tips to Today@Sam.edu