Plans Approved For First Phase Of Gibbs Ranch Agricultural Complex
March 8, 2022
SHSU Media Contact: Emily Binetti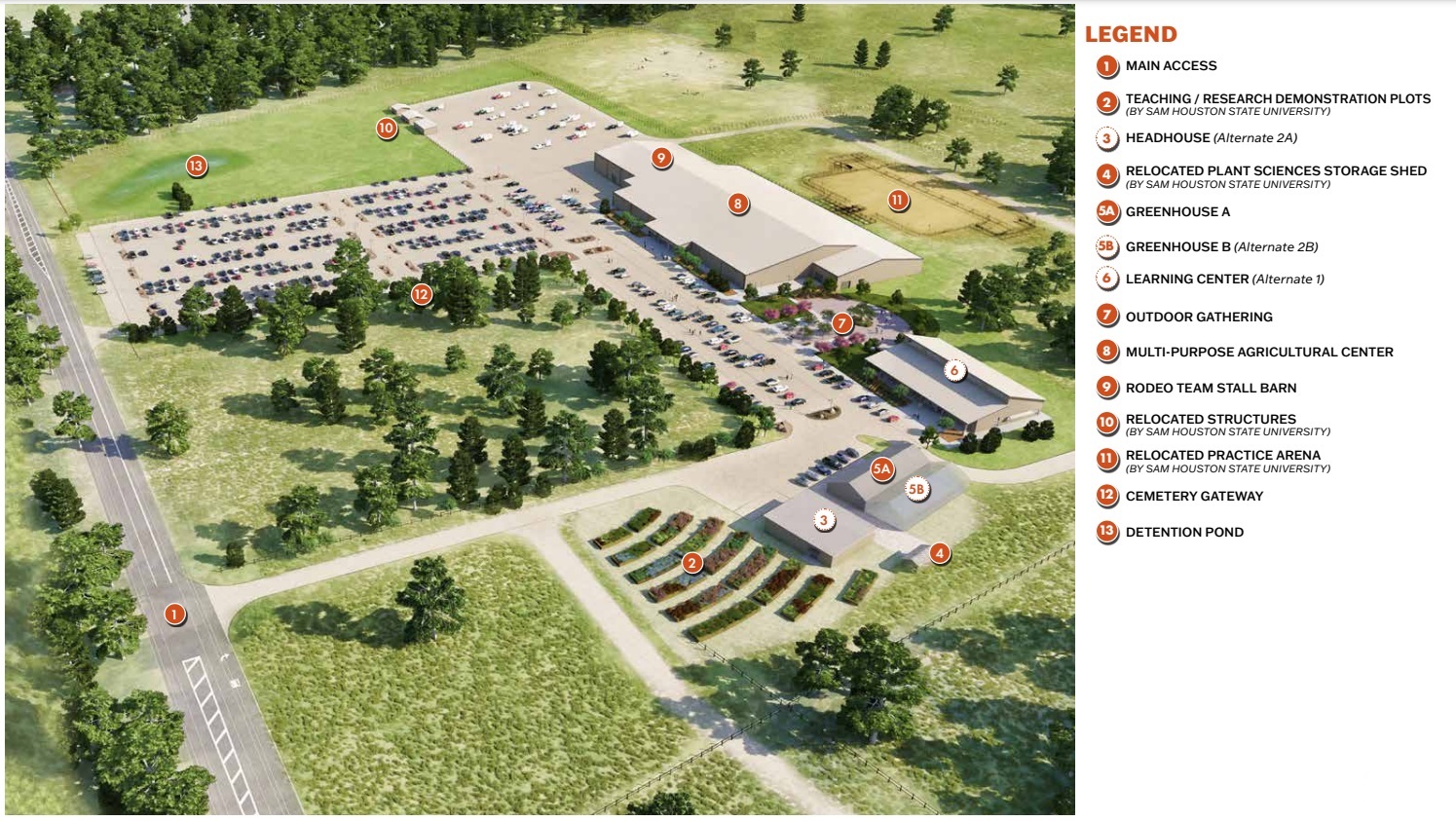 Major enhancements to support innovative learning in Sam Houston State University's School of Agriculture Sciences, were among the items approved by the Texas State University System Board of Regents at their quarterly meeting on Feb. 17. Approval was granted for design development documents for phase 1 of the Gibbs Ranch Agricultural Complex. The project will house several academic programs and will serve as home to the SHSU Rodeo Team. Construction is scheduled to commence in April 2022.
Founded in 1910, the School of Agriculture Sciences at SHSU has a long history and rich tradition of providing top-notch education to students on the path toward agricultural careers. A main-stay of this tradition for the past two decades is the beautiful 1,585-acre Gibbs Ranch. Located just north of Huntsville, this hands-on learning and research laboratory has long served to cultivate the students of SHSU in animal, plant sciences, agribusiness and agricultural engineering technology.
The goal for the new multi-facility project is to propel Gibbs Ranch to one of the premier agricultural teaching and research facilities in the country. The campus development plan envisions a complex that will ultimately encompass ten new structures, and significant exterior improvements through two phases of construction.
Doug Ullrich, Chair for the School of Agriculture Sciences, sees the progress as not only vital to the program, but vital to the agricultural industry.
"We have our academic mission from the university, but also we have a USDA and national mission to prepare students to go back to their family farms, ranches and into the industry to produce food, fiber and forestry products." Ullrich said.
The first phase of the project will include four new facilities, along with utilities and site improvements.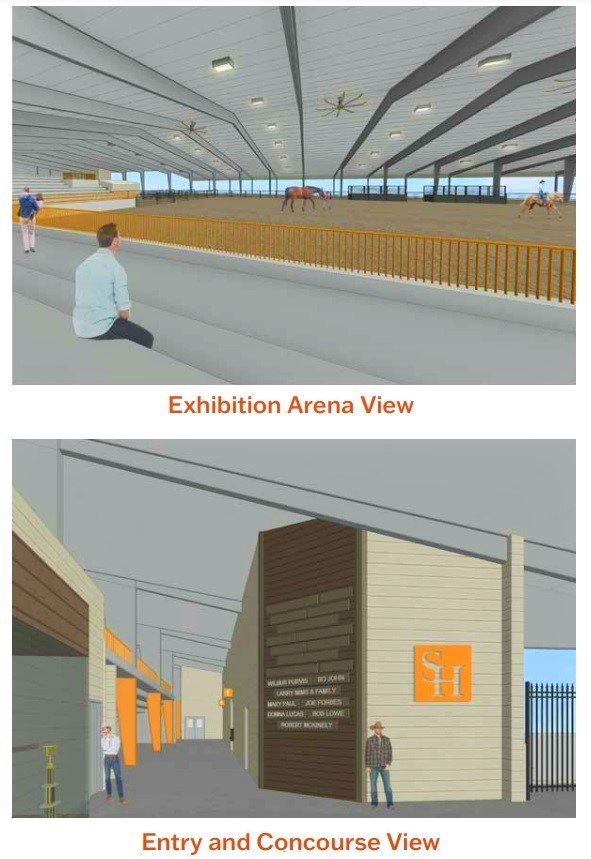 Totaling 103,580 square feet, the Multi-Purpose Agricultural Arena and Rodeo Team Stall Barn will be a premier venue for livestock shows, rodeos, trade shows and concerts. Both facilities will be adjoined under one roof and include an arena with seating for 1,500 spectators, offices, restrooms, a hospitality room and concession areas. Technological infrastructure will enable the display of educational livestock demonstrations as well as equine and rodeo events. The venue will also house 42 horse stalls complete with a wash bay for grooming and cleaning.
A relocated and revamped outdoor practice area will allow for safe and efficient flow of livestock to and from the indoor arena. Combined with the indoor arena, the practice capacity for the SHSU Rodeo Team will double from their current capacity.
"The new arena and stall barn at Gibbs Ranch will provide limitless opportunities for our rodeo athletes and set the SHSU rodeo team apart from other schools in our region and around the state," said SHSU Head Rodeo Coach Bubba Miller. "Having a facility of this capacity will enhance our practices and our annual rodeo tremendously, and it will help our recruiting efforts to bring in the most talented athletes to represent SHSU."
Plans also include a new Head House that will provide classrooms and workspace for plant science students, along with two greenhouses complete with a shade control system, environmental controls, irrigation controls, a programmable lighting system and aquaponics equipment.
The Learning Center will feature four laboratory classrooms, a kitchen, multi-preparatory space and a corridor gallery to display school achievements.
A future phase of the project will include the construction of an Equine Science Building and a Meat Sciences and Food Building.
According to Ullrich, creating state-of-the-art facilities through these upgrades raises the bar in the quality of education SHSU provides.
"The competition when recruiting can get tough, and sometimes we are getting beat out by other state universities." Ullrich said. "We really need these facilities to continue to grow, to meet the needs of our students and the workforce"
- END -
This page maintained by SHSU's Communications Office:
Director of Content Communications: Emily Binetti
Communications Manager: Mikah Boyd
Telephone: 936.294.1837
Communications Specialist: Campbell Atkins
Telephone: 936.294.2638
Please send comments, corrections, news tips to Today@Sam.edu