SHSU Welcome Week 2022
Aug. 19, 2022
SHSU Media Contact: Emily Binetti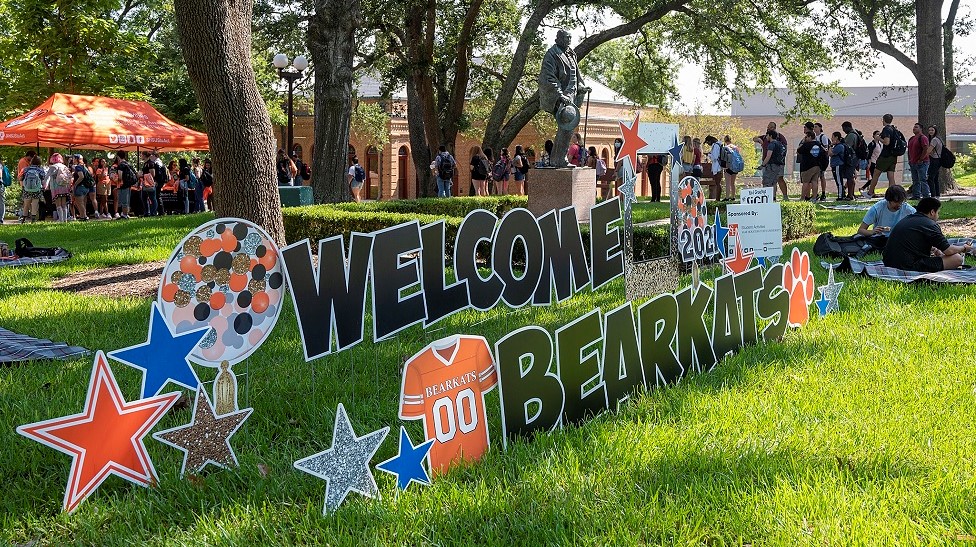 By Lidia Gutierrez
With the fall semester kicking off, Sam Houston State University is ready to start their Welcome Week 2022 activities. These series of events are filled with student interaction and give new Bearkats the opportunity to meet new people and organizations.
Welcome Week is hosted by the Department of Student Activities, who plan out two full weeks of ongoing events. The goal is to ensure inclusion and belonging in all students while attending SHSU.
"We are excited to have our Bearkats, new and returning, back on campus for another great academic year," said Steven Begnaud, assistant director for traditions and special events. "Welcome Week is the most exciting time of year since campus opens for the full student experience. We have a lot of staple events you see every year, but this time we also focused on providing more community mixers for students and helping them become more prepared to succeed while attending SHSU."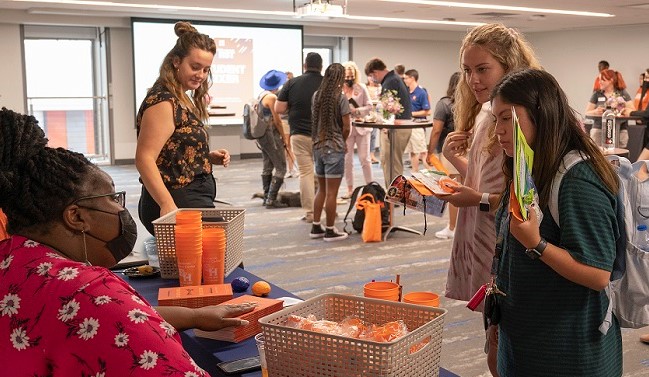 Social and networking events
If students are looking for experiences with peers that either have similar interests or just want to get to know other students, then social and networking events provide just that. These events offer opportunities to meet other students who can potentially support them throughout their entire college career.
Starting with a great social event is the staple Party in the Pit on Aug. 24 at 7 p.m. in the Old Main Pit, students will have an opportunity to enjoy music, interact with plenty of peers, play games, and receive free t-shirts.
Sammy's Splash Party includes waterslides on campus, music, food-truck style snacks, snow cones and a limited supply of tank tops. This event will be held on Aug. 27 in the Austin Hall Quad at 12 p.m. Students can enjoy this party on Saturday, while no classes are being held, so they can relax and embrace the full Splash Party experience.
Aug. 29 through Sep. 1, Welcome Week will host a variety of mixers held at the Lowman Student Center (LSC) to cater to several different communities. These communities for the mixers are Lavender (LGBTQIA*), Hispanic/Latinx/a/o, African American/Black, Asian/Pacific Islander, and First-Gen. With the new First-Generation Center opening on campus, this mixer will be the center's first event.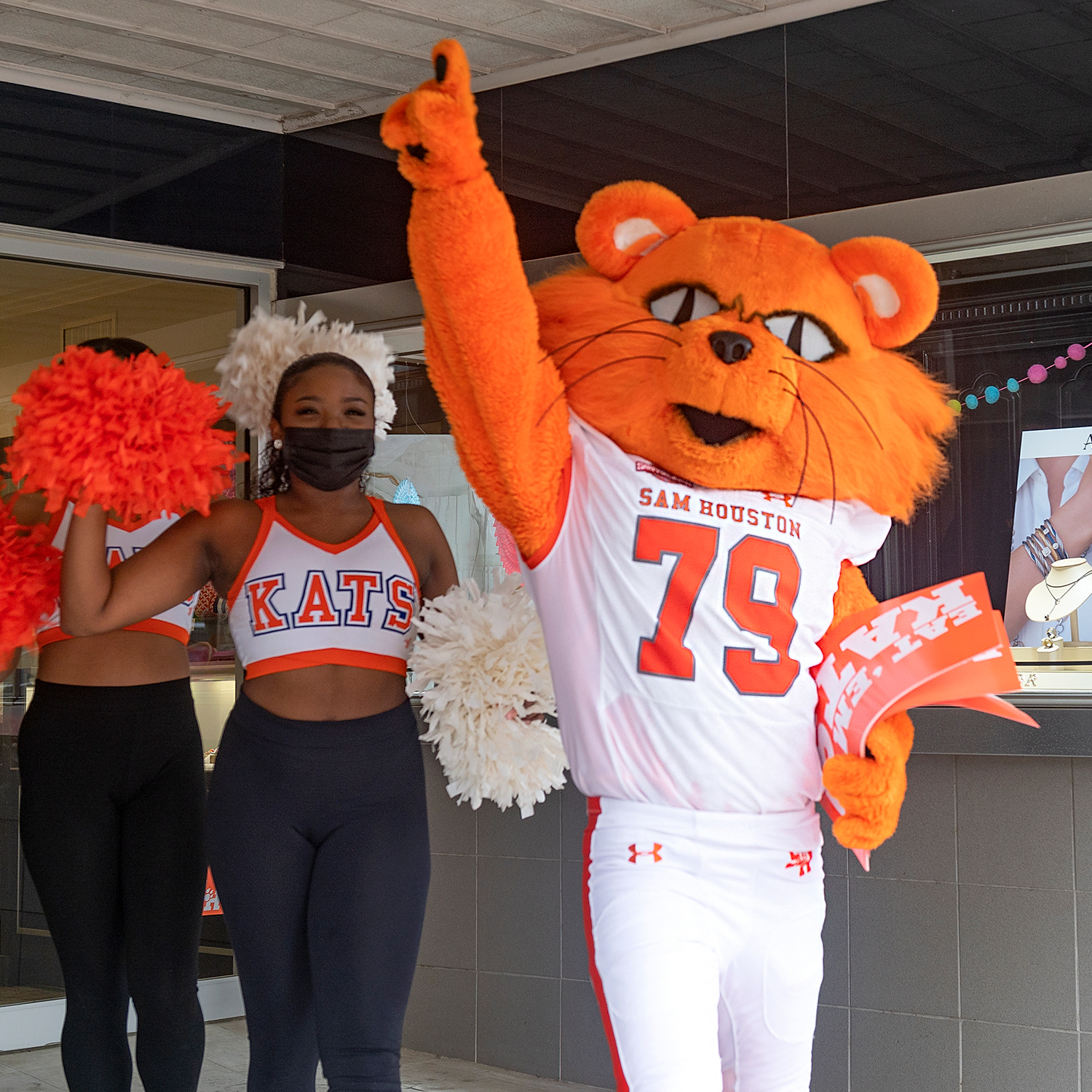 Becoming a Bearkat
Welcome Week gives students multiple occasions to become familiar with SHSU and discover what Bearkat spirit is all about. These events can range from supporting Bearkat athletics teams to learning about the university's history.
Kicking off the festivities will be Bearkat Spirit Friday on Aug. 26 at 9:30 a.m. in the Frank Parker Plaza. The goal is to encourage students, faculty and staff to wear SHSU Bearkat apparel and school colors. From time to time, Student Activities staff can be found distributing items on Fridays to students wearing orange and white.
If students are interested in joining any type of recreational sport, then go ahead and attend RecFest on Aug. 29 at the Recreational Sports Center at 5 p.m. During this event, they will be giving away a limited supply of free t-shirts. Students, faculty and staff will have the opportunity to explore the center, climb the rock wall and try some fitness demos.
Supporting Bearkat athletics teams is a big part of the college experience, and students will have a chance to do that right away with the first football game of the season happening on Sep. 3 at 11 a.m. in College Station against Texas A&M.
Outreach activities
SHSU understands that well-rounded students are well connected to their communities. The university's motto, "The measure of a Life is its Service," is shown through particular Welcome Week events where students can find different opportunities to serve the communities around them.
Students interested in giving back by volunteering, or those looking for an organization to join, might benefit from Volunteer Opportunities and Organization Fair on Aug. 29 at 10:30 a.m. in the LSC Orange Ballroom. This fair connects SHSU students with various agencies and local groups, so students can get involved in giving back with opportunities in Huntsville and beyond.
Bearkat Mania with Student Affairs will be held Aug. 31 at 11 a.m. at the Frank Parker Plaza. This is a massive event with vendors from all over the area alongside the various departments within the Division of Student Affairs. There will be music, food, plenty of giveaways and great opportunities to connect students with the Huntsville community.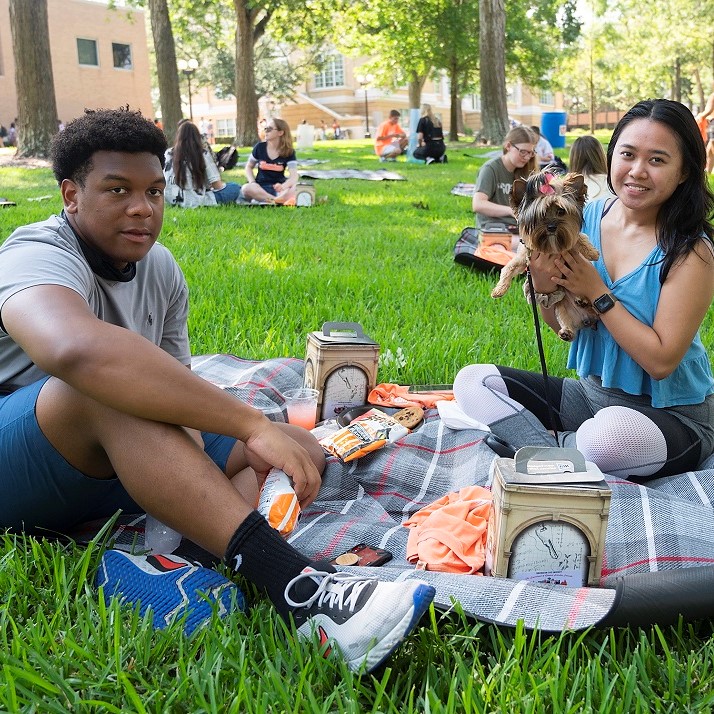 Connecting over food
Throughout Welcome Week, there are multiple events where students will be offered free food and snacks while they engage with others and form relationships with their peers, staff and faculty.
Kicking off the semester, the Bearkat Picnic on Aug. 22 at 11 a.m. is the first day of class tradition taking place outside Austin Hall with lunch provided to the campus community to welcome everyone back for a new year.
Students shouldn't go to class with an empty stomach. The next morning, there will be free breakfast provided by Student Activities through Fuel-Up for Fall with Chick-fil-a on Aug. 23 at 11:30 a.m. at the Frank Parker Plaza.
Students taking part in Get a 'PIZZA' That Graduation Medal can learn how to earn a medal to wear for their commencement ceremony, and there will be free pizza. This event is on Aug. 24 at 12 p.m. in the LSC.
Throughout Welcome Week, students are sure to find something fun that will interest them and engage them within the SHSU spirit.
- END -
This page maintained by SHSU's Communications Office:
Director of Content Communications: Emily Binetti
Communications Manager: Mikah Boyd
Telephone: 936.294.1837
Communications Specialist: Campbell Atkins
Telephone: 936.294.2638
Please send comments, corrections, news tips to Today@Sam.edu