SHSU Sweethearts 2022
Feb. 14, 2022
SHSU Media Contact: Wes Hamilton
To celebrate Bearkat love this February, we asked Sam Houston State University alumni share their SHSU sweetheart stories with us on social media. Here are a few stories we selected. Follow along on facebook, instagram, and twitter for more.
---
Bill and Myrna Lester
Graduated 1957/1958
Bill and Myrna Lester met in an education course at SHSU. During a trip to watch the SHSU football team play in a bowl game, Bill says "I finally worked up enough courage to ask her the most important question I have ever asked anyone: 'Myrna will you marry me?' Her beautiful blue eyes lit up and she said yes, I will marry you. We were both very happy."
Myrna graduated in May 1957, and the couple were married September 14, 1957, at the First Baptist Church in Brenham, Texas. Bill graduated in May 1958. The marriage resulted in four daughters and becoming grandparents of three girls and three boys. Bill says this love affair started in October 1956, but was postponed on April 26, 2021, when Myrna passed away. "I do thank God for giving me Myrna to love each and every day for 64 years," Bill said.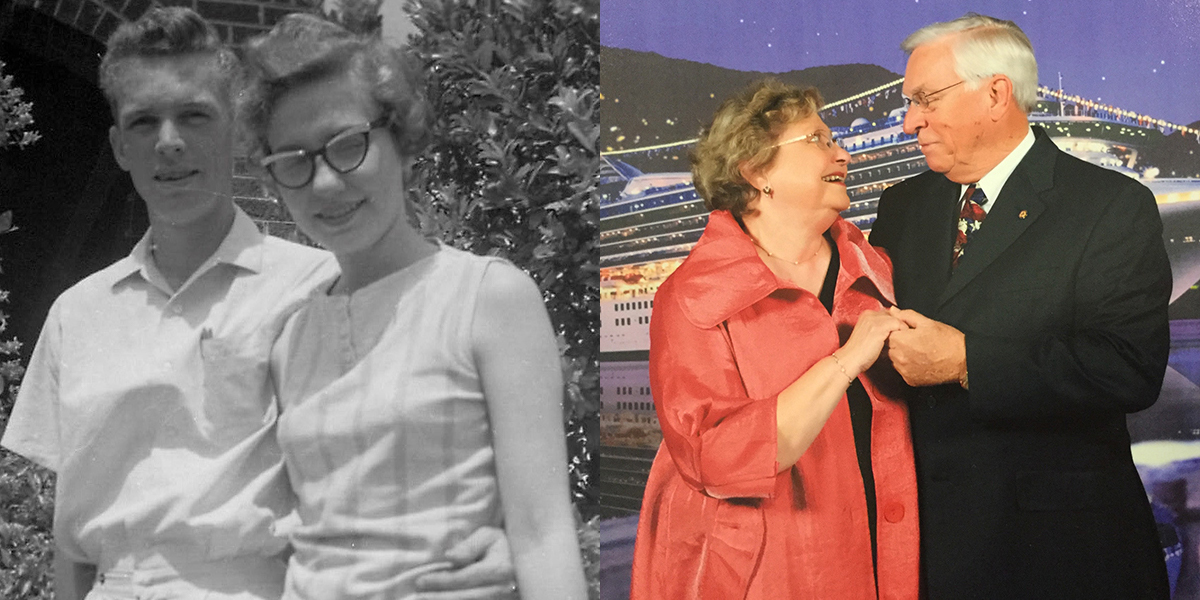 Megan and C.J. Myers
Graduated 2015
I met my husband in fall 2013 at a Pike party. I am an Alpha Chi Omega so we spent lots of time together at Greek Life events. We got engaged shortly after graduation in 2015 and have even become Huntsville locals. He went back to school at Sam for his masters degree and graduated in December 2020. This go around graduation pictures looked a little different with our newest addition Madelyn. I continue to be involved on campus as the chapter advisor for AXO. We love having Sam Houston be part of our story 🧡💙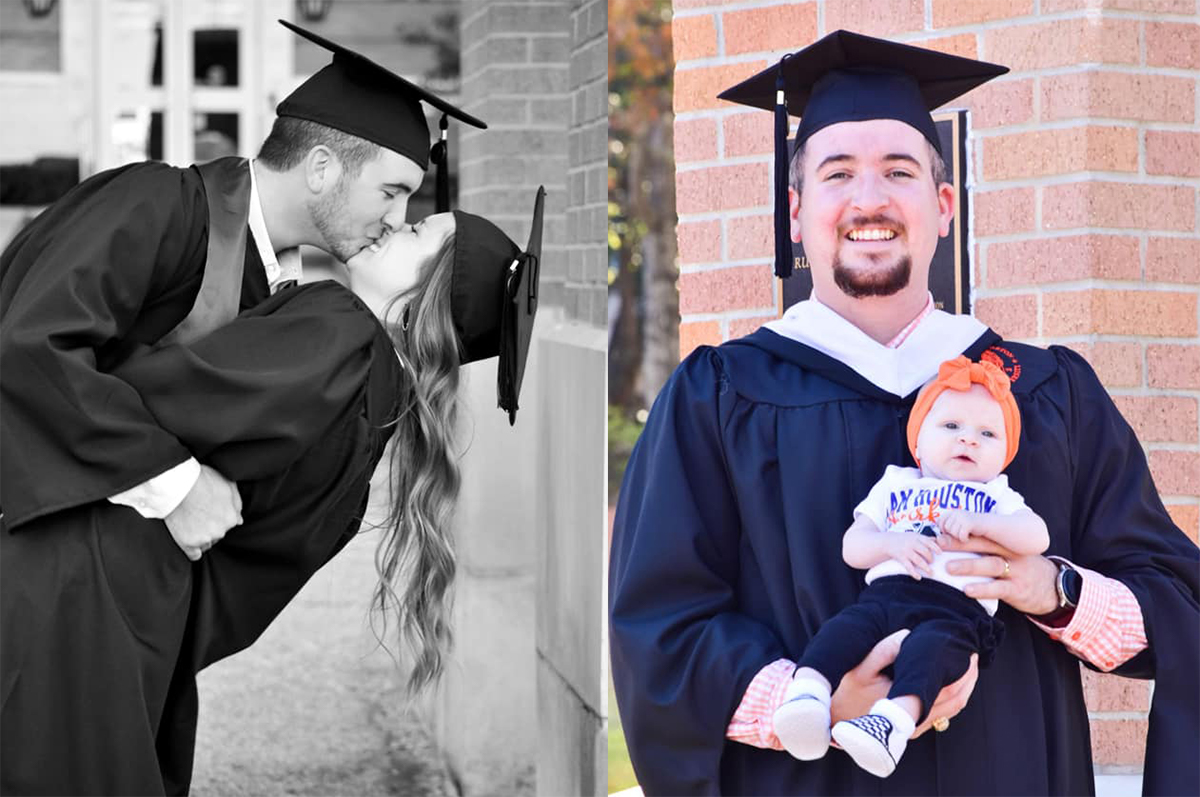 Lauren and Jeffrey Holverson
Graduated 2014
It really all started at the Jolly Fox on May 9, 2014. 😆 We got married in December of 2016 and welcomed a son in June 2019!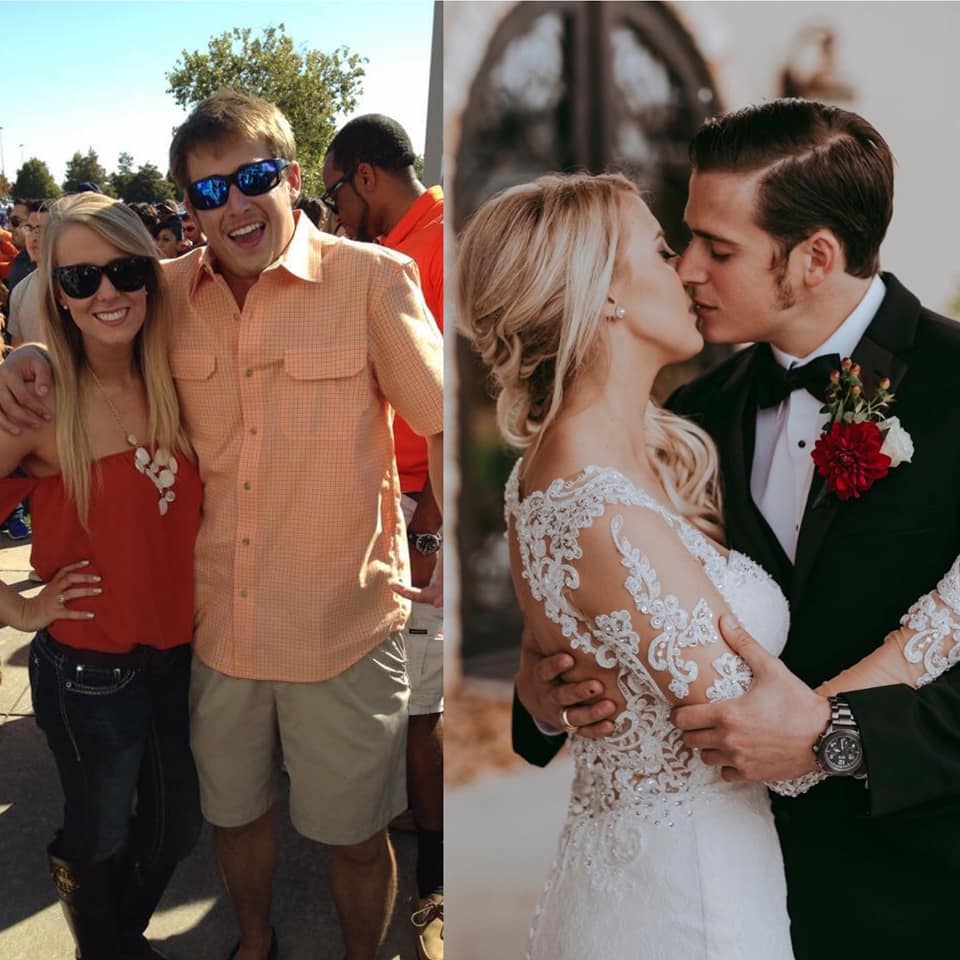 Shelby and Jackson Mayes
I married this guy! Sammy the Bearkat! Or also named Jackson Mayes lol! 🧡 We both won the Coed Cheer National Championship in 2012. We've been together ever since! Married with a little Bearkat.🧡💙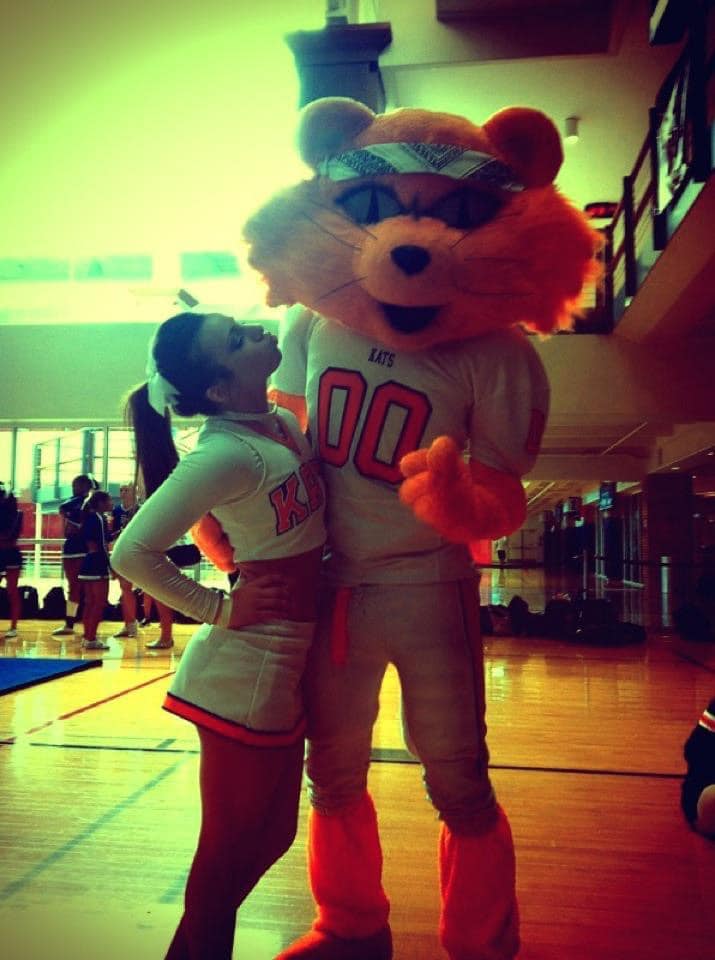 Stacie and Justin Haynes
I met Justin Haynes in spring 2016 and just got married this past October ❤️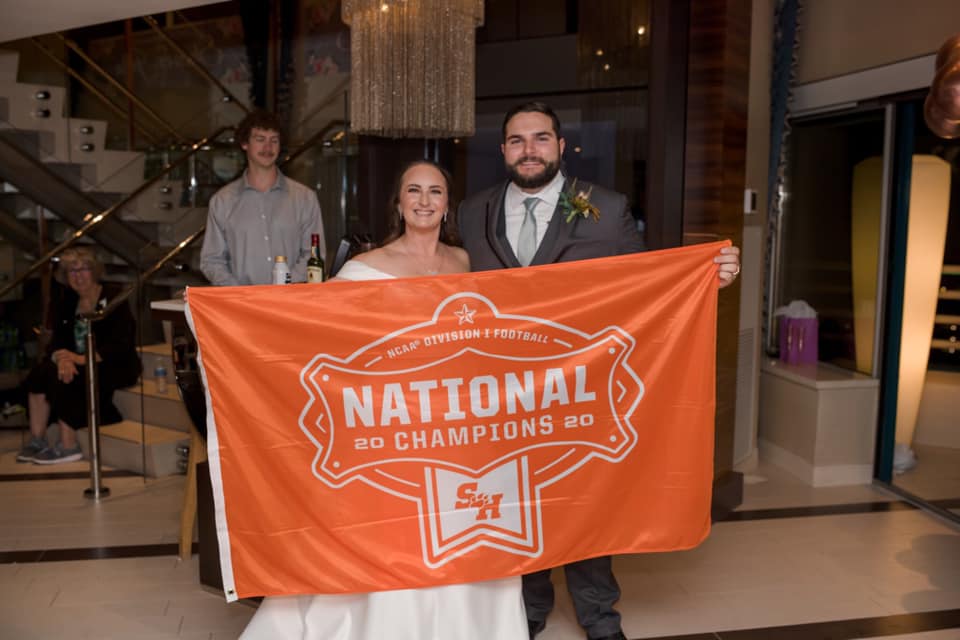 Sam and Taylor Bernal
I proposed to my wife Taylor Bernal in front of Austin Hall! We met at University Heights Baptist Church and had the same friends. We took Spanish together while at SHSU and lived in the same apartment complex (the Arbors).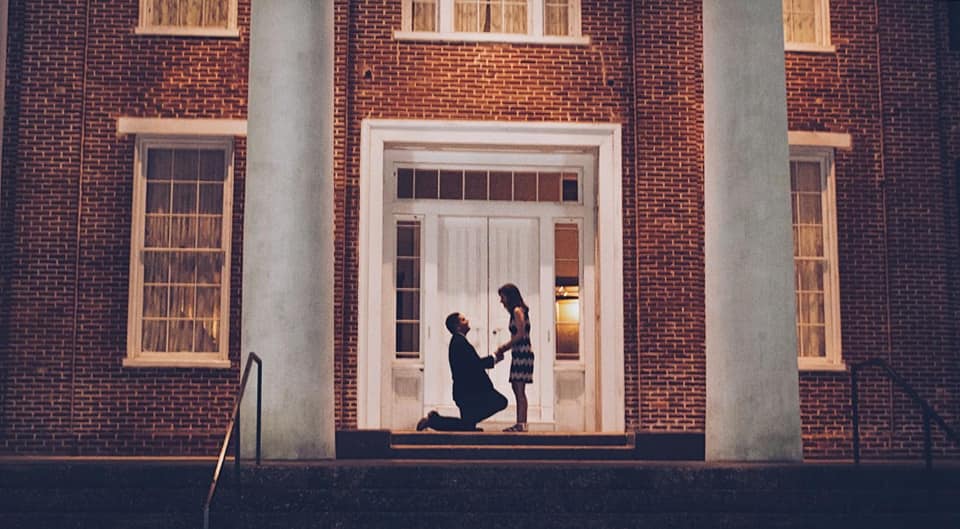 Haleigh and Bridge Blount
I graduated from SHSU before I met my husband, but Sam brought us together through a shared love of sports and fitness.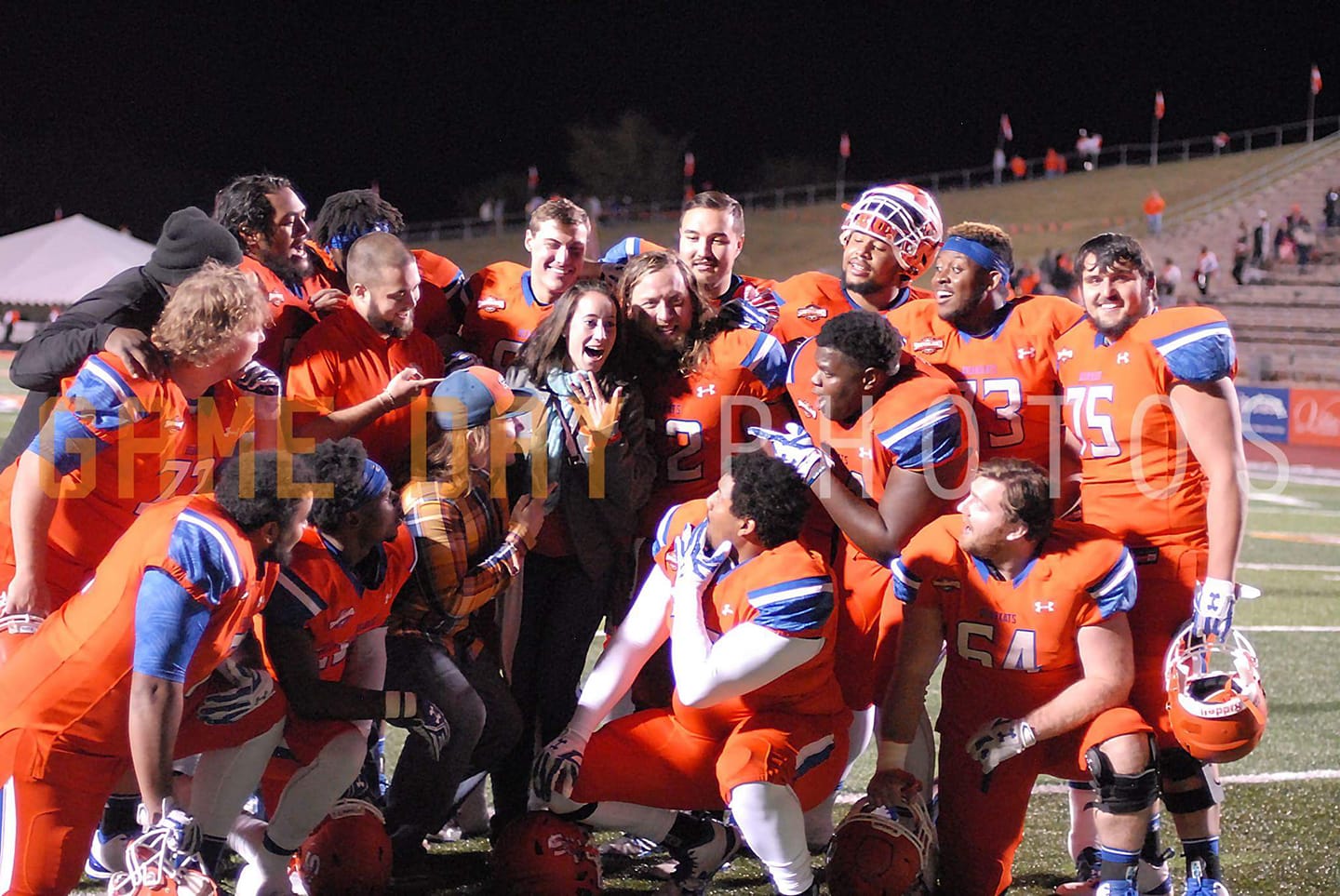 Sofia and Jacob Rienstra
My husband and I met on the first day of school in 2008. He says he sat behind me on purpose because he thought I was pretty 😍 He took me back to Huntsville to propose in 2014 and we got married six months later 😊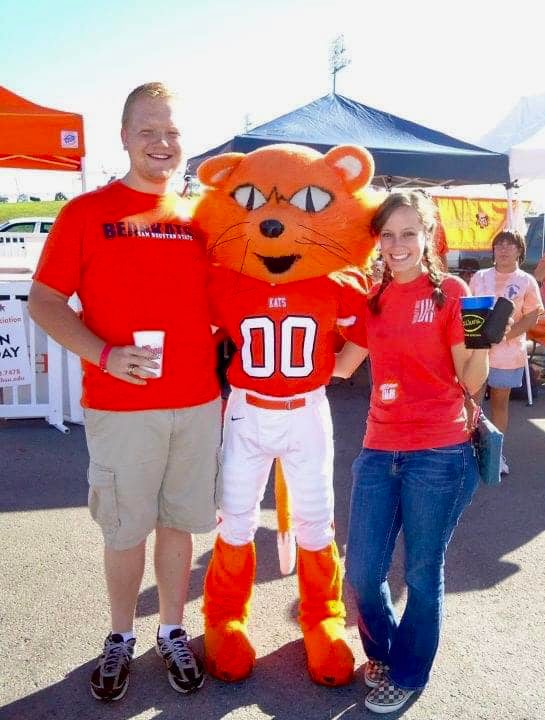 Shannon and Keith McQueen
Graduated 1992/1993
This year will be our 28th anniversary! My husband proposed to me at the Sam Houston Park by the duck pond! Class of '92 and '93! Our best friends Stephanie Halter Jackson and Rich Jackson and Jan Quinn and Jeff Quinn also met at SHSU and all still married! We called ourselves the crew!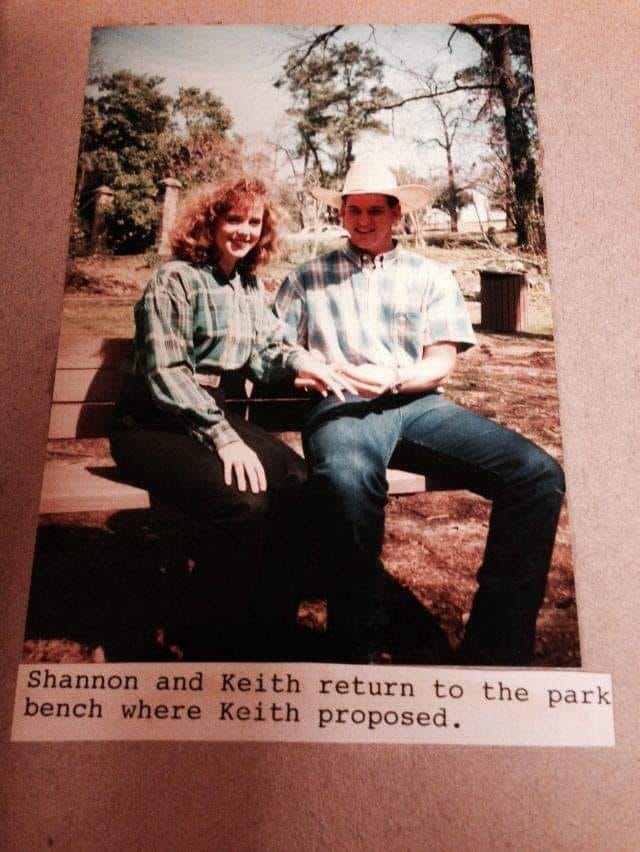 Brooke and Cody Nettles
Graduated 2018
We met in 2016 while I was a student and he was a former student, I graduated class of 2018, engaged in front of Big Sam in 2019! We've been married for 1 year 🧡💙🧡💙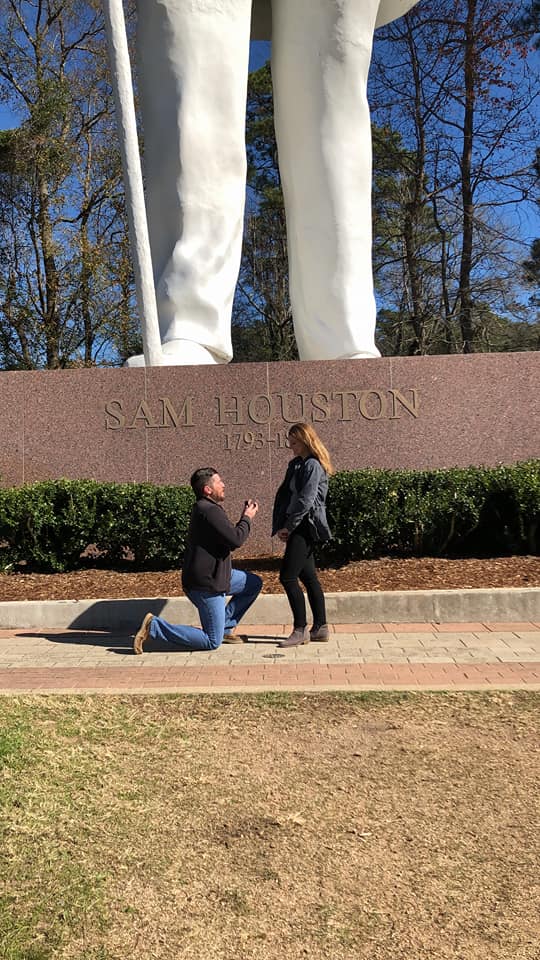 - END -
This page maintained by SHSU's Communications Office:
Director of Content Communications: Emily Binetti
Communications Manager: Mikah Boyd
Telephone: 936.294.1837
Communications Specialist: Campbell Atkins
Telephone: 936.294.2638
Please send comments, corrections, news tips to Today@Sam.edu