2022 Academic Affairs Distinguished Staff Award Recipients Recognized
June 10, 2022
SHSU Media Contact: Wes Hamilton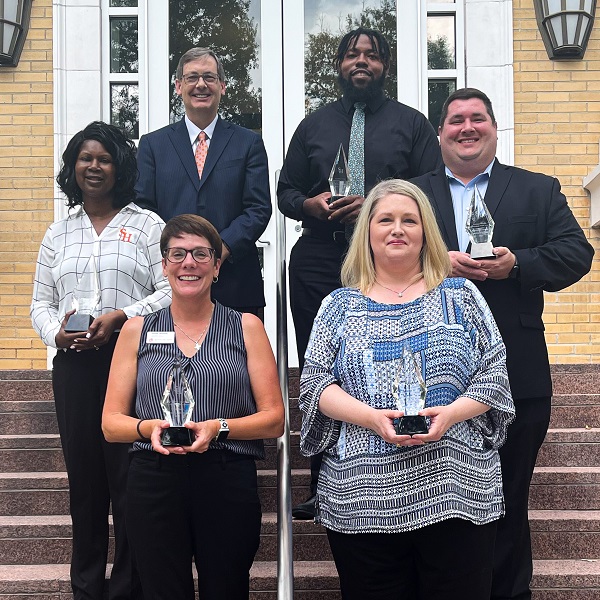 By Madison Willis
Sam Houston State University's Office of the Provost introduced the Academic Affairs Distinguished Staff Awards in an effort to show appreciation for the service of Academic Affairs (AA) staff members. The five awards presented last month were the Spirit Award, the Rookie Award, the Loyalty Award, the Leadership Award and, most prestigious, the Distinguished Staff Member of the Year Award.
"We have some truly amazing staff members in our division and I'm happy to have the opportunity to honor them and their dedication to their work with this ceremony," said Michael T. Stephenson, provost and senior vice president for Academic Affairs. "These first recipients are an incredible group."
Jennifer Alexander, administrative associate for the Graduate School, received the Spirit Award. This accolade is granted to an individual who embodies positive energy and initiative while generously serving faculty, students and colleagues.
"Every day I try to make a positive impact with anyone I come in contact with," Alexander said. "From my co-workers, staff, faculty across campus and, most importantly, students."
Austin Dixon, assistant director of the Academic Recovery Program, received the Rookie Award after being at SHSU for just over a year. This award is an honor given to a recently hired staff member with three years or less of AA service who has immersed and asserted themselves in their respective area and the university community.
"It means my efforts do not go unnoticed and that, even as someone who is new to Texas and Sam Houston State University, great things can be done," Dixon said. "As a young professional, there are always going to be moments of uncertainty, and the pressure is going to be on you to prove yourself, but despite those feelings and experiences, holding true to your purpose makes your impact shine even brighter."
Shellie Armstrong received the Loyalty Award. Armstrong is the administrative coordinator in the College of Science and Engineering Technology and has been with SHSU for 14 years. This distinction is awarded to a staff member with a history of superior service who has served the university for more than 10 years, AA for more than five, and showcases an ongoing commitment to faculty, staff and students. "I enjoy assisting students with their academic issues from the time of their admission to graduation. I equally enjoyed working with a multitude of faculty and staff during this process, as well. In December 2021, I was privileged to be promoted to my current position of Administrative Coordinator, which allows me to serve the faculty, staff and students in a different capacity and has been equally rewarding," Armstrong said.
Daniel Walker, director of Online Support Services for SHSU Online, received the Leadership Award. This award showcases a staff member who displays impeccable leadership qualities, including exceptional communication, problem-solving, integrity and a strong desire to help others succeed.
"It was truly an honor to be awarded. We work with so many amazing people in Academic Affairs and to be selected amongst them is extremely flattering," Walker said. "I love having a position that can serve the needs of our faculty and students and my goal is to remove as many technical roadblocks as I can to ensure that everyone's academic journey is successful."
Stephenson presented the Distinguished Staff Member of the Year Award, to Debra McCall, assistant to the dean in the College of Criminal Justice. This award honors the staff member who shows an ability to lead, create a positive and uplifting work environment and demonstrates a positive impact through their commitment to the university's core purpose and values.
"I view this award as a symbol of achievement. Although unexpected, I am grateful and appreciate the recognition," McCall said. "My entire professional career at SHSU has been with Academic Affairs and, at every opportunity given, I always looked for ways to give back and serve my alma mater."
- END -
This page maintained by SHSU's Communications Office:
Director of Content Communications: Emily Binetti
Communications Manager: Mikah Boyd
Telephone: 936.294.1837
Communications Specialist: Campbell Atkins
Telephone: 936.294.2638
Please send comments, corrections, news tips to Today@Sam.edu