SHSU Welcomes Bearkats To Campus With Fall Welcome Week Activities
Aug. 12, 2021
SHSU Media Contact: Hannah Crandall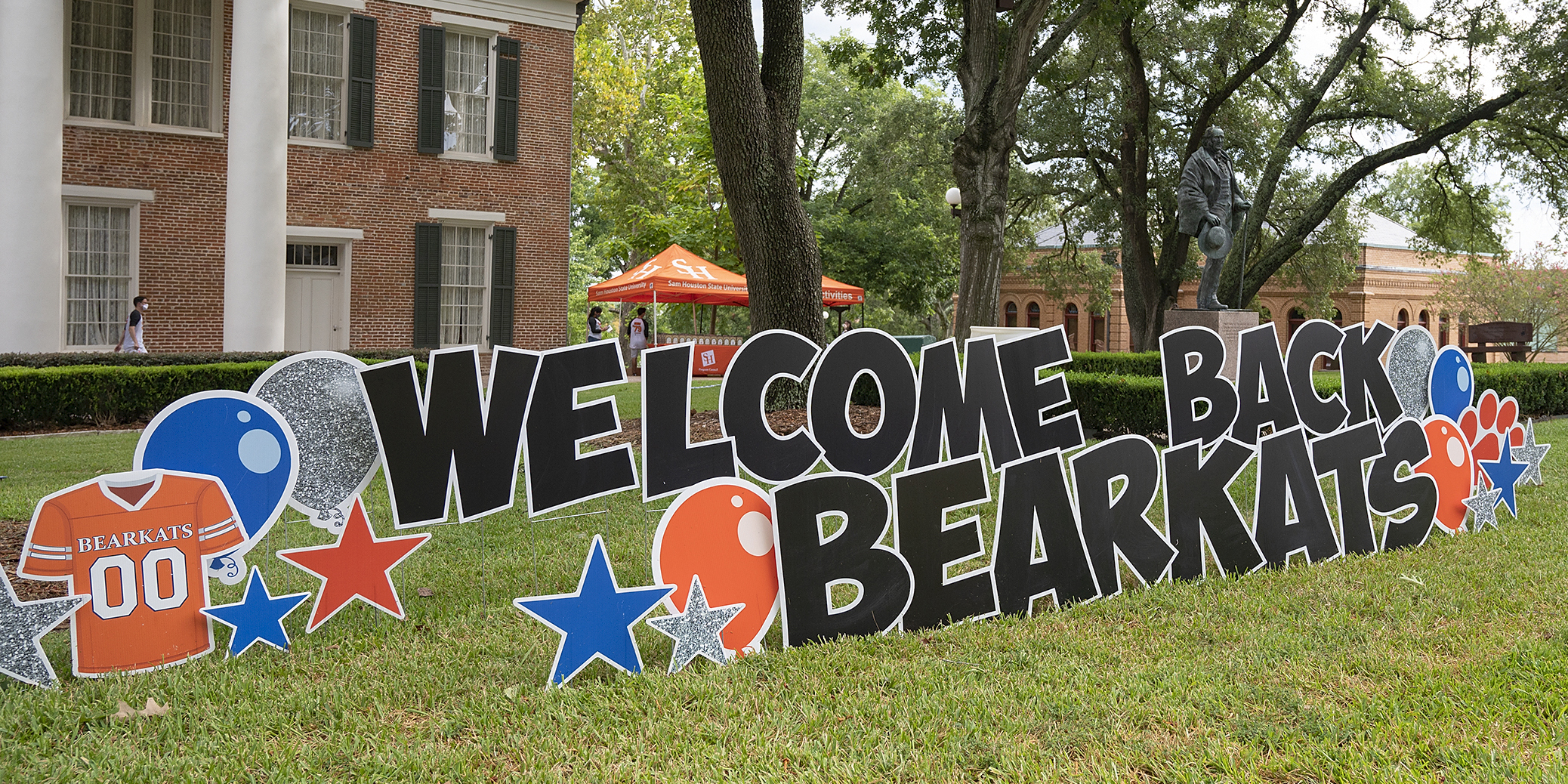 Welcoming Bearkats to campus in full-force, Sam Houston State University is kicking off the fall semester with Welcome Week 2021. This series of events begins a semester filled with student interaction and engaging in-person classes and events.
Hosted by the Department of Student Activities, Welcome Week offers two full weeks of nonstop free events and experiences for students arriving on campus. The goal of Welcome Week is to foster inclusion and belonging for all students attending SHSU. Welcome Week participants can find events each day across campus and the community that attempt to make students feel comfortable at SHSU.
"We are so excited to welcome new and returning Bearkats to campus. With a return to in-person activities, this series of events will give students opportunities to connect with one another and get involved on campus," said Steven Begnaud, assistant director for traditions & special events. "With this year's Welcome Week being the largest we have ever planned, we are optimistic that there is something during the first two weeks that will interest all students."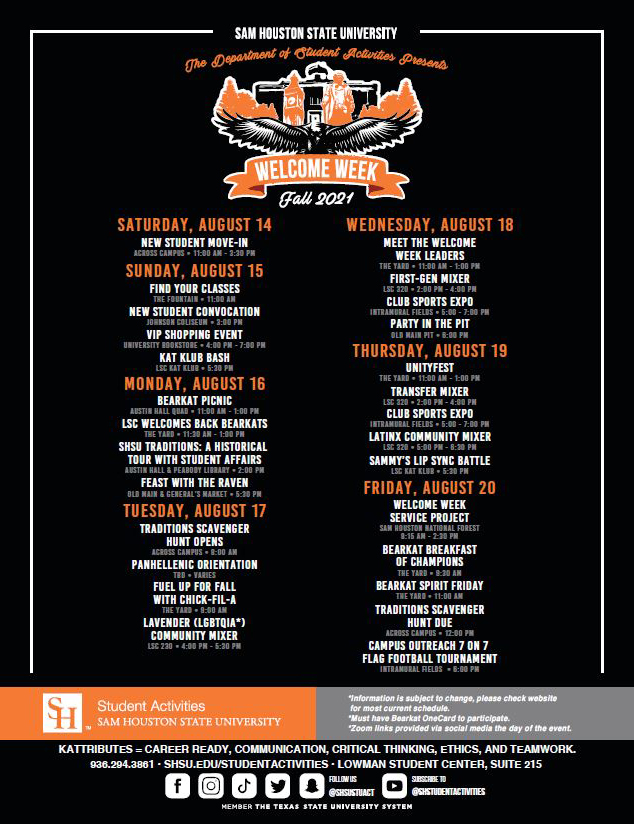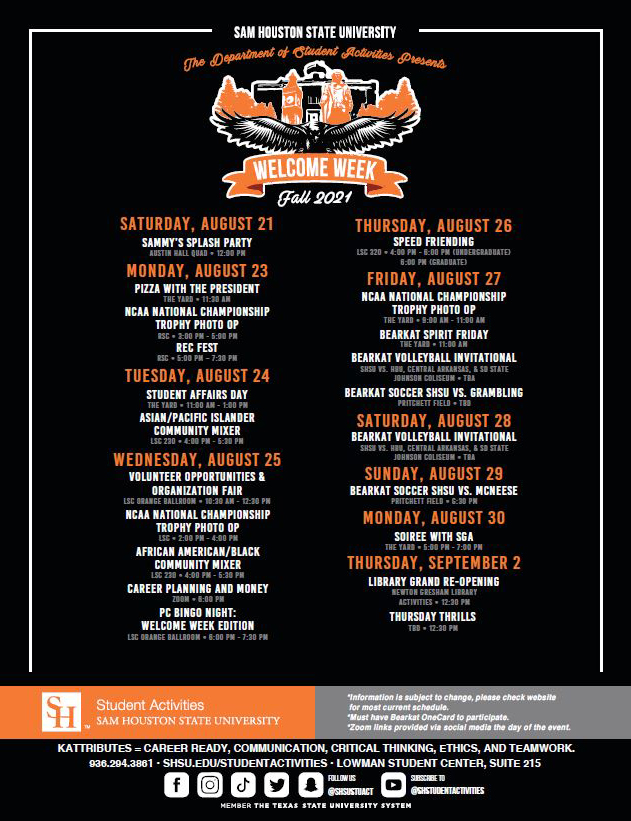 Social and Networking Events
Whether students are looking for a more personalized experience with peers that have similar experiences or just to get to know other students at SHSU, there are opportunities to meet people that can provide support and encouragement through their college career.
Starting with the Kat Klub Bash in the Lowman Student Center Aug. 15 at 5:30 p.m., students will get to interact with each other over games of pool, table tennis and bowling, as well as video and arcade games.
Throughout Welcome Week, there will be a variety of mixers held in the LSC that cater to a number of different communities. These mixers give students a way to engage with peers that may understand them in a way that others outside their community do not.
Sammy's Lip Sync Battle will be held Aug. 19 at 5:30 p.m. in the Kat Klub, and Sammy's Splash Party will be held Aug. 21 at 12:00 p.m. in the Austin Hall Quad. These activities create a fun environment for students to express their playful side alongside new friends.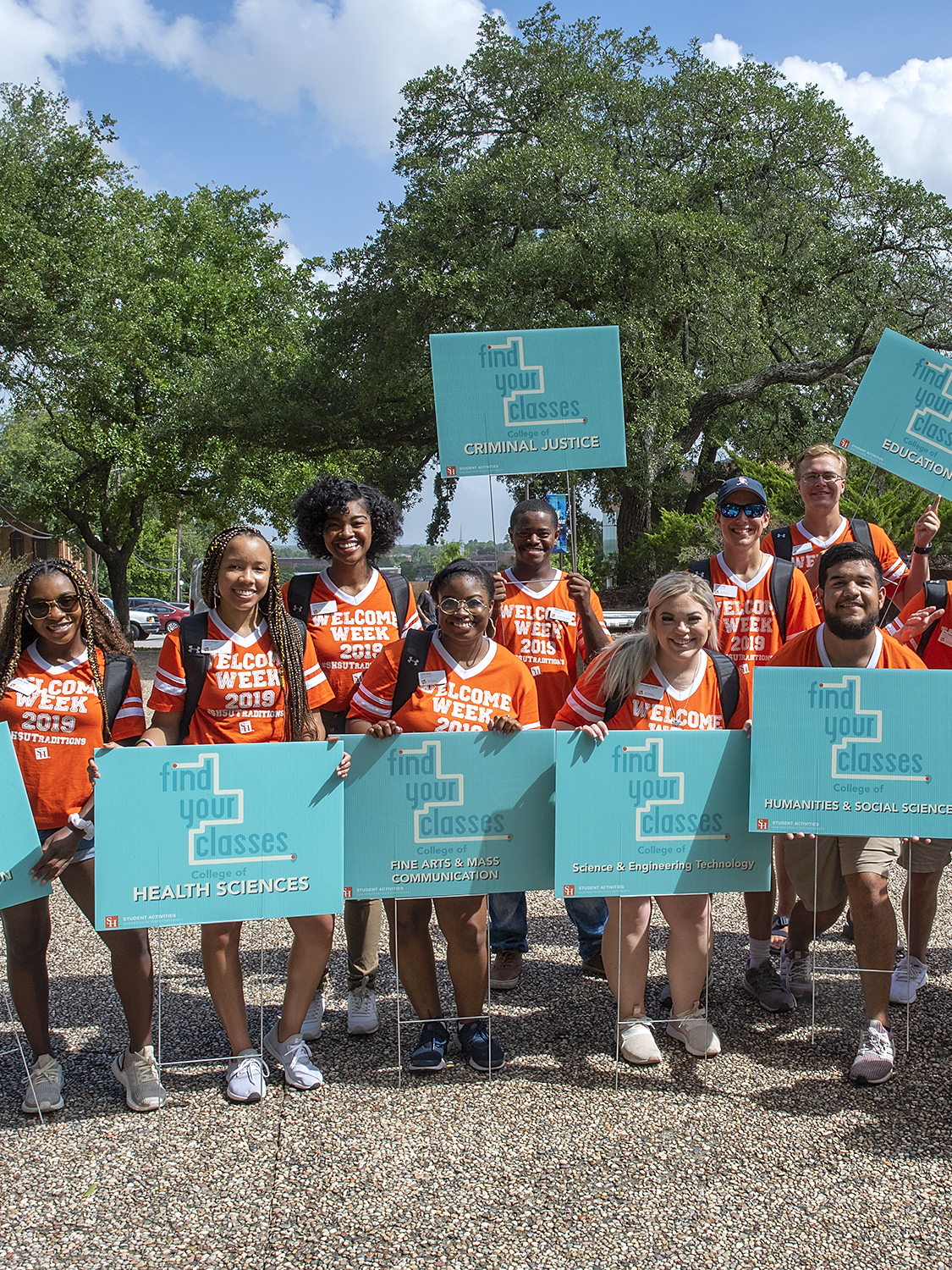 Students new to campus can connect with a Welcome Week Leader, each of whom is tasked with mentoring and encouraging students to go out and explore what campus has to offer. These student leaders invite new students to eventsand show them the vast amount of campus resources available.
Becoming a Bearkat
Welcome Week also provides opportunities for students to become more familiar with SHSU and show their Bearkat spirit. Whether it be learning about the university's history or supporting Bearkat Athletics, students can participate in events that will help engage them with SHSU.
On Aug. 15th, students can meet at the fountain to find their classes and attend the New Student Convocation in the Bernard G. Johnson Coliseum.
Learning about SHSU traditions and history can help students appreciate their university more. To encourage this, Student Affairs will lead a historical tour Aug. 16 at 2:00 p.m. that will start at Austin Hall and Peabody Library. There will also be a scavenger hunt across campus from Aug. 17 at 8a.m. until Aug. 20 at 12p.m.
To participate in recreational activities and learn about staying active on campus, students can attend the Club Sports Expos held at the intramural fields from 5-7 p.m. on Aug. 18 and 19. On Aug. 23, students can continue learning about physical activity opportunities at SHSU during Rec Fest from 5-7:30 p.m.
Bearkat Spirit Friday will take place Aug. 20 and 27 promoting school spirit. Students will have the opportunity to snag a photo with the NCAA National Championship Trophy in the RSC Aug. 23 from 3-5 p.m., in the LSC Aug. 25 from 2-4 p.m. and in The Yard Aug. 27 from 9-11 a.m. The Bearkat Volleyball Tournament will take place Aug. 27 and 28 in the Johnson Coliseum, and the Bearkat soccer team will play Aug. 27 and 29.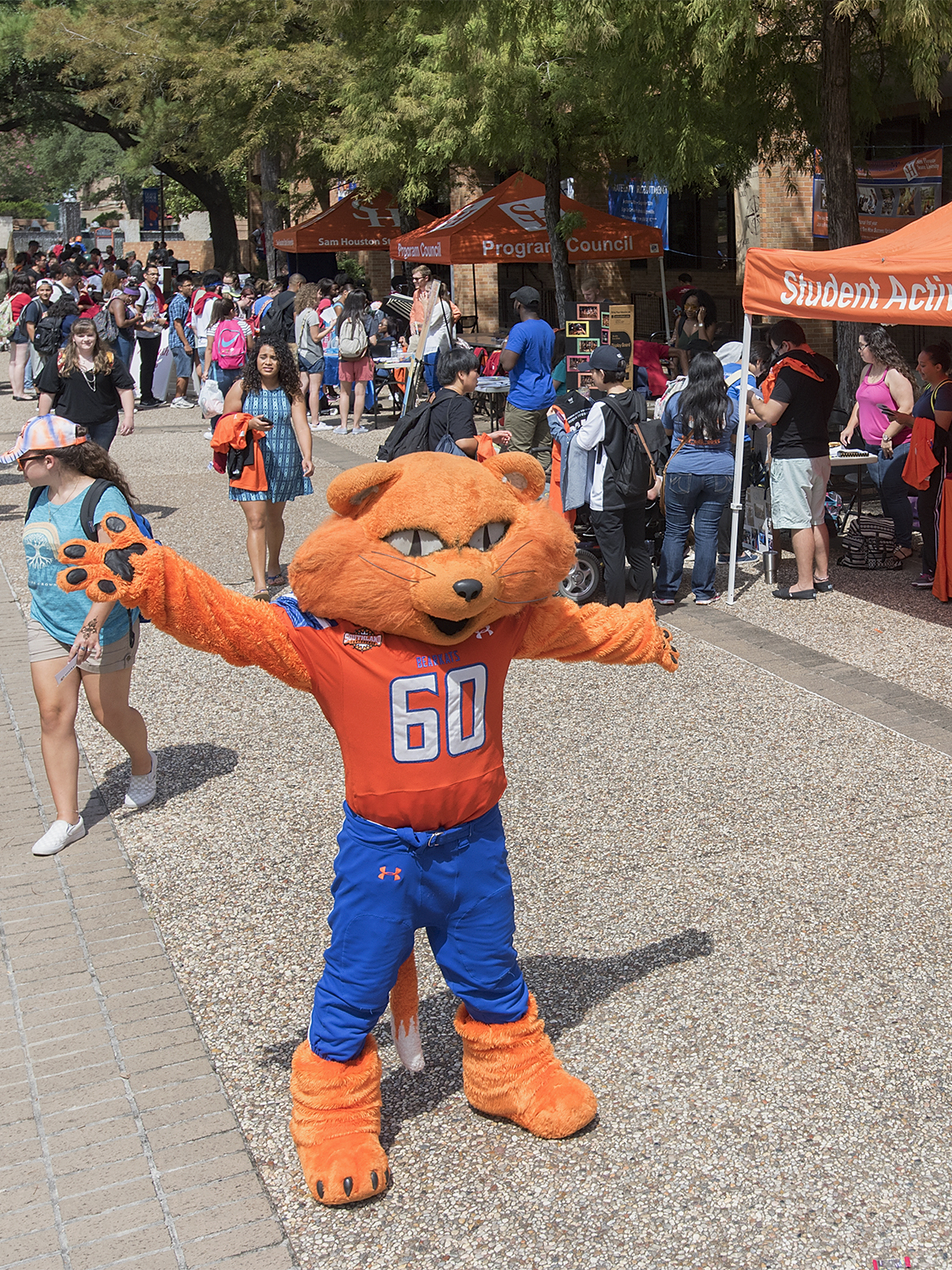 Monday, Aug. 30, Student Government Association will host a soiree to interact with Bearkats as they begin their semester. Rounding out Welcome Week activities, the Newton Gresham Library Grand Re-Opening will be held Sept. 2 starting at 12:30 p.m.
There will also be a VIP shopping opportunity with the University Bookstore, Panhellenic Orientation, Student Affairs Day, and much more for current and incoming students.
Outreach Events
SHSU's motto, "The measure of a Life is its Service," is exemplified through events during Welcome Week that encourage students to get out and interact with the Huntsville community and surrounding area.
Bearkats will head to the Sam Houston National Forest on Aug. 20. The Welcome Week service project intends to prioritize community service among SHSU students by providing a way for arriving students to give back.
There will also be a campus outreach 7 on 7 flag football tournament Aug. 20 at 6 p.m. at the intramural fields, and there will be a fair for students to explore volunteer opportunities and organizations Aug. 25 from 10:30 a.m. to 12:30 p.m. in the LSC.
Connecting over Food
Throughout the first two weeks of events and experiences for students, food will be offered as a way to further network and form relationships with other students, staff and faculty.
Beginning with the Bearkat Picnic and Feast with the Raven on Aug. 16, SHSU students will find free food at several networking and university engagement events. The following day, Aug. 17, Chick-Fil-A will be available in The Yard at 9 a.m.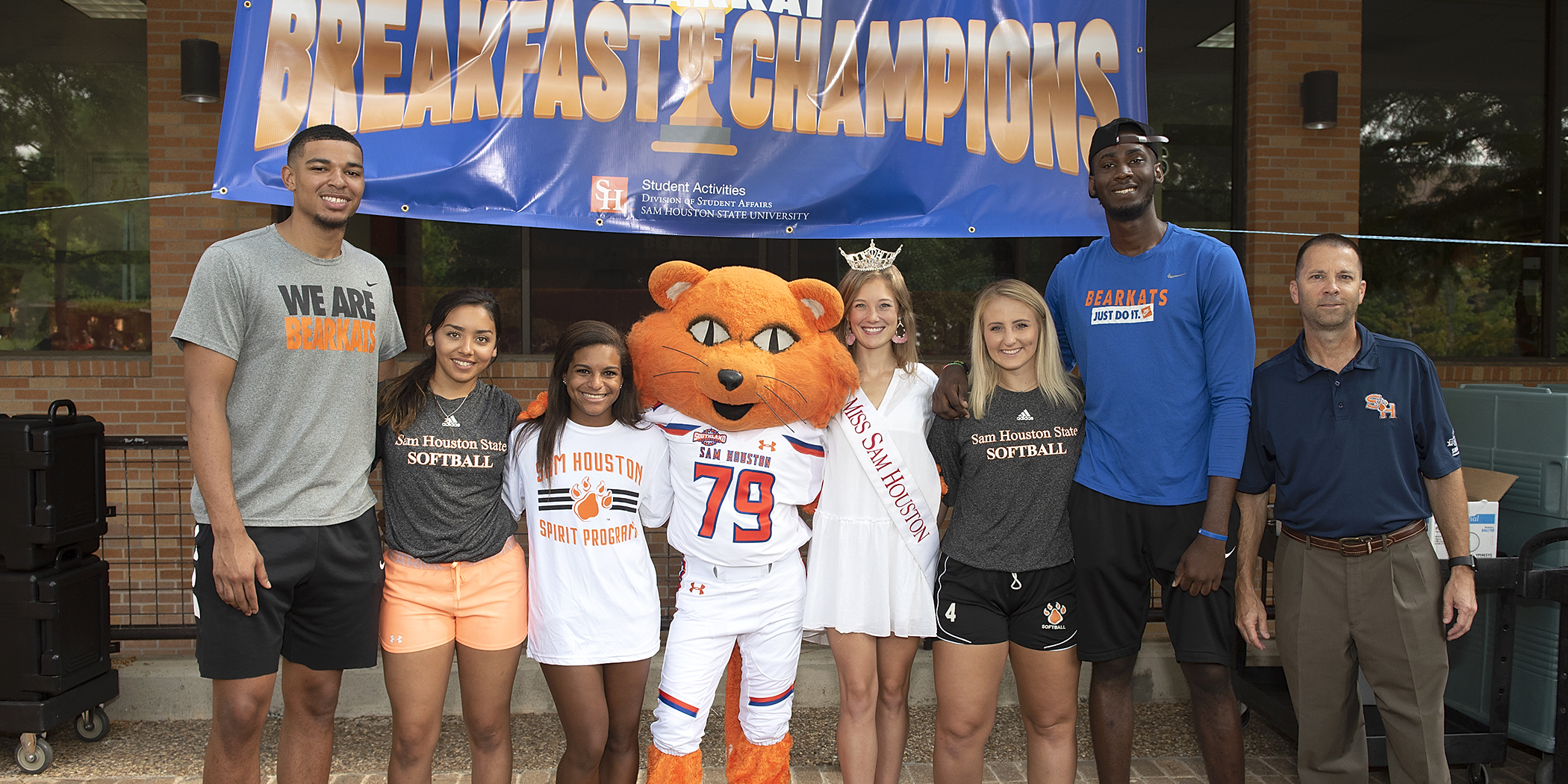 Later in Welcome Week, students can attend the Bearkat Breakfast of Champions on Aug. 20 at 9:30 a.m. And, to allow students to interact with SHSU President Alisa White, Pizza with the President will be held Aug. 23 at 11:30 a.m. Students will also find free food at the various mixers, Sammy's Splash Party, and Sammy's Lip Sync Battle.
Students are sure to discover something fun during Welcome Week that interests and engages them. To find more information and a complete schedule of events and activities offered during Welcome Week 2021, visit https://www.shsu.edu/dept/student-activities/special-events/welcomeweek.html.
- END -
This page maintained by SHSU's Communications Office:
Associate Director, Communications: Emily Binetti
Telephone:936.294.4406
Communications Manager: Vacant
Telephone: 936.294.1837
Communications Writer: Campbell Atkins
Telephone: 936.294.2638
Thomason Building: Suite 102
Please send comments, corrections, news tips to Today@Sam.edu