Student Engagement With Safety In Mind
Feb. 12, 2021
SHSU Media Contact: Hannah Haney

Spring 2021 is officially in-full swing, and the Department of Student Activities at Sam Houston State University is committed to providing a diverse line-up of virtual, hybrid and in-person events, while also ensuring that the health and safety of the campus community remains a top priority.
"Student Activities has always strived to be the hub of engagement, involvement, and connection for students at SHSU. It is our mission to ensure our students, and the Bearkat community, feel supported, and have a strong sense of belonging to the institution," said Director Brandon Cooper. "Our staff and students have, and will continue to, work diligently to maintain a sense of normalcy, continuity, and support during this time, and into the future."
Within the Department of Student Activities are the Program Council, the Center for Diversity & Intercultural Affairs, Traditions & Special Events, and Spirit Programs. Each of these unique program areas strive to assist students in defining and achieving personal and professional goals to prepare them for success in a global society.
---
The leaders at the helm of each program, share what they are looking forward to this semester:
Program Council

is a student-run organization devoted to creating educationally distinct programs that encourage the development of leadership and life skills through interaction among a diverse student body.
"Program Council is beyond excited to host a lot of fun events this semester while also making sure to put the safety of the Bearkat community first." – Rachel Valle, Associate Director.
---
Spirit Programs are home of the Coed and All Girl Cheerleading Teams, the Orange Pride Dance Team, and Sammy the Bearkat

.

They initiate and foster a sense of pride and spirit at SHSU.
"We are excited about this semester's Bearkat Spirit Fridays, and plan to have great success with the virtual and social distancing protocols that we learned during last year's virtual events. Also, make sure you are getting your free student tickets in our suite and attending all the sporting games this semester. SHSU Spirit Programs will be there and we hope to see you at the games." – Brian McColpin, Associate Director.
---
Center for Diversity & Intercultural Affairs (CDIA)

is dedicated to assisting the university in maintaining an inclusive campus community where diversity is embraced and celebrated.
"The center is preparing for its 17th Annual Diversity Leadership Conference on Feb. 26-27. Things are a little different this year, as the conference has gone hybrid with all workshop sessions and keynotes held in a virtual capacity. However, the conference will feature two exhibits in the Lowman Student Center that attendees must pre-register for. Headlining this year's keynotes are activist Samantha Ramirez-Herrera and actor Kendrick Sampson." – Jordan Chang, Assistant Director.
---
Traditions & Special Events are special university-wide, events that not only give students the opportunity to support their school and showcase their Bearkat pride, but also to meet like-minded students and enjoy campus life.
"The calendar covers all of our events, but the most up to date information is always our social media (@SHSUStuAct on Facebook, Twitter, and Instagram). We look forward to seeing Bearkats at our events this semester, whether online or in-person. The Sammys will be livestreamed on SHSU's YouTube April 14, at 6:00 p.m. and will celebrate the successes of our Bearkats from this past year, both inside the classroom and in their involvement." – Steven Begnaud, Assistant Director.
---
According to Student Activities, the total college experience is also a big part of being a Bearkat. They believe that by staying committed to the health and safety of the SHSU community and following guidelines for social distancing, mask wearing and hand washing, they anticipate a Spring semester filled with more exciting events that will provide additional opportunities for meaningful social interactions.

View the Spring 2021 Calendar of Events here: https://www.shsu.edu/dept/student-activities/documents/Spring%20Calendar%208.5x11in.pdf
---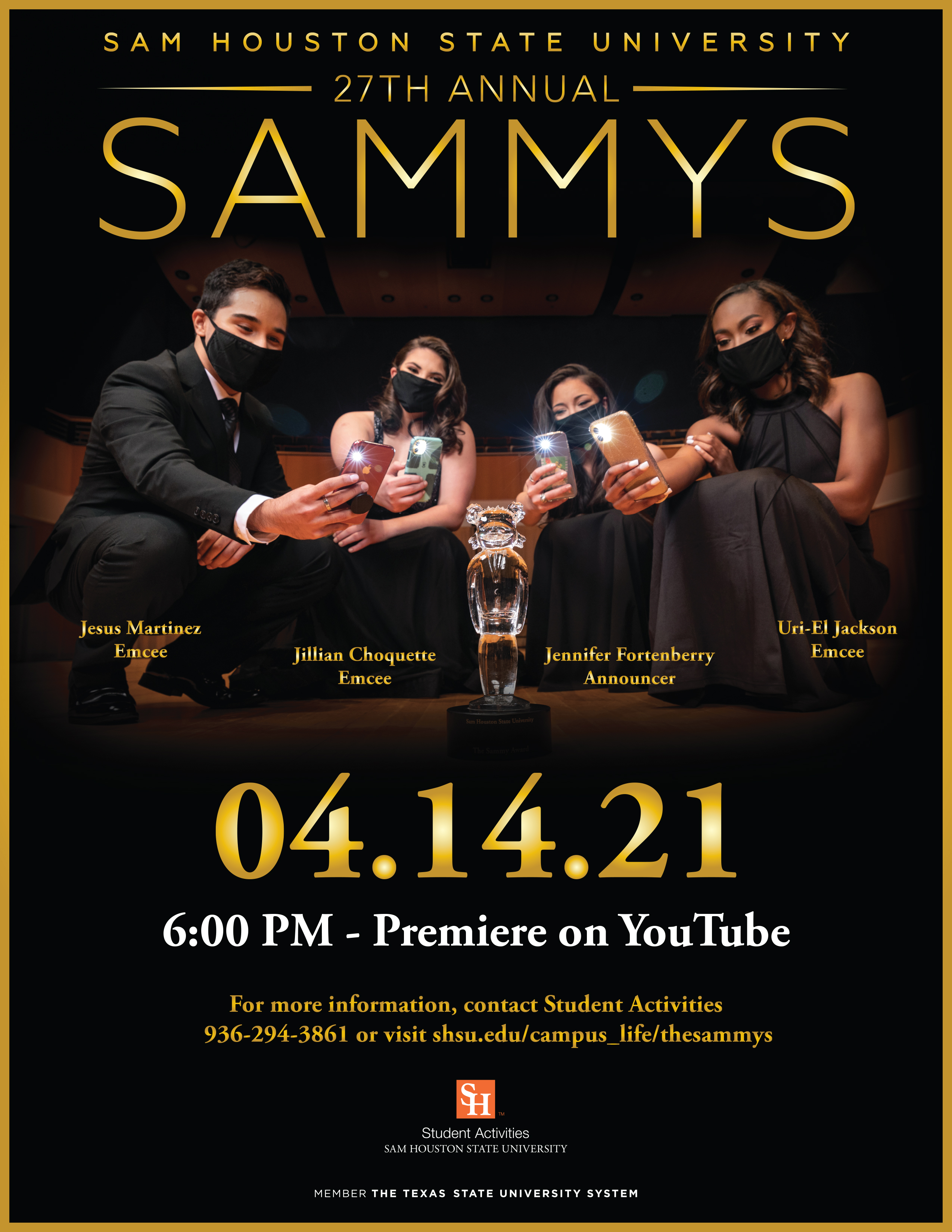 - END -
This page maintained by SHSU's Communications Office:
Director of Content Communications: Emily Binetti
Communications Manager: Mikah Boyd
Telephone: 936.294.1837
Communications Specialist: Campbell Atkins
Telephone: 936.294.2638
Please send comments, corrections, news tips to Today@Sam.edu