Remembering Bobby K. Marks
March 12, 2021
SHSU Media Contact: Wes Hamilton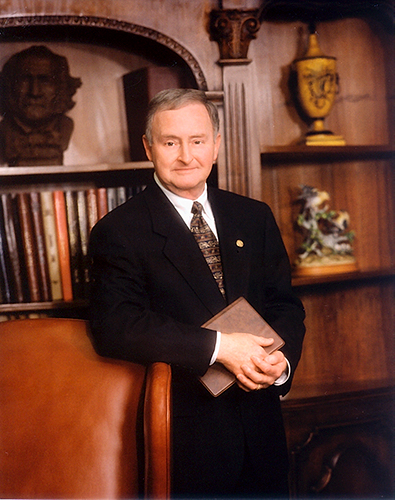 On Sunday, March 7, Sam Houston State University sustained a significant loss to the Bearkat family when Bobby K. Marks, the 11th president of SHSU, died in Huntsville at the age of 86.
Marks was held in such high regard for his dedication to SHSU that upon retiring, the Texas State University System Board of Regents named him "President Emeritus," and the university's Administration Building was renamed in his honor. Additionally, the City of Huntsville named a street which runs through the SHSU campus, "Bobby K. Marks Drive."
He was succeeded as university president by James Gaertner, who became a close friend of Marks through their passion for Sam Houston State and higher education. Gaertner took time to pay his respects and give his thoughts about Marks and his tenure at the university.
"I first knew Bob Marks in the early 1960s. I was a student in a class he taught during that time, and he was a very impressive professor who was always thoroughly prepared, with high expectations for his students," Gaertner said. "When I came back to SHSU in 1969 to complete my master's degree he arranged a position for me teaching basic accounting courses, and later hired my wife Nancy as a secretary in the College of Business office. As an indication of what a fine and caring person he was, soon after we moved to Huntsville, he took the time to take Nancy around town to visit several day-care centers for our two pre-school children. He was a friend and mentor to me for virtually my entire adult life."
Marks' 41-year career with Sam Houston State University began in 1960 as an instructor of Business Administration. He later served 15 years as dean of the College of Business Administration, 11 years as vice president for Academic Affairs, and retired in September 2001 after serving six years as president of the university.
---
"It is very unusual for a person to be so highly regarded that he moves from assistant professor, through the ranks, all the way up to president at the same university," Gaertner said. "Bob accomplished that, and it is a testament to his competence, integrity and devotion to the Sam Houston State University. The university thrived during his term as president. In my opinion, his impact on Sam Houston State will last for as long as our university endures."
---
Born in Louisiana and raised in Beaumont, Texas, Marks earned his bachelor's degree at Lamar University, his master's at the University of North Texas, and his doctorate at the University of Arkansas.
During Marks' term as president, SHSU added nine undergraduate degree programs, four master's degree programs, and two doctorates. The added doctorates were considered at the time to be the most significant academic accomplishments for SHSU since first establishing the Ph.D. program in Criminal Justice 25 years prior.
Alisa White, SHSU's 14th and current president, says Marks left an impression on SHSU that is still felt today in her office, which is located in the Bobby K. Marks Administration Building.
"As a new president of Sam Houston State University, I can see and feel Dr. Marks' impact," White said. "His legacy, which included student retention, classroom technology and fundraising, lives on – it is still very much a part of the university's priorities."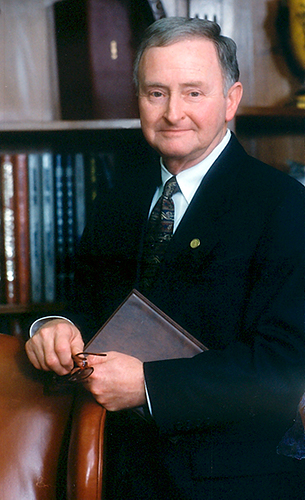 Marks served on numerous Texas Higher Education Coordinating Board advisory committees and as a consultant to individual and private industry groups. He was on executive boards of the Texas Council of Public University Chancellors and Presidents, Association of Texas Colleges and Universities and the Texas International Education Consortium. Regional service included the Association of Chief Academic Officers of the Southern States. He was also active in community service, holding key positions in the Huntsville/Walker County Chamber of Commerce including serving as president and chairman of the board in 1990.
Included among the many other community groups with which he worked were the Economic Development Corporation, Huntsville Leadership Institute, Walker County United Fund, City of Huntsville Planning Commission, and Walker County Industrial Development Corporation.
He also had a number of publications and textbook reviews on such subjects as university structure and teacher education organization, enrollment management, cost containment, and management principles.
Bobby Marks is survived by his wife of 64 years, Colleen Marks, daughters Denice Crosby and husband Daniel, Donna Laverell and husband Les, two grandchildren, one great grandchild, as well as many members of extended family.
Private services will be held on Friday, March 12 at 11 a.m. All others may view the live stream at the following link: https://www.facebook.com/elkinslakebaptistchurch/
In lieu of flowers, memorial contributions may be made to Elkins Lake Baptist Church, 206 SH 19, Huntsville, Texas 77340, (https://secure.subsplash.com/ui/access/3BCJGZ) or to the Bobby Kees and Colleen Ann Marks Presidential Endowed Scholarship, Sam Houston State University, PO Box 2537, Huntsville, Texas 77341.
- END -
This page maintained by SHSU's Communications Office:
Director of Content Communications: Emily Binetti
Communications Manager: Mikah Boyd
Telephone: 936.294.1837
Communications Specialist: Campbell Atkins
Telephone: 936.294.2638
Please send comments, corrections, news tips to Today@Sam.edu