Population Health Professor Awarded National Institute Of Health Research Grant
Sept. 24, 2021
SHSU Media Contact: Hannah Crandall
Story by Karen Leonhart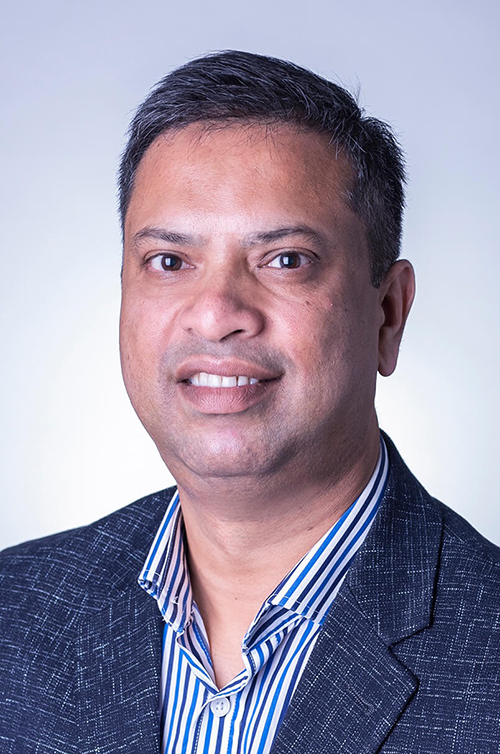 Associate Professor Khalid M. Khan of the Department of Population Health at Sam Houston State University has been awarded a federal National Institute of Health (NIH) RO1 grant, for his project titled, "Building Capacity to Study Mixed Metal-Induced Neurotoxicity in Rural Bangladeshi Children." This neuro-epidemiological project has been granted a five-year funding amount of approximately $2.7 million. Two NIH centers are co-funding this study: National Institute of Environmental Health Sciences (NIEHS) and Fogarty International Center (FIC).
"It is a highly competitive proposal process to receive this type of top tier federal funding," said Jennifer Bunn, College of Health Sciences associate dean of research. "It is very hard to secure, and they will only fund projects that will be impactful and meaningful to society."
SHSU will coordinate the project, and Khan is the principal investigator (PI) leading a team of researchers from several other local and international institutions, which include Columbia University, University of Houston, University of Iowa, and Baylor College of Medicine. There is also collaboration with researchers at International Center for Diarrheal Disease Research, Bangladesh; North South University; Columbia University Arsenic and Health Research in Bangladesh; and Bangabandhu Sheikh Mujib Medical University, Bangladesh.
"The project aims to conduct neuro-epidemiological research to understand how mixtures of toxic metals such as arsenic, lead, cadmium and manganese impact brain health in early and late childhood," Khan said. "At Sam Houston State, we care about our students quite a lot, and this will give our population health and MPH students an opportunity to get involved in global health in a personal way."
Khan has an extensive background in environmental health and epidemiology. He investigates the neurobehavioral health effects of environmental and occupational exposures as well as the mechanisms of action of neurotoxic contaminants.
"For example, drinking water across the globe is contaminated with various metals such as arsenic and manganese. Also, people are exposed to metal mixtures present in other environmental and dietary sources," Khan said. "It is important to investigate the effects of these mixtures on brain development, so that we can develop policies and mitigation plans for vulnerable populations including our children."
While conducting meaningful research, the project will also improve the neuro-epidemiological research capacity of scientists in Bangladesh, which is categorized as a low-medium income country (LMIC), by providing training on epidemiological, biostatistical and neurocognitive research methodologies both in Bangladesh and in the U.S.
"This award is a really exciting and valuable opportunity to expand the research capacity at SHSU. To work with NIH federal funding means that your team and your institution gets attention from a different type of audience. You make a footprint at the federal level," Khan said.
It has been more than 10 years since SHSU has received an R01 as the lead institution. COHS joins the College of Medicine, College of Humanities and Social Sciences, and the College of Science, Engineering, and Technology in having received funding from the NIH.
"We are incredibly excited and proud of Dr. Khan and his team of researchers," said Emily Roper, COHS interim dean. "Dr. Khan exemplifies collegiality and collaboration, which we value in the College of Health Sciences."
In addition, SHSU faculty and students will get to interact with international scientists when they come to campus for training and have the opportunity to develop international research collaborations.
"This is a significant 'first' for the Department of Population Health and for the College of Health Sciences. The faculty here share in the excitement of Dr. Khan's notable milestone," said Ray Newman, chair of the Department of Population Health. "We look forward to continued growth in this area."
SHSU Office of Research and Sponsored Programs (ORSP) worked extensively with Khan and his team to ensure they were provided application and administrative support needed to succeed. Khan worked with the team to help support the research group and develop the proposal.
Chad Hargrave, associate provost for Research & Sponsored Programs and chief research officer, shared additional data and history surrounding the NIH grant.
"Receiving this prestigious research grant is an amazing honor for Dr. Khan, the College of Health Sciences, and the university. This is the single largest research project that SHSU has received and will follow the mission and vision of the National Institute of Environmental Health Sciences and the Fogarty International Center that have funded this award," Hargrave said. "In 2020, the NIEHS received 1,152 applications and only funded 160. The application process to receive an R01 is incredibly competitive. This award is a testament to Dr. Khan's relentless efforts and commitment to advancing both science and health equity."
- END -
This page maintained by SHSU's Communications Office:
Director of Content Communications: Emily Binetti
Communications Manager: Mikah Boyd
Telephone: 936.294.1837
Communications Specialist: Campbell Atkins
Telephone: 936.294.2638
Please send comments, corrections, news tips to Today@Sam.edu