SHSU Offers New Master Of Public Health Degree
Jan. 13, 2021
SHSU Media Contact: Wes Hamilton
Written by: Karen Leonhart
The latest degree program in the Department of Population Health at Sam Houston State University demonstrates the department's continual commitment in the development of degree offerings. By remaining connected to all aspects of the healthcare community through its network of industry professionals and utilizing faculty research, they have kept both courses and degree offerings relevant to the current job climate. Ultimately, the focus on job demand in 2021 led to the creation of the new Master of Public Health degree.
The 42-credit hour program is designed to be completed in just 22 months, over four regular semesters and one summer semester.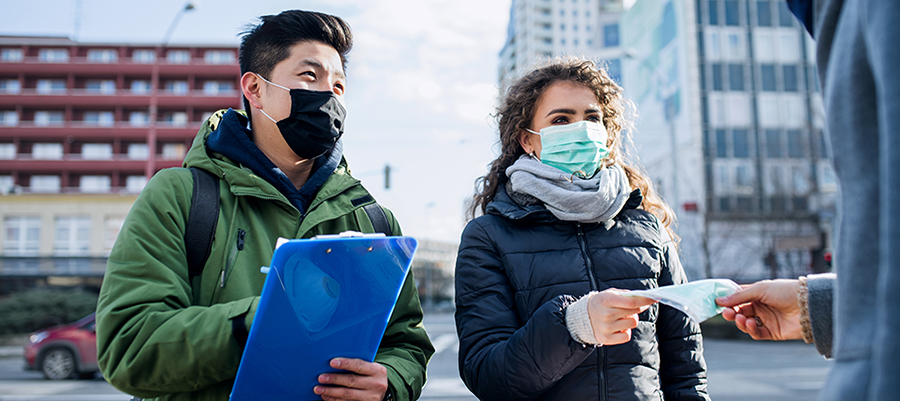 What is an MPH degree?
Public Health is the science and practice of protecting and improving the health of communities through researching injuries and disease (both infectious and chronic), and then developing education, programming and policies to prevent or minimize them.
MPH graduates master the core public health competencies, which include:
Epidemiology
Biostatistics
Environmental Health
Health Policy and Management
Social and Behavioral Sciences
"The timeline could not be more appropriate as public health is front and center with Covid-19. The World Health Organization (WHO), The Centers for Disease Control and Prevention (CDC), The National Institute of Allergy and Infectious Diseases and Dr. Anthony Fauci, and all of these updates you see in the media on a daily basis, are dealing with public health," said Rosanne Keathley, assistant chair for the Department of Population Health and graduate coordinator for the new program. "The pandemic had not surfaced when the proposal was developed for the MPH, COVID-19 has only, understandably, increased the importance of the public health profession."
Curriculum
The MPH degree program delivers a comprehensive curriculum of core public health functions, with two specialized concentrations options in Global Health and Social Justice, and Health Education and Promotion. The program prepares professionals with the knowledge, skills, and practices to manage the health and safety concerns of local and global communities.
The Global Health and Social Justice concentration, which includes the rural health aspect, will teach students about health issues that impact public health on a local as well as global scale. Key issues can include global concerns in occupational health, preventive healthcare, environmental health concerns such as waste and water management, and air pollution control.
The concentration in Health Education and Promotion incorporates the principles, practices, and development of a working philosophy of health education to prepare students for engagement in four broad areas: community health, medical or clinical health, school health, and worksite health promotion. Students will receive training in public health promotion and interventions. They will learn to address factors in the broader social, economic, and policy environments to improve the health of populations.
What can you do with a Public Health degree?
Although there are many different areas in public health, they all have the same mission; to optimize community health outcomes. Daphne Fulton, clinical assistant professor of Health, explained that the need for public health practitioners will continue to increase as the demand for them grows.
"This is a very diverse field of study with multiple career paths depending on the job seeker's goals and there are many different job possibilities with a Public Health degree such as in government agencies, non-profit organizations, healthcare organizations, public and private organizations and foundations, research and development organization and worksite programs," Fulton said.
Why is this a good industry to pursue?
The public health industry addresses broad issues that can affect the health and well-being of individuals, families, and society.
"Public health is an industry for people who enjoy helping others and care about the greater good of human beings," said Amanda Scarbrough, associate professor of Health. "Public health is always dynamic; changing and evolving in response to both the needs of communities and the challenges facing populations. The work of the public health industry is important as public health initiatives affect people in the U.S. and globally both now, and for generations to come."
Why is Public Health an important career?
A public health career is now more important than ever before. Dealing with public health issues has become a significant challenge for health officials. Job growth is above the national average, a variety of responsibilities and job choices abound, one can contribute to improved global health, travel opportunities are plentiful, educational opportunities are available to continue growth in the profession, along with many other benefits.
"A career in public health has many rewarding aspects," said Ray G. Newman, professor of Health and chair of the Department of Population Health. "Professionals in the public health field often earn a master's degree to expand their knowledge and enhance job growth. A public health career can provide a lifelong, satisfying, and rewarding ability to provide and improve health for others."
Why now?
COVID-19 demonstrates how disease can spread across local and global communities. Adannaa O. Alexander, clinical assistant professor of Health, explained that there are health disparities (or differences in health outcomes) among poorer communities, communities of color and other disenfranchised communities.
"It is time to focus more diligently on prevention—helping people and communities stay healthy and mitigating the impact of disease and injury," Alexander said. "Joining our MPH program will allow you to become part of the solution to close the gap on health disparities and inequities as well as promote health and well-being at home and abroad."
To learn more about the Master of Public Health degree visit the program's homepage here. There you can find additional information about how to apply, curriculum required, student testimonials and more.
- END -
This page maintained by SHSU's Communications Office:
Director of Content Communications: Emily Binetti
Communications Manager: Mikah Boyd
Telephone: 936.294.1837
Communications Specialist: Campbell Atkins
Telephone: 936.294.2638
Please send comments, corrections, news tips to Today@Sam.edu