Honoring Native American Indian Heritage Month
Nov. 1, 2021
SHSU Media Contact: Wes Hamilton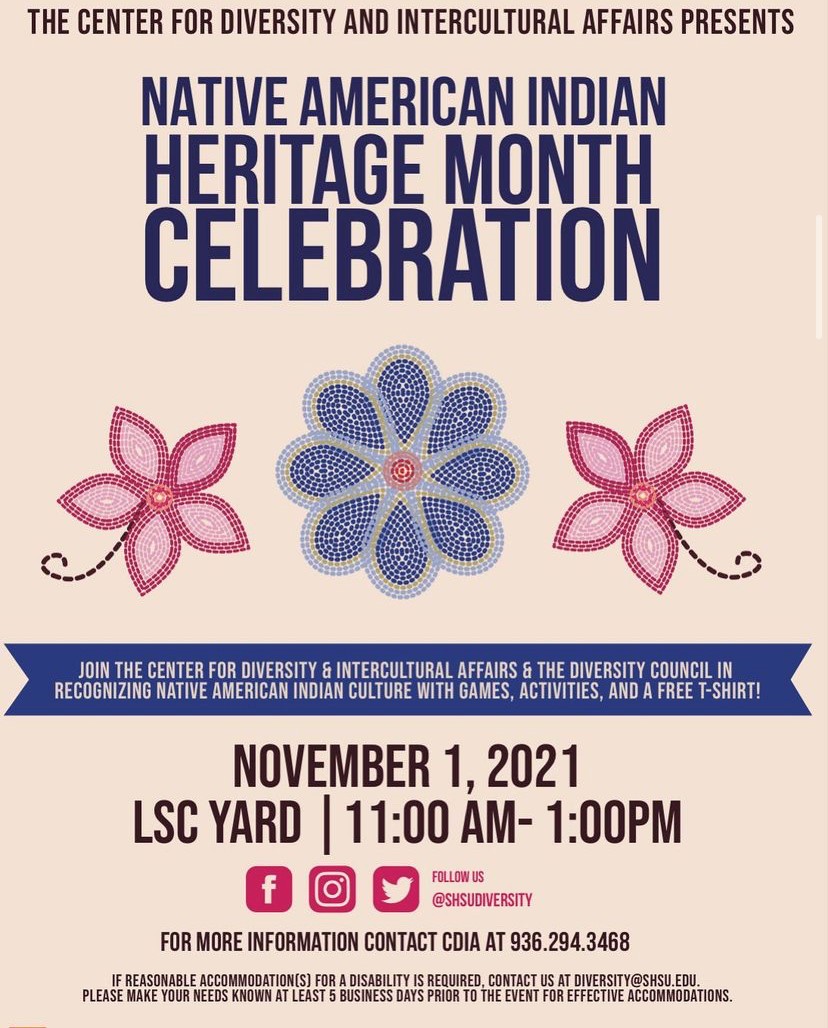 By Nicholas Polk
As November begins, our Bearkat community recognizes Native American Indian Heritage Month. The month is a time to celebrate rich and diverse cultures, traditions, histories and to acknowledge the important contributions of Native American Indian people.
"Native American Indian Heritage Month serves to acknowledge and celebrate the culture of Indigenous people and how they have shaped the world we know today," said Makiya Owens, co-executive director of The Center of Diversity and Intercultural Affairs (CDIA). "History helps establish identity. I believe that to understand one another, we must learn the history that has made us (and others) who we are."
On Nov. 1, CDIA organized a cultural celebration that featured interactive activities and information on Native American Indian culture. On Nov. 4, CDIA will be holding their annual Diwali celebration, which is a festival of lights.
CDIA is also hosting a cultural fashion show on Nov. 8 from 7-8:30 p.m. in the Orange Ballroom. This will mark the event's third occurrence on our campus, which allows students to represent their cultures through fashion.
"The fashion show will hopefully give students who identify as Native American Indian or Indigenous the chance to showcase aspects of their culture. I hope all the attendees learn what other cultures from their own look like and how to embrace them," Owens said.
Psychology major Ashley Carter pitched the idea to host a fashion show that highlights diverse cultures to CDIA in the spring of 2019.
"I hope that it signifies who is on our campus. I want to give people a voice without having to say anything. That was the goal of it," Carter said. "I just wanted people to be who they are unspoken and for people to see and appreciate that and to be inspired to represent themselves, and not only themselves but their culture."
The Center of Diversity and Intercultural Affairs is dedicated to assisting the university in maintaining an inclusive campus community where diversity is embraced and celebrated. CDIA does this through programming, resources, and diversity education. For upcoming CDIA events, please visit their events calendar here.
- END -
This page maintained by SHSU's Communications Office:
Director of Content Communications: Emily Binetti
Communications Manager: Mikah Boyd
Telephone: 936.294.1837
Communications Specialist: Campbell Atkins
Telephone: 936.294.2638
Please send comments, corrections, news tips to Today@Sam.edu