SHSU's New Academic Year Shows Growth In Key Populations
Sept. 20, 2021
SHSU Media Contact: Emily Binetti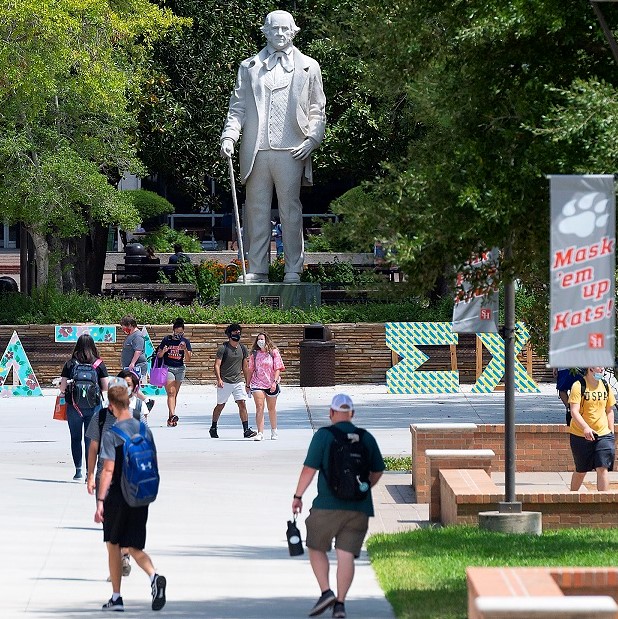 Sam Houston State University's unofficial fall 2021 student census indicates growth in strategic populations including first-time incoming freshmen (up 2.2 percent), first-time transfer students (up 3.11 percent) and graduate students (up 5.5 percent).
Overall, SHSU student enrollment for the fall semester is 21,679, down 1.1 percent from 2020, though President Alisa White is optimistic to see rises in key demographics.
"We are seeing great progress in those areas where we have been very strategic. SHSU recruits many non-traditional students in support of state educational attainment goals and also those seeking to enhance their education beyond a bachelor's degree. The data are encouraging," White said. "Our story is much better than it could have been given the tough time our students had last year. I'm thankful for the tremendous work of many teams on campus who did an incredible job over the summer in removing barriers for students that really wanted to come to Sam Houston State."
First-time freshmen
Through grants, scholarships, student employment, money management coaching and many other services, SHSU helps make a college degree attainable for students from all economic backgrounds.
Like the many freshmen who arrived on campus this fall, Rolando Gonzalez is learning the ropes of college for the first time as he pursues a bachelor's degree in management information systems. Because of the generous support of the Smith-Hutson scholar program at SHSU, Gonzalez was able to overcome financial barriers and begin fulfilling a dream he previously thought impossible.
"This program has given me the opportunity to envision a brighter future for my family and get me closer to accomplishing my career goals. It has provided me with all the resources to strive for greatness during my years at Sam Houston," he said.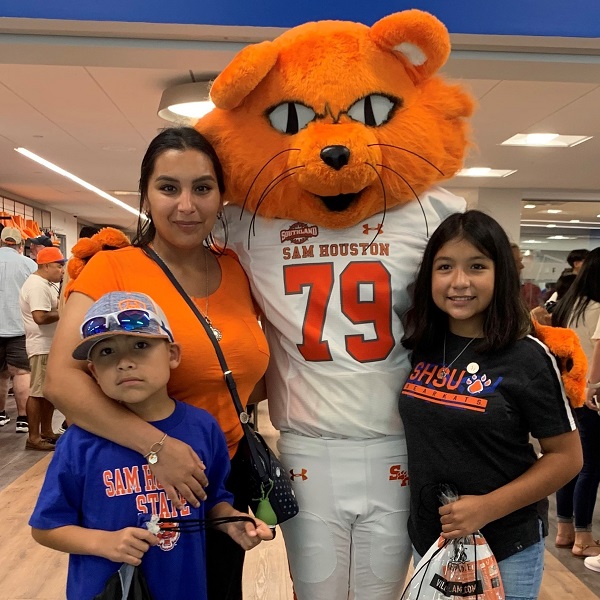 Transfer students
Specializing in the recruitment of transfer students, the SHSU Enrollment Success team assists with degree discovery and transfer course steps to help students understand which credits apply to specific degrees, and what courses are needed to achieve their goals.
New to SHSU, Gloria Moctezuma-Palma is a psychology major who just transferred from Lone Star College and is happy to finally be on track to earning a four-year degree. About to turn 30 with two young children, she manages a small car dealership and substitute teaches on the side. Like many at SHSU, she is a first-generation student—the first in her family to pursue a college degree.
"My parents immigrated here from Mexico where they only attended primary (elementary) school, so even though I am a non-traditional student, I feel blessed to be able to pursue a degree," she said.
Graduate students
According to the U.S. Bureau of Labor Statistics, employment in master's-level occupations is projected to grow by almost 17 percent by 2026, the fastest of any education level. Employment in doctoral and professional-level occupations is projected to grow by about 13 percent.
Community and social service is one of six career fields projected to have the most job openings for graduate-level occupations. In this area, counseling is expected to see the greatest number of openings.
Tamisha Thomas is a first-generation student starting to pursue a master's in counseling this semester at SHSU.
"I have always wanted to be a therapist, and my ultimate goal is to get my doctorate degree," Thomas said.
Understanding the demand for more mental health professionals, Thomas aspires to build her own counseling center in the future and offer affordable, sliding-fee scale therapy services to those in need.
An added benefit to pursuing a master's degree at SHSU is the opportunity to participate in graduate assistantships—salaried student employment opportunities exclusive to graduate students. Thomas currently works as a graduate assistant in the College of Education's Diversity, Equity, and Inclusion office.
With 52 percent of SHSU's student enrollment comprised of first-generation students and 60 percent classified as "at risk," it is clear that higher education solutions today must be designed to provide opportunities for everyone.
"We share in a common purpose at Sam Houston State—to help unlock the full potential of all students, helping them prepare for life, and providing top-notch instruction and tools for a great future," White said.
- END -
This page maintained by SHSU's Communications Office:
Director of Content Communications: Emily Binetti
Communications Manager: Mikah Boyd
Telephone: 936.294.1837
Communications Specialist: Campbell Atkins
Telephone: 936.294.2638
Please send comments, corrections, news tips to Today@Sam.edu