Economics Professor Helps Create Hispanic-Serving Conference
Nov. 17, 2021
SHSU Media Contact: Wes Hamilton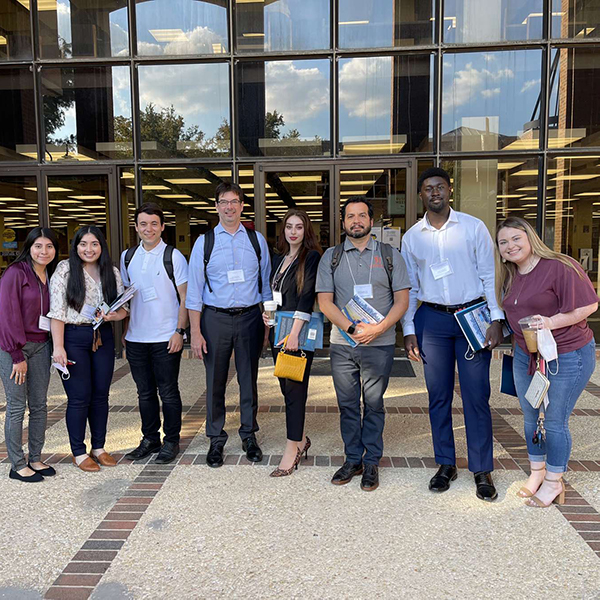 By Mikah Boyd
For the past 10 years, Fidel Gonzalez, professor of economics and international business at Sam Houston State University, has attended an annual conference hosted by the American Society of Hispanic Economists (ASHE) at Texas A&M University until its cancellation due to the COVID-19 pandemic. To fill the gap left from this cancellation, Gonzalez and other members of the ASHE worked together to create a similar event specific to Texas—The Annual Conference of the Consortium of Texas Hispanic-Serving Institutions Economics Departments.
"The goal is to provide insight to undergraduate students into what economists do and offer information and encouragement for them to pursue graduate studies," Gonzalez said. "We also want to provide a positive and nurturing environment for students to present their own research and increase the number of students from primarily Hispanic Serving Institutions to pursue graduate degrees in economic and related fields."
Extending this opportunity to minority students is the heart of the matter. As Gonzalez explained, there is underrepresentation of minorities obtaining degrees in economics.
"According to the American Economic Association, the number of minorities (American Indian or Native Alaskan, Black/African America, Hispanic or Latino) represent only 17.5 percent of all the degrees awarded in economics (this figure is 20 percent in STEM fields)," Gonzalez said. "Moreover, these minorities represent only 17 percent of all the master's degrees and 8.6% of all the PhD degrees awarded in economics."
This disparity is why it is important to have opportunities like the conference to increase retention rates and promote graduate studies and research. According to Gonzalez, since the institutions involved in the conference are similar and thus face similar problems, it seems natural that they work together to remedy them.
"We also want to create a safe space where students of all backgrounds feel like they belong and that they matter," Gonzalez said. "At the end of our last conference, one of the participating students told us that it was inspiring to see a Hispanic professor presenting her research. Those are the intangibles that conferences like this one can bring to the table."
The first meeting took place at St. Mary's University in San Antonio. Presentations were made by faculty and students, providing them a platform to show their work to professionals in the field. Six students from SHSU attended.
"Participating institutions are committed to promote diversity, equity and inclusion. We are universities in Texas that share a large population of Hispanic and Black undergraduate students."
Gonzalez also touched on how important it was that the universities involved in the conference were taking the lead on the initiative and not relying on other institutions. This independence allows the conference to provide undergraduate students with an opportunity engage in research and present it to a knowledgeable audience.
"I am excited to see undergraduate students presenting their own research," Gonzalez said. "At the end of this conference, students from all the institutions made it very clear that they wanted to present their own research, which was in a way surprising, but at the same time highlights the importance to have conferences like this."
This revolves around the idea that the students will be building their communication skills, which Gonzalez sees as essential to students' success. Alongside communication development is the networking side of the conference, as students attending can exchange experiences with fellow economics students from other universities.
For more information about the annual conference, contact Gonzalez at FXG001@SHSU.EDU.
- END -
This page maintained by SHSU's Communications Office:
Director of Content Communications: Emily Binetti
Communications Manager: Mikah Boyd
Telephone: 936.294.1837
Communications Specialist: Campbell Atkins
Telephone: 936.294.2638
Please send comments, corrections, news tips to Today@Sam.edu