Museum Welcomes Derrick Birdsall As Director
Sept. 29, 2021
SHSU Media Contact: Emily Binetti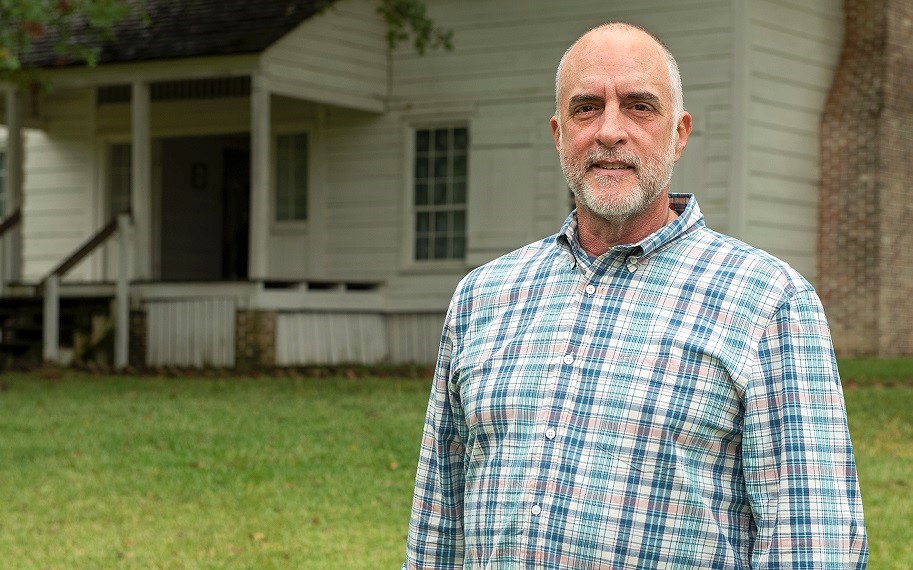 Derrick Birdsall has been named the director of the Sam Houston Memorial Museum, effective Oct. 1.
He succeeds Mac Woodward, who retired from the position on Aug. 31.
With a love of history that started as a child, Birdsall's vision of turning his passion into a professional career happened at Sam Houston State University as a graduate student.
"My fascination with Texas history took flight on road trips across the state, learning about the rich and diverse history that you can find within the borders of Texas," Birdsall said. "Working at the museum while in graduate school convinced me that I wanted to make a career out of a place where I could smell, touch and taste history, rather than just read about it in books. I've never regretted that decision."
Birdsall earned a Bachelor of Science degree in elementary education from Sam Houston State in 1991. He later graduated with his master's degree in history, also from SHSU.
"The skills I learned at Sam Houston State in both degrees, teaching and conducting research to ensure the stories we tell are accurate, have helped me throughout my museum career. I have seen myself as an educator my entire adult life, and that continues today."
With deep roots in the community, Birdsall lived in Huntsville for over a decade before moving to the Dallas Fort-Worth Metroplex for a job opportunity with Farmers Branch Historical Park, a similar living history/outdoor museum. After 18 years in that role, the urge to move back to the Piney Woods and be closer to family grew stronger.
"I noticed that my old position at the museum was open, made a phone call to Mac to see if it had been filled, and the rest is history," he said.
Since his return four years ago, Birdsall has enjoyed working with the community and museum team as the curator of education, where he has helped host countless school tours and special exhibits. Now, after years of devoting a career to education and history, he sees his new position as museum director truly a 'dream job.'
"I work in a beautiful place with people passionate about Sam Houston and telling his story. It doesn't get much better than that," he said. "There are days that I have to pinch myself because there's no way that I could have made a career out of teaching history out of a log cabin, sitting by the fireplace, in a room where Sam Houston spent time."
- END -
This page maintained by SHSU's Communications Office:
Director of Content Communications: Emily Binetti
Communications Manager: Mikah Boyd
Telephone: 936.294.1837
Communications Specialist: Campbell Atkins
Telephone: 936.294.2638
Please send comments, corrections, news tips to Today@Sam.edu