Common Reader Program Events Underway
Oct. 25, 2021
SHSU Media Contact: Wes Hamilton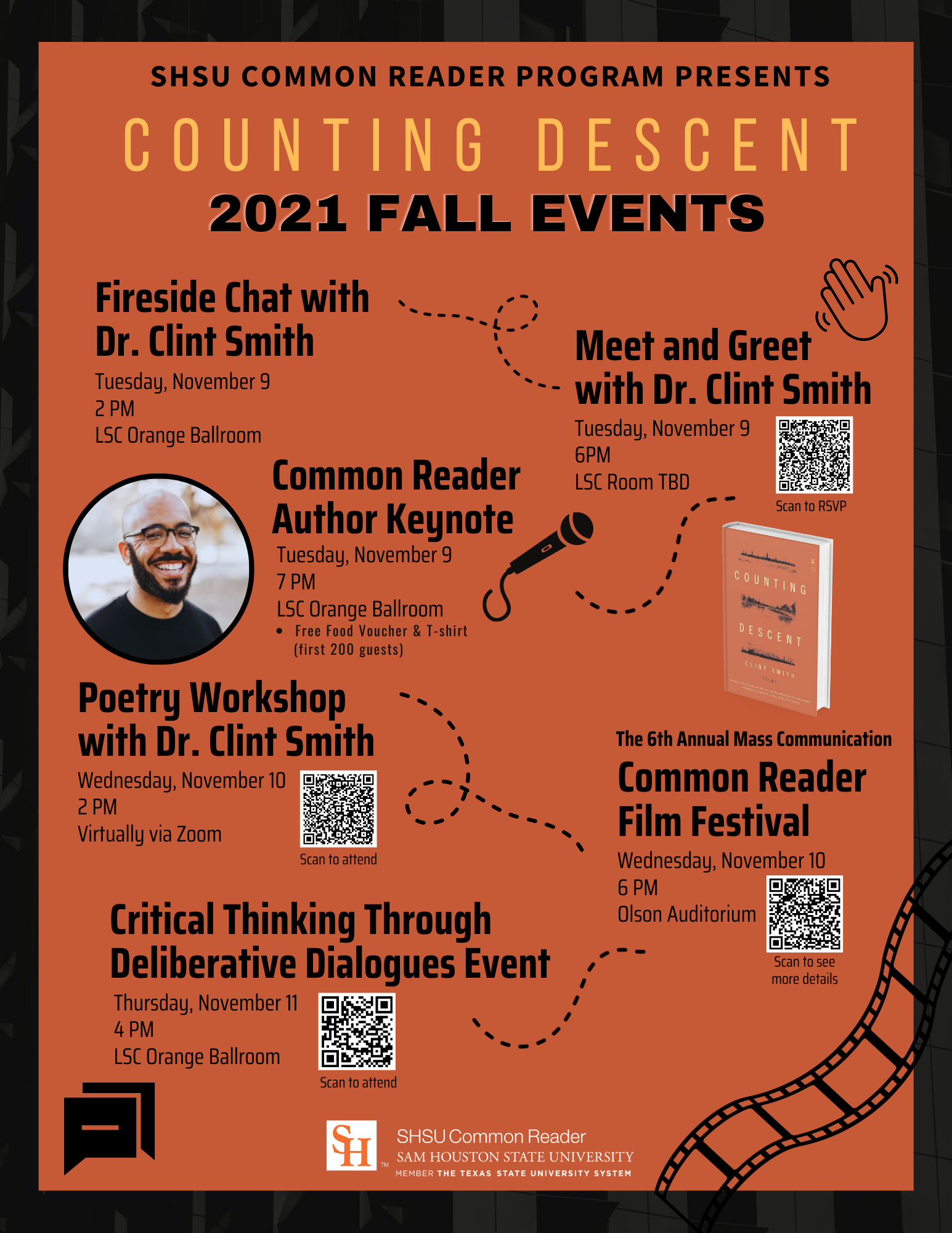 Clint Smith's book, "Counting Descent," was selected for the 2021-2022 Sam Houston State University Common Reader. This collection of poems written by the New Orleans native speaks on the topics of race, humanity and coming of age. While Smith is often asked about his book being about "the black experience," he feels that it is about his black experience.
Smith's book and the topics that it covers contribute to the mission of the Common Reader program of creating a shared academic and intellectual experience. To further encourage this mission, the program uses the messages in the books selected to facilitate a campus-wide conversation that will enhance the SHSU community.
After "Counting Descent" was selected as this year's Common Reader last spring, various departments and organizations on campus have been planning events to get Bearkats to engage with Smith's message. The first of these is the distribution of the book, which students can access not only through the Bearkat Bundle but by going to the Academic Success Center Welcome Desk on the main floor of the Newton Gresham Library. If a student has trouble accessing the book, they are encouraged to reach out to Shantal Brissette at commonreader@shsu.edu. This year's Common Reader events will be held from October 25 to Nov. 11. More details can be found at shsu.edu/commonreader.
---
Monday, October 25

All Day - Common Reader Throughout the Years: Come enjoy an interactive exhibit in the Newton Gresham Library on the history of SHSU Common Readers. Weigh in on topics and themes you would like to see for next year's book.
---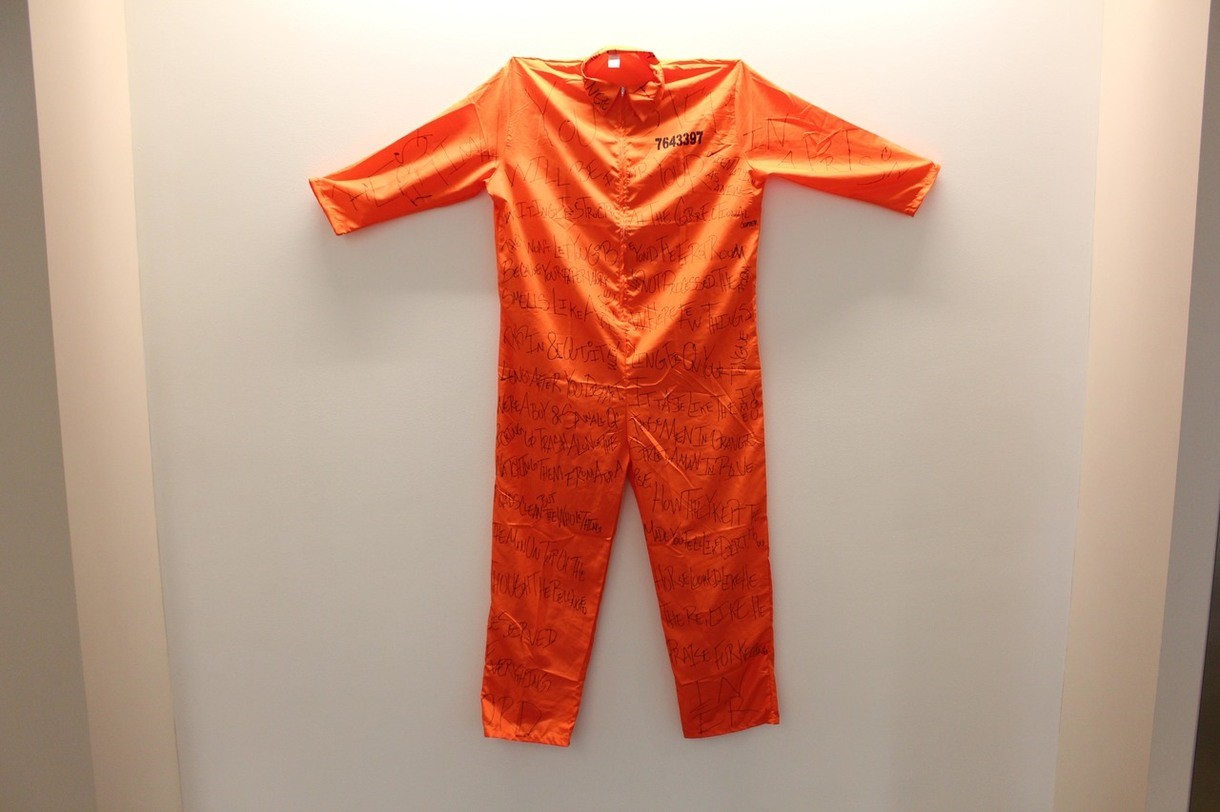 Friday, Nov. 5
3 p.m. - Corridor Galleries Celebration: Interactive Exhibit inspired by "Counting Descent" in Dana G. Hoyt Art Building. Each exhibition invites viewers to interact with and contribute to the exhibit. Participation is ongoing throughout the exhibition and will culminate in a celebration of the completed installations on Friday November 5, at 3pm.
---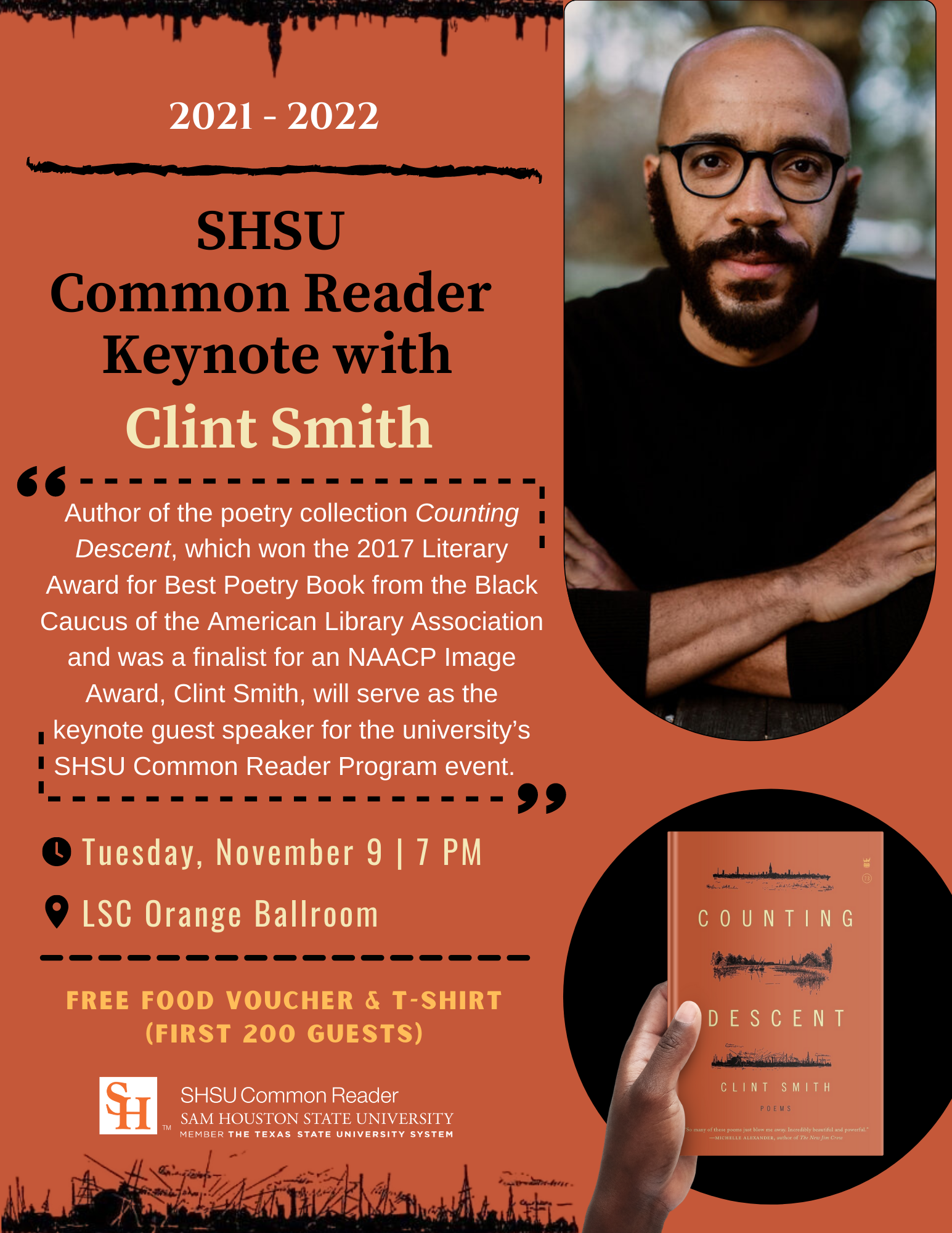 Tuesday, Nov. 9
2 p.m. - Fireside chat with Clint Smith in the LSC Orange Ballroom. Dr. Clint Smith will join via live video conference with a Bearkat in-person audience
6 p.m. – Meet and Greet Just prior to the keynote address, Smith will be available for a brief live video meet and greet session with smaller groups of students, faculty, and staff in LSC 230.
7 p.m. – Keynote Smith will join the Bearkat Community via live video conference with a Bearkat in-person audience in the LSC Orange Ballroom. The first 200 students to arrive for this event will receive a free food voucher and everyone attending will receive a free t-shirt.
---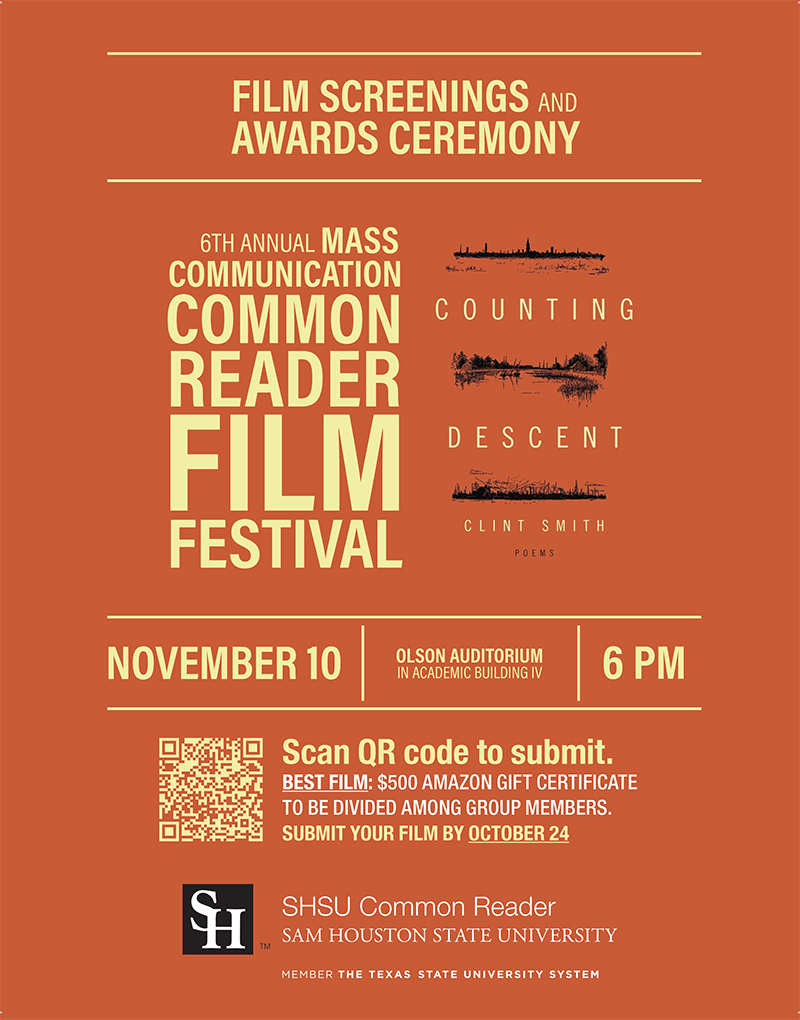 Wednesday, Nov. 10
2 p.m. - Poetry Writing Workshop Smith will offer an all-virtual Zoom Poetry Writing Workshop. Space is limited in the virtual workshop and the meet and greet so all are encouraged register on via QR codes on flyers, posters, or the website.
6 p.m. - Sixth Annual Mass Communication Common Reader Film Festival - Students are encouraged to create a short film centered around the theme "Art and Protest" in honor of "Counting Descent." Films due by October 29. Selected films will be shown, and prizes will be awarded for best film, special award, honorable mention, and audience choice award.
---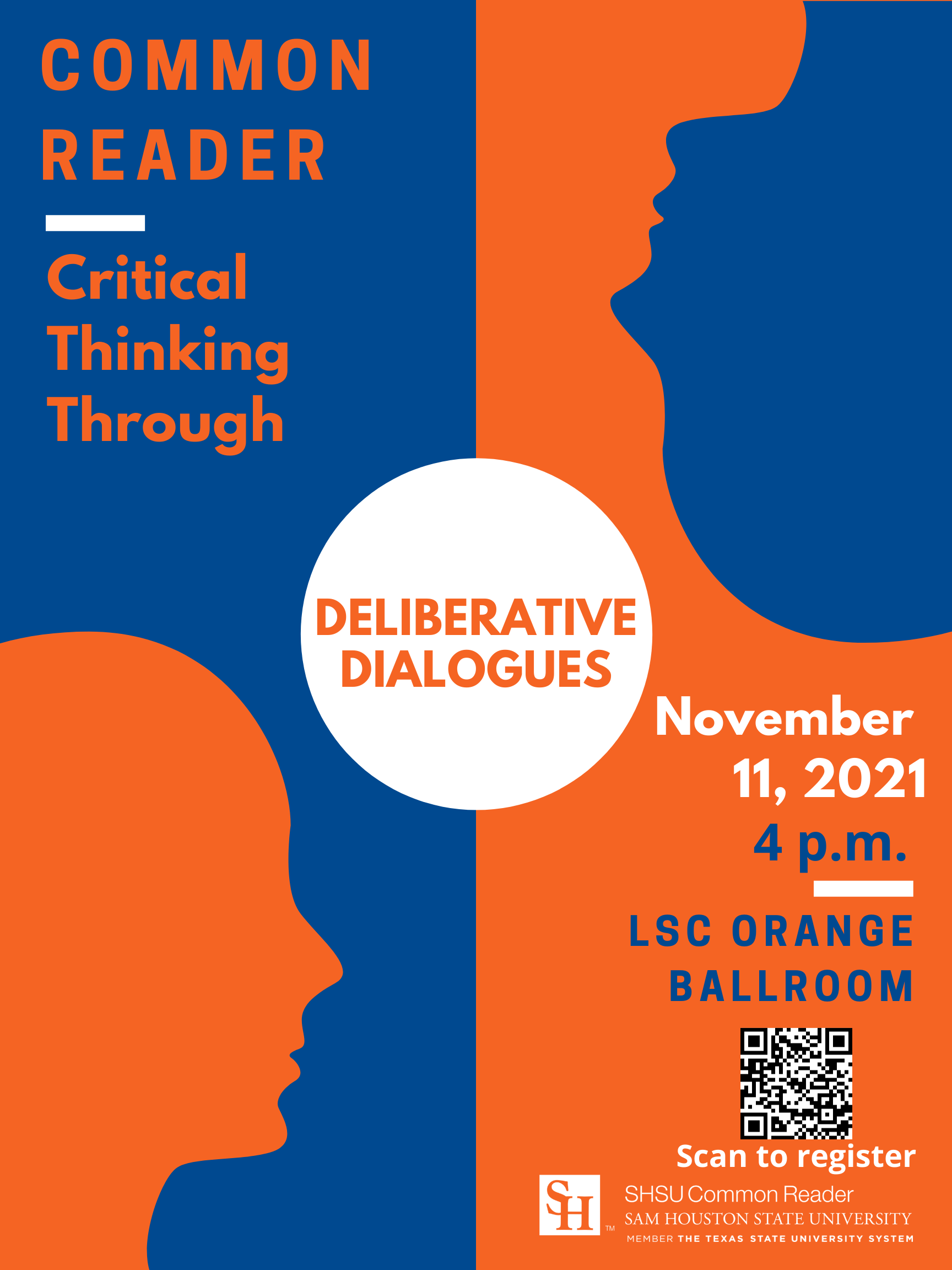 Thursday, Nov. 11
4 p.m. - Critical Thinking Through Deliberative Dialogues in LSC Orange Ballroom, sponsored by the Foundations of Science program and the American Democracy Project. Students, faculty, and staff compete in teams to address complex issues using data, critical thinking, and by exploring ways to find common ground amidst a diversity of values, ideas, and knowledge. Groups will use their critical thinking skills and deliberative dialogue skills to evaluate information relating to a problem/question deriving from "Counting Descent" and construct a plan of action based on available information and stakeholder input.
---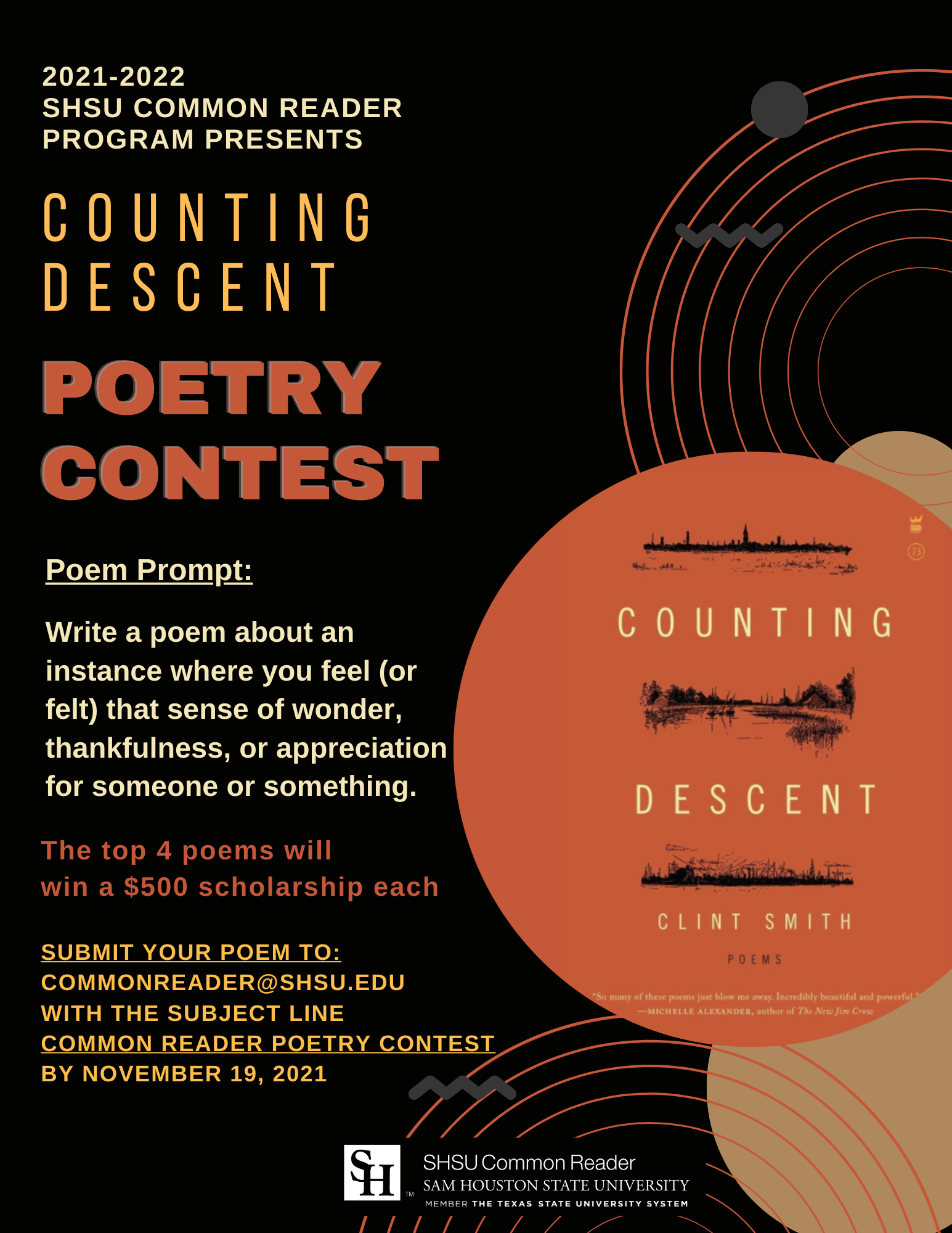 SHSU Common Reader Poetry Contest
The Academic Success Center First-Year Experience program is sponsoring an SHSU Common Reader Poetry Contest. In writing this poem, we challenge full-time undergraduate students to explore the theme of gratitude.
Students are asked to write a poem about an instance where they feel (or have felt) grateful: that sense of wonder, thankfulness, or appreciation for someone or something. Students should consult the website for rules and then email poetry submissions from their SHSU email account to commonreader@shsu.edu by midnight on Nov. 19.
---
Events are open to all students, faculty, and staff. For more information about events or contests please visit the website at www.shsu.edu/commonreader, direct email questions to commonreader@shsu.edu, or contact Shantal Brissette at (936) 294-2227, or visit the Academic Success Center located in the NGL Library.
- END -
This page maintained by SHSU's Communications Office:
Director of Content Communications: Emily Binetti
Communications Manager: Mikah Boyd
Telephone: 936.294.1837
Communications Specialist: Campbell Atkins
Telephone: 936.294.2638
Please send comments, corrections, news tips to Today@Sam.edu