Commencement Spotlight: Ariana Horner Sutherland
May 10, 2021
SHSU Media Contact: Emily Binetti
"Commencement Spotlight" is a series focused on highlighting SHSU graduates who have made remarkable strides in their lives to reach commencement day. These stories from Bearkats graduating this month, who have demonstrated a "can-do" spirit through challenges and service, remind us of the many ways Sam Houston State University is preparing students for meaningful lives of achievement. Visit today@sam/commencementspotlight to find the list of stories highlighted so far.
---
Ariana Horner Sutherland
Nome, Alaska
Degree: Master of Music in Vocal Performance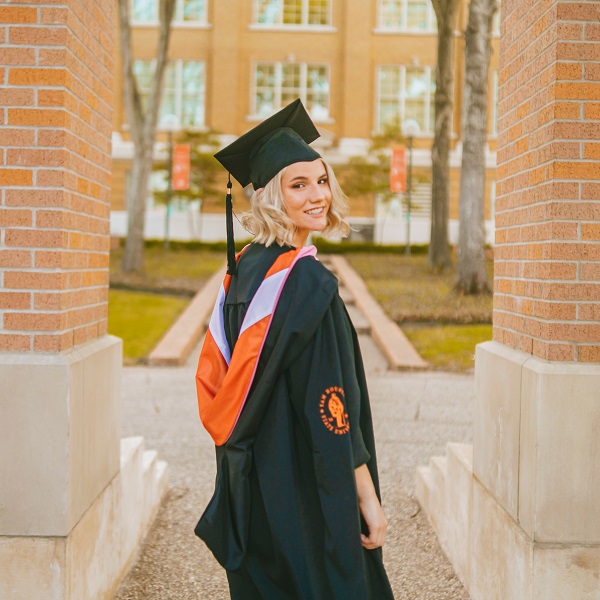 "Coming all the way from the University of Alaska Fairbanks, I was happy to find a family in the School of Music here at Sam. I will never forget the connections and memories I've made here with the incredible faculty and students."
Born and raised in Alaska, Ariana Horner Sutherland certainly traveled the distance to earn her master's degree. As a soprano in SHSU School of Music, she was also part of the ensemble that received second place at the National Opera Association Graduate Scenes Competition in Cleveland, Ohio. In addition to earning an SHSU graduate assistantship, she was the recipient of the Distinguished Music Faculty scholarship.
How did you end up at SHSU?
AHS: Every summer (excluding 2020), SHSU School of Music supports a group of students and Professor of Voice, Dr. Rebecca Renfro, to travel to the University of Alaska Fairbanks to participate in the Fairbanks Summer Arts Festival. They collaborate with other students from UAF and around the country and put on a show. While getting my undergraduate in music education, I met Dr. Renfro at the program. She directs "Opera Scenes" every summer and really made an impression on me. She was such a joy to work with and is a seriously talented director. She recruited me and was the one that really inspired me to pursue my master's. I drove all the way down here to work with her specifically at SHSU. She and the School of Music faculty have really made an impact on me.
What challenges did you face to complete your degree?
AHS: The hardest part of my two years at Sam was learning how to sing with a mask and convey emotion in production and performance, in the current state of things. My teachers were so encouraging, and I think the greatest thing I found this semester was a singer's mask that sits away from the face, but still is enclosed and safe for others.
What future career goals do you have?
AHS: I am going to be attending the University of California Santa Barbara for my doctoral degree in musical arts in the fall. After graduating with my doctorate, I want to be a university voice professor and a teacher of college-age students. I want to teach singing and life lessons as my teachers did for me.
What will you miss most about your time as an SHSU student?
AHS: I will miss the incredible community that the SHSU School of Music has created in the voice department. The faculty are so supportive of their students and each other. It is such a nurturing environment with a healthy competitive edge that keeps singers on their toes. I always knew that I would succeed with the encouragement of my teachers and peers.
- END -
This page maintained by SHSU's Communications Office:
Associate Director, Communications: Emily Binetti
Telephone:936.294.4406
Communications Manager: Mikah Boyd
Telephone: 936.294.1837
Communications Writer: Campbell Atkins
Telephone: 936.294.2638
Thomason Building: Suite 102
Please send comments, corrections, news tips to Today@Sam.edu