COHS Welcomes New School of Nursing Director
Jan. 21, 2021
SHSU Media Contact: Wes Hamilton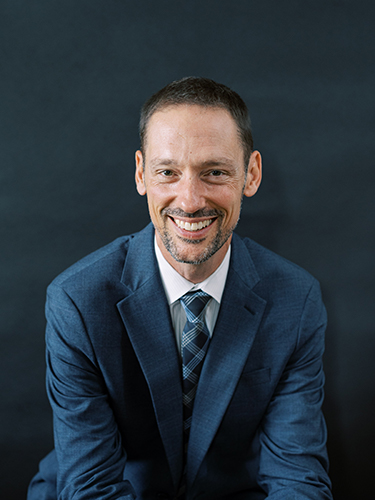 Written by: Karen Leonhart
The School of Nursing in the College of Health Sciences at Sam Houston State University has named Devon Berry as the new director.
Berry comes to SHSU from Oregon Health & Science University's School of Nursing in Portland where he concurrently served as the executive associate dean, clinical associate professor, and the interim senior academic officer for DNP Programs.
"Dr. Devon Berry, an experienced leader in nursing education, understands the distinctive challenges facing our current and future nurses. He brings demonstrated skills in creating a common and strategic vision, expanding programs, and promoting diversity in support of nursing and nursing education," said Keri Rogers, College of Health Sciences interim associate dean of Satellite Programs and search committee chair. "Dr. Berry will work closely with exceptional faculty, staff and students to continue the excellence that the School of Nursing has had since its start in 2011."
Previously serving as the director for strategic initiatives, along with other leadership positions within the College of Nursing & Health at Wright State University, Berry has over 20 years of experience in higher education with teaching positions at the University of Cincinnati and Cedarville University. Holding an MSN from Frances Payne Bolton School of Nursing at Case Western Reserve University and a PhD from the University of Washington School of Nursing, and more recently an MBA from Western Governors University, Berry also maintains active RN licenses in Texas, Oregon and Oklahoma.
"Ultimately, I was drawn to SHSU because of the university's performance around social mobility," Berry said. "As an advocate, I care deeply about the social mobility of the students served. I want to enable them to become a transformational force in society. We can change lives through practical and foundational skills and impact students from a socio economic standpoint."
Berry has a background in mental health, and research centered on religiosity and spirituality and how it can impact decision making of young adults. Over the past decade, he has focused on building strong academic nursing environments concentrated on student success through the use of organizational leadership, organizational change and process and performance.
"I came into nursing through peer pressure," Berry said. "All the cool kids were doing it. At my small high school about 20% of the seniors had selected nursing as their intended career choice. I wasn't strongly drawn to any particular career at that time, so I decided to follow the crowd. Three nursing degrees later, I love the profession of nursing. The sacred work of meeting and helping people in need is a high privilege that brings meaning to my vocation and value to society."
---
SHSU's College of Health Sciences includes the School of Nursing, and the departments of Population Health, Kinesiology and Family and Consumer Sciences.
The School of Nursing at Sam Houston State University is one of the most reputable and state-of-the-art nursing schools in Texas as well as nationally recognized. Since the School of Nursing's inception, the upper division program is fully approved by the Texas Board of Nursing and accredited by the Commission on Collegiate Nursing Education. The NCLEX first-time pass rate (99.09% for 2020) consistently exceeds that of the state and nation. The Woodlands Campus sits in close proximity to six major healthcare systems and the new SHSU College of Osteopathic Medicine is nearby.
SHSU's School of Nursing (SON) offers three educational paths:
Pre-Nursing to Bachelor of Science in Nursing (BSN), offered through the Department of Population Health.
Licensed Vocational Nurse (LVN) to Bachelor of Science in Nursing (BSN)
Registered Nurse (RN) to Bachelor of Science in Nursing (BSN)
https://www.shsu.edu/academics/health-sciences/nursing/
- END -
This page maintained by SHSU's Communications Office:
Director of Content Communications: Emily Binetti
Communications Manager: Mikah Boyd
Telephone: 936.294.1837
Communications Specialist: Campbell Atkins
Telephone: 936.294.2638
Please send comments, corrections, news tips to Today@Sam.edu